The panelists at Business Today's Power Breakfast. (Photos: Arunima Mishra)
9:58 am: Business Today Managing Editor Josey Puliyenthuruthel thanks the panelists for attending the session.
The Business Today Power Breakfast event comes to a close. The attendees and panelists alike take the time to mingle around. Thank you for joining us. Stay tuned to www.businesstoday.in for more updates from the business world.
9:55 am: Open up the country to foreign tourists, says Kapil Chopra of The Oberoi Group.

9:53 am: We are not thinking strategically, says Ratul Puri. We need such thinking to create 100 million jobs, he says.
9:50 am: Jagdish Khattar says increase confidence. We also need independent regulators, he adds.
9:48 am: Gaurav Dalmia of Landmark Holdings says he is worried about the state of the banks in the country.

9:46 am: The government needs to trust the private sector, says Nikhil Sawhney of Triveni.
9:45 am: Siraj Chaudhry of Cargill India says we need to get rid of the idea that business is bad. Need greater promotion of food processing industry.
9:43 am: Business Today Managing Editor Josey Puliyenthuruthel asks the panelists to sum up the debate.

9:40 am: Jagdish Khattar and Rajan Anandan are arguing on automation and robotics in manufacturing. Khattar holds there will be a role for humans in the factory of the future. Anandan says in 20 years, robots can do what humans does today.
9:35 am: Most manufacturing will not require people in the next 25 years. We have to be careful because manufacturing will employ robots and 3D printing, says Anandan of Google Are we making assumptions based on the past? Cell phones ae now made by robots, says Anandan.
9:32 am: Tourism is an under leveraged industry. Thailand gets 25 million tourists. India gets 5 million. We need Visa on arrival, says Kapil Chopra, President of The Oberoi Group.
Chopra says the The Oberoi Group will support the food processing industry.
9:29 am: Three Ms - Manufacturing, Mining, Metals - are investment intensive. Private sector is not willing to invest because their confidence is shattered, says Ravi Uppal of Jindal Steel and Power.
9:27 am: India has a demographic challenge, says Ratul Puri. We are not going to create jobs without manufacturing. India has an opportunity with wage inflation in China, he says.
9:25 am: FDI in e-commerce is not hard to do, continues Anandan. Increase output by 10X in the next five years. That should be every Ministry's objective, he says.
9:23 am: What is it India can do with technology? Rajan Anandan of Google India speaks at the CEO breakfast.

The government can make sure broadband in India becomes a reality, Anandan is saying. E-commerce is $15 billion in India. Over the next 5 years, it could be a $100 billion industry, and can drive 5-6 per cent of India's GDP. We require FDI in e-commerce, says Anandan.
9:15 am: Vinayak Chatterjee of Feedback Infra presents another solution for India's supply woes. De-nationlize the coal sector, he says. Railways reforms is another difficult bullet to bite, he adds.

9:12 am: Manufacturing is the sector that can create jobs. We are spending $10 billion on defence imports. We should identify top 5 companies in India and give out projects, Jagdish Khattar says. Defence and ship building have huge potential, Khattar says.
9:08 am: Towers Watson's** Vivek Nath joins in saying we need to create the right jobs. Shift jobs out of the informal sector. Skilling is another issue for job creation, he says. Providing job-creation linked incentives can help, he adds.
9:05 am: Food processing industry is not capital intensive. The challenge is distribution. We need big retail outlets, Chaudhry adds.
9:02 am: Siraj Chaudhry, Chairman of Cargill, is saying that India has large stocks of cereals. We need to encourage the farmer to move away from cereals. We need private sector investment in supply chain, food processing, says Chaudhry.
Nutritious food have to be produced better and distributed better, he says.
8:59 am: Gaurav Dalmia talks about growth versus inflation. BT Managing Editor Josey Puliyenthuruthel asks the panelists on the solutions to India's supply problem.
8:57 am: Nikhil Sawhney of Triveni Turbines says cost of capital is high in India.
8:55 am: The private sector can turn around the power sector. Let's not be socialist, says Uppal of Jindal Steel and Power.

8:52 am: We need to raise power tariffs. People are willing to pay for power, says Hindustan Power's Ratul Puri. Uppal joins in, says power distribution is the nerve that is paining the most. The new minister has to fix it.
---
8:50 am: The CEOs are being served breakfast even as the discussion carries on.

---
8:49 am: Ravi Uppal, CEO of Jindal Steel & Power, joins the conversation. Distribution reforms in power never came, he says.
Our mainstay is coal. The government is trying to control the supply side. India has reserves. Why control it? he asks.Energy requires a unified umbrella, says Uppal.
8:46 am: Industry is sitting on un-utilized capacity. Government needs to reduce interest rates gradually. Power, Railways need reforms and should be prioritised, says Vinayak Chaterjee of Feedback Infra.
---
8:44 am: It is a power breakfast event. Loads of good food spread out at The Oberoi. CEOs are debating, sipping coffee right now to warm to the discussion. Follow and join the conversation on Twitter and Facebook with #BTLeaders

---
8:42 am: Top priority for the new government would be expediting stalled projects, bottlenecks need to be removed, says Jagdish Khattar.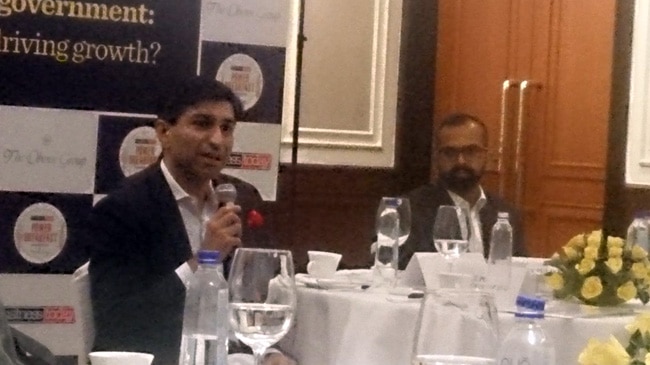 8:40 am: Hindustan Power's Ratul Puri joins in the discussion, says CPI problem can't be solved by maintaining high interest rates.
We need to go out and aggressively reduce interest rates to kick start the economy, he says.

8:37 am: Increase in interest rates has curbed industrial activity. Infrastructure, mining, power sectors have slowed down, opine panelists.
8:35 am: Gaurav Dalmia, Chairman of Landmark Holdings*, sets the context for the debate. Says inflation is bad because it hurts savings.
Inflation is food driven. If minimum procurement price for food is changed, it would curb inflation. That's a political decision, says Dalmia.
8:30 am: Business Today Managing Editor Josey Puliyenthuruthel introduces the topic for the day and throws open the discussion.
8:20 am: The CEOs are here, settling down to discuss the "top priority for the new government". There are 10 CEOs debating the topic at Oberoi, New Delhi.

8:15 am:
Should the government focus its energies on controlling inflation? Or, should it first take drastic measures to drive economic growth? It is a question the outgoing UPA-II government has grappled with for some time. What will the new government do?
At Business Today's Power Breakfast at The Oberoi, New Delhi, we have taken the lead in opening up the big question to a group of corporate leaders, who will bring their views onto the table in a power-packed panel discussion.
Join us at #BTLeaders as the discussion unfolds.
(*And earlier version of this story has incorrectly mentioned Gaurav Dalmia to be the Chairman of Landmark Dalmia Groups. It has now been corrected)
(**The company name has been corrected to Towers Watson)