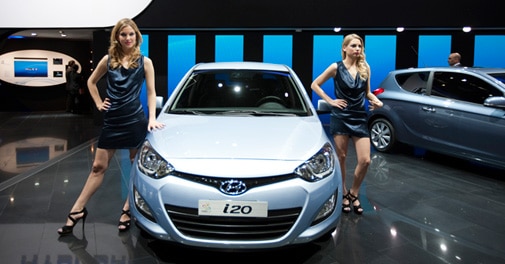 It reflects maturing of Hyundai's design philosophy, says its designer. (Photo: Reuters)
Since its unveiling earlier this week, Hyundai's latest car- The Elite i20 - has caught the attention of automobile aficionados for its classy design. Many call it the best-designed Hyundai car ever. The man who designed the car is all smiles.
The response he has got so far from the car clinics that were conducted prior to launch and those since its launch has overwhelmed him. This is the fifth Hyundai car that Casey Gee Hoon Hyun, creative design manager of the Hyundai Design Planning and Management Team, has designed and, in his opinion, the best so far.
"The design of The Elite i20 is an evolution of Hyundai's fluidic design concept without altering its core philosophy," he explains. "Fluidic means flowing and when things flow it continuously evolve.The design is lively and inspired by nature."
This design concept was first unveiled by the Korean car major in 2009. It was a success both qualitatively and quantitatively. For instance, the sixth-generation Sonata in the US market introduced this design and it went through its entire life cycle of five-and-a-half years without an upgrade.
This in a market where upgrades are the norm every year. In India, the Verna sedan and the Eon entry-level hatchback sport the fluidic design version 1.0.Version 2.0 of the fluidic design concept shows maturity of the design, says Hyun. "Version 1.0 was very strong and expressive. We kept it that way because we wanted people to recognise the design and identify it as a Hyundai car from a distance.
Now that we have managed to tell who we are, so we have opted for a more matured design that does not actually scream," explains Hyun. That explains The Elite i20's gentle and simple design. He gives the example of Polo shirts, which initially sported a much larger logo. As people got familiar with the brand the logo shrank and today it is very small in size but still very noticeable. "Having established Hyundai's fluidic design concept we are now maturing the design," he adds.
The new design was in the works for four years. He hopes that version 2.0 will stay relevant for much longer than its predecessor, which lasted five years.
He disagrees that a good design will automatically help consumers pay more. "The ability to price more comes not just from design but also from marketing and the brand positioning. Together they constitute the emotional appeal," he says.
But he feels a good design need not necessarily cost more. Hyundai, he adds, has brought modern design into emerging markets like India. This, according to him, is forcing competitors to revise their design strategy. The Elite i20, with its design, will not only compete in India and other emerging markets but also in Europe.

Ask him if he has started work on fluidic design version 3.0, he smiles but does not give a response. After some prodding, he says: "Designs continuously evolve."