Disappointed by the waning output of KG-D6 gas field, Reliance Industries Ltd (RIL) has decided to boost its retail venture and position it as an important growth engine. The energy conglomerate, led by Mukesh Ambani, will invest Rs 1 lakh crore in the next five years in energy and retail businesses to double its operating profit.

PERSPECTIVE: Mukesh Ambani shows his hand: RIL has choices

"We are investing aggressively in this business to consolidate and strengthen our leadership position in this sector. We are targeting a growth of five to six times in existing revenues and achieve Rs 40,000 crore to Rs 50,000 crore over the next three to four years," Ambani, chairman and managing director, RIL, said at the company's annual general meeting here on Thursday.

RIL's retail venture, Reliance Retail, operates 1,300 stores across the country and has earned Rs 7,600 crore-plus revenue, he added. Billionaire Ambani said Reliance Retail will become one of its "important growth engines" in the next few years. The venture, started five years ago with an investment of Rs 25,000 crore, will be positioned as India's "favourite retailer".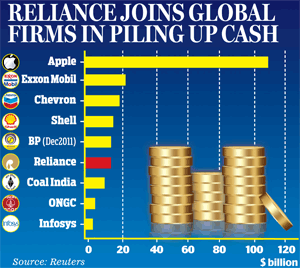 RIL will invest "aggressively" in this business, which employs over 50,000 people, of which 25,000 are direct employees, he added without quantifying the exact investments for the venture.
The Aditya Birla Group and Tatas are other groups with a significant presence in retail while Kishore Biyani's Future Group (which operates Big Bazaar, Food Bazaar and eZone) is India's largest retailer. "We are now ready for the next period of growth at Reliance by investing across all our core businesses in new capacity and margin improvement projects. I have set myself the target to double the operating profit of your company in about five years," Ambani added.
For the year ended March 31, 2012, RIL's profit from operations (before other income and finance costs) declined by 9.4 per cent to Rs 22,225 crore. The company's profits have fallen for two straight quarters and share prices were near three-year lows, but with a cash pile of over Rs 70,000 crore.
The company also hopes to raise gas production by an additional 30 million standard cubic metres a day (mscmd) at its blocks off the east coast. RIL's troubles are centred around its KG-D6 block with the output dropping to 32 mmcmd from 61.5 mmcmd in March 2010, which is much lower than planned peak capacity of 80 mscmd.
Recently, the oil ministry had slapped a fee of over $1billion on the company for the fall in output. "The reserves from existing D1-D3 field (the main gas fields in Krishna Godavari basin KGD6 block) have proved far more difficult to produce than anticipated," Ambani said. "We have experienced some disappointment with the reserves and consequently seen production drop below the originally estimated quantities," he said, adding RIL and its new partner BP Plc were working to decipher the complex geology of KG-D6.
Courtesy: Mail Today