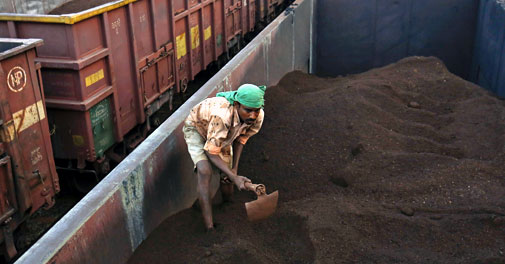 PHOTO: Reuters
State-owned NMDC has raised iron ore rates for October by Rs 100 per tonne amid "good domestic demand" and rising prices in global market.

Iron ore lumps will now be available at Rs 4,300 per tonne while fines at Rs 2,610 per tonne.

"Yes, we have increased the prices. It is Rs 100 per tonne hike on both, lumps and fines, for the current month. It (price hike) has been done taking into account overall market scenario, including international prices of steel and iron ore," a senior NMDC official said.

The PSU had last increased the prices for July-September quarter of 2012-13.

The company has also increased the price of calibrated lump ore (which is considered the best quality iron ore) by about Rs 120 per tonne for the current month, the official added.

Defending the hike, the official said the ongoing festive season is not the only factor behind it. Rising international prices and "traditional good demand in India during the second half of the fiscal" have also been taken into account.

The slowdown in Indian economy had impact on the iron ore market as growth in steel demand has been subdued due to end- users such as construction, automobiles and fast moving consumer durables running below their optimum capacities.

This has led to continuous slump in iron ore demand and subsequent price cuts by NMDC, thereby affecting its profits.

Since October last year, when it shifted to monthly evaluation of the rates, the company has either reduced prices or kept them unchanged as demand has been subdued.

For lumps (having rich iron contents and considered high grade ore), NMDC has cut prices seven times since October, 2012 and had kept rates unchanged for rest of the months. For fines (or the lower grade iron ore), it had thrice reduced prices and had rolled it over for rest of the months.

During the April-June quarter, state-owned miner's profit had declined by 17.51 per cent to Rs 1,572 crore. It may moderate further in the July-September quarter largely due to two major reasons - traditional subdued demand during the monsoon season and price reduction of about Rs 400 tonne during the quarter for lumps.

The company has a total production capacity of 32 MT per annum at its mines in Chhattisgarh and Karnataka. It has kept a target of expanding its iron ore mining capacity to 40 MT by 2014-15.

NMDC scrip closed at Rs 129.60 on the Bombay Stock Exchange, down 1.03 per cent in an overall strong market.