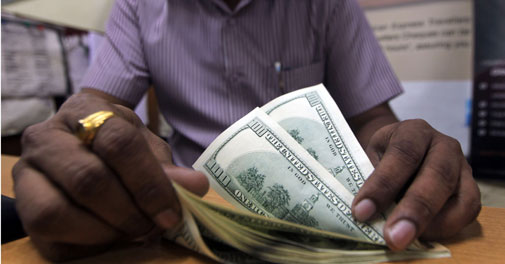 (Photo: Associated Press)
The spectacular performance of equity markets in the past month or so has offered a rare opportunity to domestic companies reeling under massive debt.
With share prices shooting up, companies can now raise funds from the market to repair the damage done to their books by months of slowdown.
High-debt companies such as property developer DLF, JSW Steel and consumer durables maker Videocon Industries have seen their stock price rising, according to data from the Bombay Stock Exchange. In the month through June 9, shares of DLF have surged 67 per cent to Rs 241.30. JSW Steel's stock has risen 15 per cent to Rs 1,303 while Videocon has jumped 26 per cent to Rs 201.65 during the same period.
"When share prices go up, it gives [companies] the ability to fix balance sheets," says Ridham Desai, Managing Director, Morgan Stanley India. There are many ways to raise money from the equity markets, including Qualified Institutional Placements (QIP), an instrument through which listed companies can sell shares directly to institutions without having to go through lengthy and often complicated procedures required in a public offering.
Banking and finance companies have been the first to tap the markets.
While Muthoot Finance raised Rs 418.29 crore in April, SKS Microfinance raised Rs 397.58 crore in May. YES Bank mopped up Rs 2,942.07 crore in June, according to data from CMIE Prowess.
Other corporations have also realised the opportunity. Telecom operator Idea Cellular is set to raise Rs 3,750 crore by selling shares to institutional investors for Rs 135 to Rs 140 per share. With spectrum auctions round the corner, this may save the company's balance sheet from the severe pressure many telecom companies saw during auctions in 2010.
Until June 10, Indian companies raised Rs 7,495 crore from equity markets, with half the amount - Rs 3,758 crore - coming through QIPs. In comparison, companies raised Rs 9,402 crore via QIPs in 2013/14, which was 32 per cent of the Rs 29,381 crore raised from equity markets, according to data from Prime Database and CMIE Prowess.
While it is a good time to raise money, not everyone feels that all companies will be able to do so.
"It is possible for companies to go to the market and subject to investor interest, raise money. However, whether they can raise money is a matter of investor interest, not subject to market sentiment," said P. Sitaram, CFO, IDBI Bank. The lender has recently secured board approval for raising Rs 4,000 crore. This amount could be raised either by placing shares with institutional investors or through a follow-on public offering on the stock market, according to reports.
Desai, however, feels the market is optimistic. "It is a circular thing. It actually fixes the future, so a lot of companies that have high debt on the balance sheet can solve that problem. They couldn't have [done so] six months ago," adds Desai.
Even companies without heavy debt on their balance sheets found the going tough six months ago.
A QIP issue from State Bank of India, in January this year, is a case in point. The country's largest bank had to settle for prices close to the lower price band, and the issue was widely reported to have been 'rescued' by Life Insurance Corporation of India. Despite the Rs 8,032 crore raised being India's largest in terms of size ever, the company came under flak for failing to enthuse a large number of investors, with many choosing to reportedly stay away.
(Research inputs by Jyotindra Dubey)