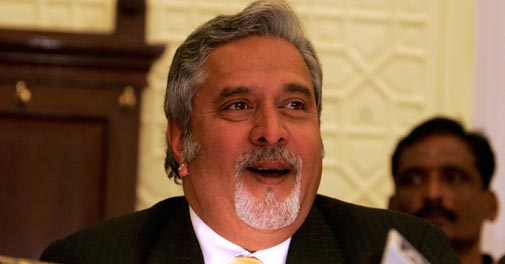 Vijay Mallya Photo: Reuters
Industrialist Vijay Mallya, whose group is in the midst of financial troubles, has blamed "policy paralysis" for India's slow growth, saying that the economic slowdown has dampened even the spirits industry.

He has also said that the overall mood of the Indian consumer remains subdued, while rupee depreciation, coupled with crippling inflation, is taking its toll on an already sluggish economy and a weak consumer market.

Blaming the "revenue-hungry" state governments and the sugar lobby for the rising costs in the spirits business, Mallya said that the overall economic environment in the country has been "challenging, to say the least".

"With a large, skilled, English-aware and young workforce, India should have found itself with a competitive edge vis-a-vis China," Mallya has written in his latest annual letter to shareholders of United Spirits ahead of its Annual General Meeting on September 24.

"Instead, lack of adequate investment in infrastructure, policy paralysis and loose fiscal administration has landed the economy in a situation of deteriorating public finances, high interest rates and spiraling inflation which even stringent monetary policies are unable to rein in," he said.

"The current account deficit has increased and industrial output remains stagnant, unable to provide enough jobs for the 12-odd million young Indians joining the workforce each year," the United Spirits Ltd Chairman has said.

Mallya, who has often been called 'King of Good Times' for his flamboyant style and presence in businesses ranging from spirits to airline, has been seeing tough times across many of his businesses for many months now.

His UB Group's aviation venture Kingfisher Airlines has remained grounded for almost a year now under the burden of huge debts totalling over Rs 7,000 crore and accumulated losses of more than Rs 16,000 crore.

The group also had to sell a significant stake in flagship firm United Spirits Ltd to UK-based global beverage giant Diageo, while another firm, Mangalore Chemicals and Fertilisers, recently saw two of its rival firms accumulating considerable stakes in the company.

However, the group as yet retains control of Mangalore Chemicals, while Mallya remains Chairman of United Spirits.

For problems at Kingfisher, Mallya has already put the blame on staff strike, tax department's moves, "hostile" recovery practices of lenders, negative media statements, among other factors.

With his criticism of the government policies and the overall economic conditions, Mallya has joined a host of other industry leaders such as Deepak Parekh and Azim Premji who have voiced their concerns over the past few years against the so-called 'policy paralysis'.

However, business leaders have been mostly supportive of various policy and regulatory initiatives undertaken over the past few months, by the Centre as well as the Reserve Bank.

Mallya said that last fiscal 2012-13 was "a watershed year" in many ways for the company as well as for the Indian spirits industry, which has slowed down to a single digit growth rate of 3.5 per cent after enjoying double-digit growth for many years.

He said that trading conditions for the Alcobev industry were not at their best during fiscal 2013.

"Increasing costs fuelled by government policies, and, in our case, by revenue hungry state governments, have all affected general business performance.

"Maharashtra and West Bengal are two instances of how revenue-hungry state governments can stem the growth of the Alcobev industry -- while the industry in these states is back to the growth phase, volumes are nowhere near the levels that existed prior to the sharp increases in duties and taxes," Mallya wrote.

He added: "Such selfish focus on protecting their own turf is what is pushing state governments from extending the benefits of a proposed landmark legislation like the Goods and Service Tax (GST) to the Alcobev sector."

Taking on the sugar lobby, Mallya said it was pushing for a huge increase in price for ethanol supplies to oil marketing companies under the government mandated Ethanol Blending Programme (EBP).

"In a country where the acreage under sugarcane cultivation is shrinking and at a time of drought in some areas, and where the total availability of alcohol to the potable and chemical sectors is way below demand, the EBP is bound to put pressure on an already stressed demand-supply equation.

"What makes a mockery of the situation is that despite this excessive price, supplies under the EBP are a pittance -- all that the OMC procurement prices have done is raise the floor prices for supplies to other users like chemicals and potable sectors," Mallya said.

Mallya, however, exuded confidence in the long-term potential of the Indian consumer market.