The finance ministry is veering round to the view that use of 'moral suasion' by the Reserve Bank of India (RBI) to get seven leading commercial banks in the country to hike interest rates for NRI deposits would be a quicker and neater way to get more foreign capital than the issue of bonds . A senior Finance Ministry official told Mail Today that the issue was slated for discussion between RBI governor designate Raghuram Rajan and financial sector regulators in Mumbai on Wednesday.


Moral suasion refers to a policy in which the government or the Central bank uses persuasion rather than regulatory force to convince financial sector participants to take a particular action. Currently, commercial banks like HDFC Bank offer annual rates of interest ranging from 8.75 per cent-9 per cent on fixed deposits for NRIs.
However, while banks are free to vary this interest rate, they cannot raise it above the cap imposed by RBI. The Central bank has mandated that the maximum interest on NRI foreign exchange accounts cannot exceed the interest that the banks offer on comparable domestic rupee accounts.
According to sources, this cap may have to be tweaked if commercial banks have to give higher interest rates to increase foreign exchange inflow as the rupee hits a record low and RBI seems to be fighting a lost battle to stem the slide.
The government has been considering issuing NRI bonds or sovereign bonds to raise more long-term foreign capital to finance the widening current account deficit, which touched a whopping 4.8 per cent of GDP.
This would decrease the cur-rent volatility in the rupee as the country has become critically dependent on hot overseas money flowing into stock markets to finance CAD. This money has tendency to flow out at short notice.
The moral suasion approach has also gained ground as RBI is opposed to issuing sovereign bonds as it feels that the cost of such an issue would outweigh the benefits.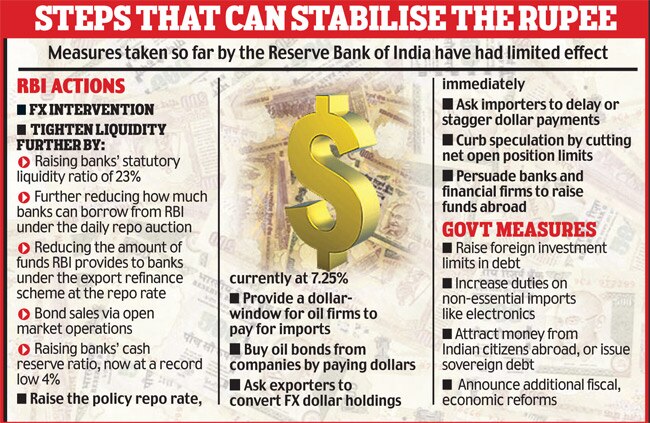 RBI governor D. Subbarao had said that he had reservations about the sovereign bond issue as it would compromise the country's financial stability. Subbaroa was of the view that it would be more prudent for the government to borrow from domestic markets given the volatility in the international markets.
Finance minister P. Chidambaram has already stated that the government would not rush into the sovereign bond issue and the RBI governor's views would be kept in mind. Meanwhile, the rupee fell by another 53 paise on Wednesday to close at 61.30 against the dollar as it struggled back from the day's low of 61.44, which was not far off the previous day's all-time low of 61.80.
Courtesy: Mail Today