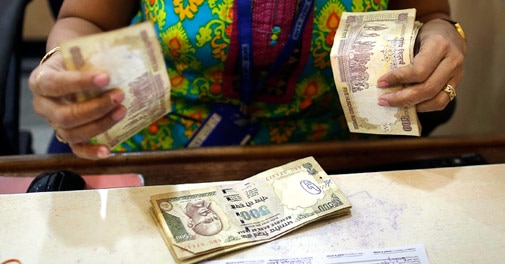 (Picture for representation only) Photo: Reuters
The rupee on Friday gained three paise against the dollar to end the day at 60.04 on persistent selling of the US currency by banks and exporters in view of sustained foreign capital inflows into equity markets.
The rupee unit resumed slightly lower at 60.09 per dollar as against the last closing level of 60.07 at the Interbank Foreign Exchange (Forex) Market on initial dollar demand from banks and importers.
However, it recovered immediately to 59.92 on renewed selling of dollars by banks and exporters.
The domestic currency finally settled at 60.04, showing a marginal gain of three paise from its last close.
Meanwhile, Bombay Stock Exchange benchmark Sensex crossed the crucial 23,000-level for the first time and closed over 650 points higher at 22,994.23
The dollar index was up by 0.27 per cent against its major global rivals..
In the New York market, the euro dropped against dollar on Thursday after European Central Bank President Mario Draghi said he would be "comfortable" easing monetary policy further in June, if needed.
Oil prices edged higher in Asian trade on fears of a armed conflict in Ukraine.
Pramit Brahmbhatt, Veracity Group CEO, said: "Rupee continued to trade in a tight range near psychological figure 60.0.... Today we saw equity markets closing at all-time high, but the dollar demand from oil importers capped the rupee gain".
The benchmark six-month premium payable in October settled at 228.5-230.5 paise against 224.5-226.5 paise previously
Far forward contracts maturing in April, 2015 ended at 466.5-468.5 paise as against 457-459 paise previously.
The Reserve Bank of India fixed the reference rate for dollar at 60.05 and for the euro at 83.07.
The rupee remained firm against the pound to end at 101.33 from 101.91 previously and also strengthened further against the euro to 82.77 as compared to 83.70.
It, however, ended stable at its overnight level of 59.04 per 100 Japanese yen.