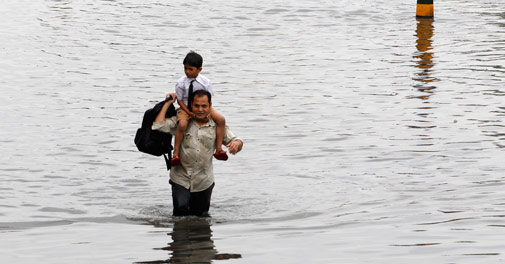 India's parched rice, soybean, cotton growing areas will receive more rainfall next week as the monsoon is expected to continue its wet revival phase.
Rains in the northwest India grain bowl as well as in soybean belts of western-central parts are expected speed up summer planting activities. The country's farm sector accounts for around 14 per cent of the economy but two-thirds of the country's 1.2 billion people depend on farming for their livelihood, and more than half of its arable land needs monsoon rains.
"The monsoon has improved but still needs to be watched how the rainfall shapes up during August," agriculture minister Radha Mohan Singh told Reuters.
A month and half-long weak phase in the monsoon pushed rainfall a quarter below the average so far for the season that started in June. But a revival after mid-July pushed the rain level to above average last week.
Rainfall was 24 per cent above average in the week ended July 23, the first week of surplus for this year's monsoon season.
Poor rain levels since the start of the June-September season raised concerns that India would face its first drought in five years, with coverage for most of the main summer crops slipping below the halfway mark.
A weak monsoon cuts exports, stokes food inflation and can hit demand for products ranging from cars to consumer goods.
"No dry phase in the monsoon is expected until the month's end," said a weather official who did not wish to be identified.
A poor monsoon could raise imports of cooking oil to India, the world's leading buyer of vegetable oils. The country could also cede its position as top rice exporter to Thailand.
(Reuters)