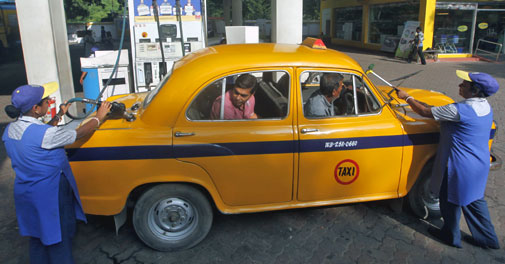 PHOTO: Reuters
Oil Minister M Veerappa Moily shied away from introducing comprehensive energy subsidy cuts and instead called on his countrymen to help taper demand for fuel and work towards reducing India's import bill.

Staggered office timings for government employees to decongest traffic and staffers taking public transport to workplace once a week are part of a mega fuel conservation drive unveiled by the oil minister on Tuesday to save $5 billion in oil imports.

Battling a record current account deficit (CAD) that is a result of mounting oil import bill, Moily is hoping these measures - together with a Rs 52 crore nationwide six week mega campaign to propagate conservation of oil and gas - will help taper demand.

The struggling Asian economy - the world's fourth-largest user of energy - is battling a weak rupee that has increased the price of oil products as economic growth has halved to 4.4 per cent from the 8-9 per cent seen in the boom years.

A falling rupee also boosts inflation and the wholesale price index measure of inflation, the benchmark for the Reserve Bank of India, rose to a six-month high of 6.1 per cent in August.

India spent $144.29 billion last financial year on importing its oil needs, which is the single biggest item impacting the CAD.

However, the minister stayed awar from substantial measures such as raising diesel and other fuel prices as the electoral cycle hots up with polls due to be held by May 2014.

"As of now there is no proposal to raise prices," Moily said at a press conference on Tuesday, referring to diesel subsidy changes.

India, where energy consumption per person is among the lowest in the world, has little room to cut fuel use as it tries to power exports and agriculture. Diesel accounts for more than 40 per cent of fuel demand, or around 1.4 million barrels per day, the bulk of which is used by trucks, farmers and industry.

The $5 billion savings is part of a campaign outlined earlier this month to save up to $25 billion this year, although the weak Indian currency and rising global oil prices already mean that rupee price hikes for diesel have failed to match the dollar price gains for oil.

"I have written to Minister of State for Personnel, Public Grievances and Pensions, asking him to consider 'staggered office timings' for Government offices, which will help in decongesting road traffic during peak hours," Moily told reporters.

He has also asked Chief Ministers, central ministries and PSU heads to declare one day a week as 'bus day', during which staffers be encouraged to utilise only public transport for their daily commute.

"Every year the Petroleum Conservation Research Association (under Oil Ministry) does an awareness campaign for a fortnight at a cost of Rs 20 crore. This year we will do a mega campaign at more than double the cost," the oil minister said.

Moily also asked Urban Development Minister to introduce 'Free Cycle Scheme' in select cities for saving fuel and offered funding support from oil sector companies.

INFLATION WORRY

"The biggest concern right now is inflation. Any kind of fuel hike will trigger an upside on inflation, so what they are trying to do is appealing to the people to sort of cut down on consumption," said Praveen Kumar, who leads the South Asia oil and gas research team at FGE in Singapore.

Moily was widely ridiculed for earlier plans to close petrol stations at night in a bid to curb demand, a plan that has been quietly dropped.

Instead Moily said on Tuesday he had requested "staggered office timings for government offices, which will help in decongesting road traffic... We need to do more to conserve fuel or face tougher choices such as steep price increases or even quantitative restrictions."

A television campaign featuring star batsman Virat Kohli will seek to educate India's drivers to "avoid frequent application" of brakes and "avoid riding the clutch."

Despite the energy conservation measures, Kumar at FGE said he expected Indian diesel consumption growth for the 2013/14 fiscal year to be "somewhere between 3.5 and 4 per cent," from a year earlier.