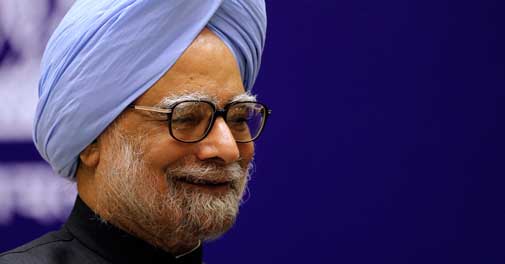 Prime Minister Manmohan Singh is also scheduled to meet with leaders of Brazil, Russia, China and South Africa at the G20 summit. PHOTO: AP
Prime Minister Manmohan Singh, ahead of his departure for St. Petersburg for the G20 Summit, said rich nations that are showing signs of recovery must not pursue policies that hurt the growth prospects of emerging economies.

The main theme of the 8th G20 Summit is starting a new cycle of growth through quality jobs and investment, trust and transparency and effective regulation.

Singh said the collective focus of rich and developing countries must be on job creation and investment promotion in a bid to spur growth and sustain it.

"Though there are encouraging signs of growth in industrialized countries, there is also a slowdown in emerging economies, which are facing the adverse impact of significant capital outflows," he said.

FROM THE MAGAZINE:Indian economy may take years to recover

"I will emphasise in St. Petersburg the need for an orderly exit from the unconventional monetary policies being pursued by the developed world for the last few years, so as to avoid damaging the growth prospects of the developing world," Singh added.

Besides India, the G20 comprises Argentina, Australia, Brazil, Canada, China, France, Germany, Indonesia, Italy, Japan, Mexico, Russia, Saudi Arabia, South Africa, South Korea, Turkey, Britain, US and the EU.

Originally formed at the level of finance ministers and central bank governors in 1999 after the East Asian economic crisis, the G20 assumed significance after its elevation to a summit-level forum in 2008, following the global financial crisis.

"It is also important that G20 encourages and promotes policy coordination among major economies in a manner that provides for a broad-based and sustained global economic recovery and growth," Singh added.

The prime minister's remarks come at a time when the Indian rupee has dipped below 68 to a dollar, economic growth is at four-year low and stock markets have taken a hit, among other gloomy signs.

On his part, Singh said, India has taken steps to pursue reforms, create a more investment-friendly environment, stabilise the rupee and strengthen macro-economic stability.

FROM THE MAGAZINE:India needs to tell investors it's open for business

"At the same time, a stable and supportive external economic environment is also required to revive economic growth," he said. "The G20 Summit, therefore, is an important forum to seek an international climate that is beneficial for all countries."

Apart from attending the summit and holding bilateral talks, the visit will also afford an opportunity to the prime minister to meet with leaders from Brazil, Russia, China and South Africa, which collectively form the BRICS nations.

The prime minister returns Saturday.

The past summits were held in Washington, London, Pittsburgh, Toronto, Seoul, Cannes and Los Cabos.