'I let the art do the driving and let the economics follow': SS Rajamouli
Film-maker SS Rajamouli explains the interplay of creativity and business in the art of making films
By Krishna Gopalan, Prerna Lidhoo & Vidya S.
CREDITED WITH THE SUCCESS of three of the top 5 highest-grossing pan-India films of all time, Writer and Director SS Rajamouli's creations have tasted amazing success at the box office. Having come out of the stables of the south Indian film industry, his films, Baahubali: The Beginning (2015), Baahubali 2: The Conclusion (2017), and RRR (2022) have broken through the shackles of language, culture, and geographies, to appeal to all classes of the very selective Indian audiences, ranging from the multiplex crowd to the single-screen regulars. Business Today recently caught up with the 48-year-old Hyderabad-based film-maker to hear him decode his winning formula. Edited excerpts: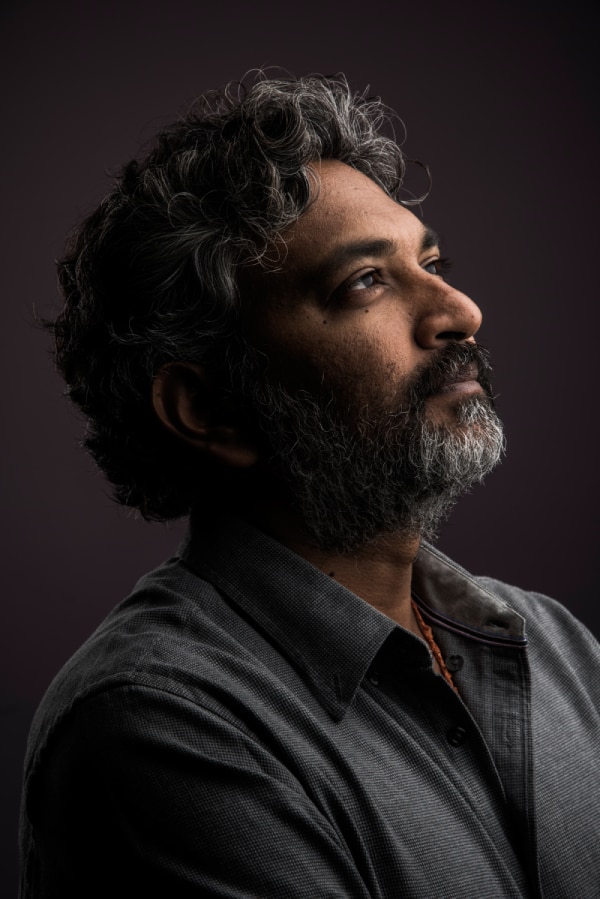 Why do you think the films that you've originally made in Telugu have worked so well in Hindi?
The first thing is that I don't differentiate between Hindi and Telugu. I am trying to talk in the visual language, and not in the language that the actors are speaking. Language is just a medium of talking. That's one part of communication, but the bigger communication is happening through visuals in my films. I don't want to see language as a barrier.
Does Bollywood need to rethink its content strategy?
There's no good and bad; it's bigger successes and lesser successes. Even Hindi films have had successes in the last six months; it's not like every Hindi film has been unsuccessful.
Also, it's not like every film from the South has done well. But what [has] happened is that the success of south Indian movies has been much bigger than the success of the Hindi film industry during this season. They have outperformed. As film-makers, we can't take all the credit as it's also the audience.
For many years now, from the '90s, the Hindi film industry has travelled more towards the lighter veined, heart-warming, subtle kind of storytelling. They have done great films and had big successes in love and romance genres.
But a large number of people who love action films and hardcore entertainment felt a bit left out. In Telugu, Tamil or Kannada we had to do that [make such films]because we're making films only for one state, and we have to get all audiences into the theatres. We kept on making those kind of films, and these films reached people in north Indian states, who were not getting the kind of entertainment they wanted. This happened for a long time, for a period of 20-25 years, without any of us knowing.
How do you strike a balance between creativity and commerce?
I am aware of what the economics of a film are. It is not that I blindly increase the budgets and go ahead with them. I strongly believe that the director and producer have to collectively take a decision and go forward. So, basically art and commerce both have to travel together. The way I do it is, I generally have a rough idea of the budgets, but once I start working on the story, I don't think anything about the economics, I just let my mind go free. I develop whatever I want to, and once everything is done, we look at the economics: how much is this going to cost? How much will the market value be? Are we within a reasonable distance? That will be a long discussion, and if I need to trim in some places, I will trim, and if I can go broader on some areas, I will. I am very well aware of the economics, but I let the art do the driving and let the economics follow.
What was the distribution and dubbing strategy behind RRR? How did you go about choosing the markets within north India?
As a storyteller, I want my story to be seen by different kinds of audiences; by a large number of people. So, how do I make my story understood by more number of people? The automatic decision is to dub it into a language that other people understand. That's a natural fallout of it. The money, also, will flow in. But it is not as simple as it sounds. I dubbed RRR into five languages. Why didn't I dub it into Gujarati, Rajasthani or Bengali, if dubbing itself is going to get you money? It's not so easy. There is a way to communicate with people, that I'm not coming in your language and that communication takes a huge amount of time and money. So, then you judge which is the best way to do it, and go forward. After Baahubali, it's not rocket science to understand that RRR will find traction in markets like Uttar Pradesh, for example.
Does Hindi-dubbed versions doing well mean that there's not as much space for Telugu and Tamil remakes?
It depends on what kind of film you're making. If the film-maker in South, for example, feels his story has a pan-India kind of an appeal, then he will make it on the dynamics of a pan-India film. So obviously, there is no chance of a remake. But if I find a story that is very compelling, and we feel that it is a regional film, then we make it in our own languages.
A story like Maryada Ramanna, for example, I will only make in Telugu because I loved that story. If it's a smaller story, I'm okay with someone taking the story and making it in multiple languages.
If I'm making a bigger story, and I'm making a pan-India film itself, the economics [of making a remake] doesn't work. When I'm making a big film across the country, someone taking the same story and doing it in a different language again doesn't make any sense.
After the advent of OTTs, is there a distinction that massy, big-ticket films will go to the theatres while high-concept films will be reserved for OTTs?
A bit of yes, and a bit of no. There will be classification of films which tilt more towards OTT and films which tilt towards the big cinemas. Or, in other words, there will be films which the audience would want to watch in the cinemas, and those they would prefer to watch on a personal device. But the classification is not big spectacle versus high concept. Even smaller films have done well in cinemas.
When you go to the cinema, you are going to watch the film with a large number of people but there is some kind of connect. You are all together in that three-hour journey. There are films that provide that kind of a combined entertainment [experience] for those 200-400 people. OTT would not give you the same experience. And, there are some films where you're just connected with the content on the screen. Those kind of films, people would prefer to watch on OTTs. That's my take on it, my assumption. I don't know whether I'm right, or wrong.
You've spoken about being an agnostic person, but your films have mythological themes. How do you decide on your themes?
My personal opinions, my thoughts, and my lifestyle have nothing to do with my profession. I keep that completely separate. Professionally, I am different. I don't try to rub my thoughts on to my characters, or on to my storytelling. So, when I start writing a story, for me, it is the emotion I should be moved by. I might be agnostic, but when I see a good film, like for example, Annamayya, a Telugu film which is about a devotee of Lord Venkateshwara, and when I see the climax, I cry. It is a conversation between God and the man, his disciple. I might not believe in God, but I connect to the emotion of a devotee and a God. And, I connect to the emotion that drives masses: devotion and submission to a greater self.
I understand the power of that emotion, the power of a mass emotion, and I too feel that emotion. I might not believe in God, but I believe in the emotion, and if it moves me, I write it.