Despite a multitude of operational, regulatory and infrastructure-related challenges, both regional airlines and national carriers are increasing their flights into regional routes and smaller towns
When business owner Shivam Gupta, hailing from Prayagraj (earlier Allahabad), had to travel to Mumbai recently, instead of going via train, he decided to take a flight from the local airport. "The journey which earlier used to take more than a day, will be completed within a few hours," says Gupta before boarding. Similarly, when homemaker Vijaya Chavan from Kagal town in Maharashtra's Kolhapur district decided to go on a pilgrimage to Tirumala Tirupati Devasthanam, she too decided to book air tickets. "We are happy that we are getting to travel to Tirupati cheap and in lesser time," says an elated Chavan while waiting for her flight at Kolhapur airport.
People like Gupta and Chavan are among the 10.4 million Indians that have availed of improved regional connectivity and subsidised flights under the government's Ude Desh Ka Aam Nagrik-Regional Connectivity Scheme (UDAN-RCS) since its introduction in 2017. "Since its genesis, the UDAN-RCS scheme has completely transformed the perception around aviation. Presently, it may not comprise a large component in the gamut of overall aviation activities, but it has made air travel more inclusive," Usha Padhee, Additional Secretary, Ministry of Civil Aviation (MoCA), who has been spearheading the programme, told Business Today on a rain-soaked August morning in her office.
Since its genesis' UDAN-RCS has completely transformed the perception around aviation... it has made air travel in the country more inclusive.

Usha Padhee
Additional Secretary
Ministry Of Civil Aviation
While there are similar schemes, albeit on a much smaller scale, in places like Australia, Canada and the US, UDAN-RCS is helping create a framework that encompasses an entire nation. And that may also make it one of the largest air connectivity schemes of its kind, globally. The scheme has also spawned new regional air carriers that are eager to tap this market. "In April 2015, a total of 218,000 domestic passengers travelled daily. Out of this, only 2.4 per cent of passengers travelled between Tier II and III cities. In April 2022, this share has increased to 5 per cent. While traffic involving Tier I cities has grown at the rate of 7.1 per cent year-on-year (YoY), the growth rate in Tier II and III cities has been 20 per cent YoY," informs Arun Kumar Singh, CEO of the country's newest regional airline, IndiaOne Air, which launched its operations in August this year.
One thing about UDAN-RCS's rollout is that while some industry experts have called it a watershed moment as it makes air services more democratic, others say that it is a logical corollary of the benefits of economic growth. "The success of regional routes is part of the India growth story. It's not just the metros that are growing. It's the vibrancy of India, it's the economy of India, it's the expanding middle class of India, it's the long-term GDP growth over time that India will be witnessing," says Vinay Dube, Managing Director & CEO of the recently-launched Akasa Air.
"There is a rise in spending power as India has one of the fastest-growing middle classes. The increase in employability and industrial development in Tier II cities will result in more regional travel," says Simran Singh Tiwana, CEO of the regional carrier Star Air, which operates a fleet of five Embraer jets. Tiwana, a helicopter pilot, launched the airline from a small co-working space in the city of Bengaluru.
In the past five years, 956 routes have been awarded under UDAN-RCS, with 425 routes to 68 destinations getting operationalised. And such is the potential for future growth in the segment that the number of daily passengers on Tier II and III routes has jumped by 262 per cent vs 56 per cent on Tier I routes from April 2015 to June 2022, according to data compiled by BT.
While traffic involving Tier I cities has grown at the rate of 7.1 per cent year-on-year (YoY)' the growth rate in Tier II and III cities has been 20 per cent YoY.

Arun Kumar Singh
CEO
Indiaone Air

The Tier II & III Opportunity
Emphasis on infrastructure development in Tier II and III cities, increase in discretionary spending, including travel, and the rollout of schemes such as UDAN-RCS, are some of the major reasons that are helping in pushing air travel demand beyond metros. Moreover, the Covid-19 pandemic has also played a role here. "With improved connectivity, we have noticed a spurt in air travel from and to Tier II and III markets during the pandemic. This was largely led by people who migrated from metros to their base at the start of the pandemic, and later, driven by reverse migration as the pandemic started to ebb, [they] returned to their work location," says Saujanya Shrivastava, Chief Operating Officer, Flights & Growth and Gulf Cooperation Council (GCC) at the online travel platform MakeMyTrip.
Covid-19 has also resulted in an increasing number of people opting to travel by air, a fact that is corroborated by the industry. "We have seen the shift of rail traffic to air travel, owing to the heightened safety concerns about the pandemic. Especially, many previous train travellers have become future air travellers," says Sanjay Kumar, Chief Strategy and Revenue Officer, IndiGo.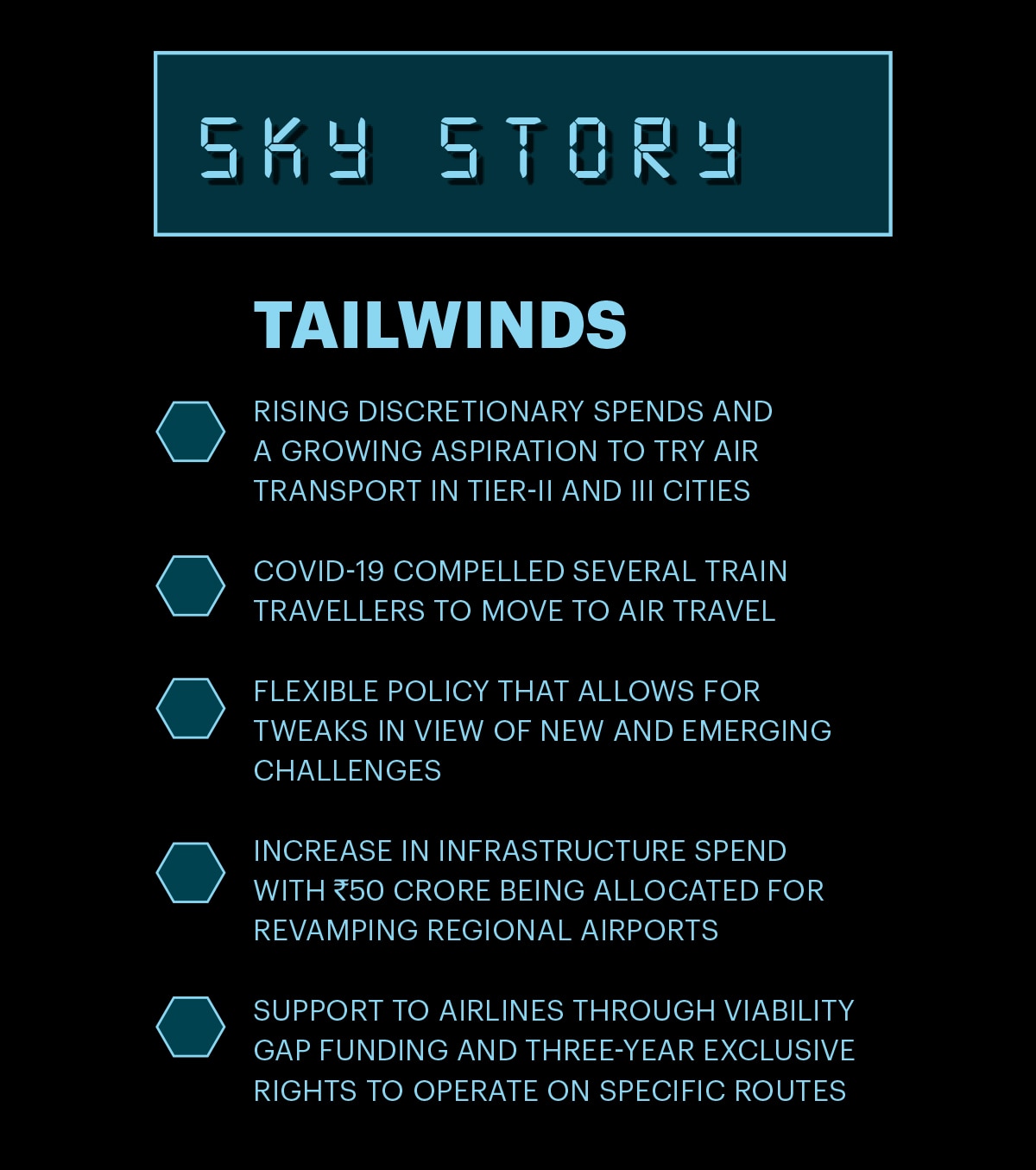 In fact, IndiGo, the country's largest carrier, has seen a good response to flights connecting Tier II and III cities to major cities. With 60 departures, the airline is already the largest operator of such flights among the major scheduled carriers. "Not only the routes connected under the UDAN schemes, routes which are not covered under UDAN have also shown incredible potential," adds Kumar.
This growth in regional traffic, spurred by UDAN, is driven by both demand and supply. For instance, SpiceJet had launched flights on three routes from Darbhanga in Bihar after successfully bidding for them. IndiGo followed up with non-UDAN flights on the route, connecting Darbhanga to Hyderabad and Ahmedabad once demand for air services was established and a steady flow of passengers was assured. "Airlines told us that to generate demand earlier, they had to work hard for six months to fill up the flights. Now, once a flight is announced, they start reporting with up to 70 per cent load factor from day one. Secondly, constraints such as choking up of airports, with the second airport still coming up, get eased out when they start flights to regional airports," says MoCA's Padhee. "Finally, the airline community takes immense pride in connecting to regional destinations as that provides them with motivation for expansion."
Take, for instance, Koraput, a heavily forested district located deep inside Odisha. This district, which is affected by Left-wing extremism to this day, has a small airport in one of its towns, called Jeypore. Today, an IndiaOne flight connects the town with the state capital of Bhubaneswar in 60 minutes, which is otherwise a tortuous 14-hour journey by road. "It's a small initiative, but one that will have a huge impact on the local economy [and] the psyche of the people," asserts Padhee.
Similarly, Star Air operates flights between one of Karnataka's important educational and industrial hubs of Hubbali to the Hindon Air Force Station, which is nearly 46 km from Delhi. The flights, which utilise the airline's Embraer ERJ145 jets, are popular with students and small business owners alike. As these examples illustrate, the expansion strategy for operators of the likes of Star Air and IndiaOne Air involves creating their market by launching flights on unserved city pairs. Currently, they aren't competing with major scheduled carriers or, for that matter, amongst themselves for traffic.
"We are dedicated to growing the 5 per cent regional airline traffic in India in the coming years. Our focus will remain on unconnected routes," says Star Air's Tiwana. The airline recently announced plans to introduce Embraer 175 aircraft in the country.
In almost two years we have expanded our operational capacity in the northeast and central India. We are covering 13 cities' including Kolkata' Patna and Indore.

Sanjay Mandavia
Managing Director
Flybig
IndiaOne Air, on the other hand, has its eyes on multiple Tier II and III routes. "We have been working closely with MoCA, the Directorate General of Civil Aviation (DGCA) and the Airports Authority of India (AAI) for policy reforms for small aircraft, which will create a better ecosystem for operations to smaller cities," says the airline's CEO Singh. Similarly, pilot-turned-entrepreneur Sanjay Mandavia ventured into the segment in December 2020. Mandavia, who's the Managing Director of the regional carrier flybig, operates flights using his fleet of four ATR72-500 and 600 aircraft. "In almost two years, we have expanded our operational capacity in the northeast and central India. We are covering 13 cities, including Kolkata, Patna and Indore," he says.
Another interesting point is that in comparison to metro routes, passenger traffic on regional routes has almost recovered to pre-Covid levels, according to MakeMyTrip data. The data indicates that Delhi to Patna is one of the most searched Tier II air routes since July 2021. "While bookings are on the rise from non-metro markets across the country, some of the destinations that saw an uptick in air travel during the past year include Guwahati, Lucknow, Bhubaneswar and Ranchi, among others," says MakeMyTrip's Shrivastava.
One of the key reasons behind the growing traffic on regional routes is the role played by states. This interest on their part led former civil aviation minister Pusapati Ashok Gajapati Raju to observe that this was the first time he was witnessing lawmakers throng MoCA with demands for an airport in their district. Earlier, the Ministry of Railways had that reputation.
MoCA also provides monetary assistance in the form of viability gap funding (VGF) to airlines to enable them to successfully run the UDAN-RCS routes for a period of three years. The airline operators bid for the route in the form of VGF per seat, which is capped depending on the aircraft type. This is indexed to changes in Consumer Price Index for Industrial Workers (CPI-IW), dollar exchange rate and aviation turbine fuel (ATF) prices. "Except for states like Delhi and Goa, and a couple of union territories that don't have regional airports, all the other states have signed the tripartite agreement where they have committed to providing not only non-monetary incentives but also agreed to pay 20 per cent of the VGF. They have also brought down the value-added tax (VAT) on ATF to 1 per cent," says Padhee.
Some states are so passionate about ramping up air connectivity that when there was a delay in the launch of flybig's operations on the Delhi-Shillong route, it led to a furore in the Meghalaya state Assembly.
Challenges Aplenty
However, UDAN-RCS is not without its share of challenges. As a first-of-its-kind initiative, regular revisions are often required to be made to the scheme. Nearly 25 per cent of the routes allocated to airlines are discontinued for a variety of reasons, from a lack of passenger traffic to the non-availability of aircraft. Also, due to a long gestation period, some routes may offer only a limited threshold.
Regional connectivity is a market that is evolving and, thus, unforeseen. For instance, Bhatinda-Delhi operations have been withdrawn twice over. The pandemic, too, played its role. "There are various reasons behind non-operational routes. It is sometimes due to airport infrastructure and non-availability of aircraft," says a SpiceJet spokesperson requesting anonymity. Moreover, since some of the routes are maturing slowly, they may not have the threshold to take off. As per information shared by MoCA with a Parliamentary panel in January this year, only one out of four routes under UDAN-RCS has survived after completing the subsidy period of three years. Also, during the period, three airlines—Air Deccan, TruJet, Zoom Air and Air Taxi—were grounded for a variety of reasons.
India has one of the fastest-growing middle class. The increase in employability and industrial development in Tier II cities will result in more regional travel.

Simran Singh Tiwana
CEO
Star Air
Another concern is the lack of infrastructure. Although MoCA provides a grant of `50 crore for airport redevelopment wherever required, it may not always be viable to invest a lot of capital on improving technical infrastructure at smaller airports that can only accommodate flights by single-engine aircraft. Meanwhile, DGCA rules categorically state that a series of flights or scheduled operations can only be performed on licensed aerodromes. "We have approached the DGCA and requested them to relax the rule on licensing for smaller airports served by up to 20-seater aircraft. We have suggested a graded approach through separate Civil Aviation Requirements (CAR) for such airports. The DGCA has agreed to the demand and will be coming up with it in the next three months, with the minimum safety requirements to be followed by the airport and the airline," says Padhee.
The industry is equally confident of an early resolution. "Operating to such airports has unique challenges like watch hour restrictions, limitation on weather prediction, and length of the runway. The government is working to address these and has made great progress," affirms Star Air's Tiwana.
Then there is the issue with water aerodromes. Despite completing two water aerodromes in record time in Sabarmati and Ekta Nagar in Gujarat, seaplane operations have floundered as the ecosystem to sustain their operations couldn't be created. SpiceJet had launched flights to connect Sabarmati Riverfront with the Statue of Unity. However, the airline was forced to suspend flights due to the pandemic as well as high expenses. "We have now gone ahead with a new segment in the scheme with a few tweaks for the bidding of 14 water aerodromes. We have enhanced the VGF in a manner that the operator will feel more comfortable while absorbing operational costs," claims Padhee.
Taking Stock of UDAN
So, how has UDAN-RCS fared overall? "UDAN is one of the most remarkable schemes launched by the government that has provided unprecedented connectivity," maintains the SpiceJet spokesperson.
"It is important to note that this was an underserved market and adoption to new modes of transport is gradual in nature, considering that we believe that a good beginning has been made," says Jagannarayan Padmanabhan, Director & Practice Leader, Transport & Logistics, Crisil Infrastructure Advisory. Insiders, too, feel that regional routes are the next growth frontier for the world's third-largest domestic aviation industry. In fact, enthused by the success stories in the scheme, Jyotiraditya Scindia, Minister for Civil Aviation, recently told BT, "We have brought in a new scheme for small aircraft under UDAN as India also needs to look at the last mile connectivity in terms of sub-20-seater aircraft."
Jagannarayan Padmanabhan
Director and Practice Leader
Transport & Logistics, Crisil Infrastructure Advisory
The scheme has indeed transformed the perception of the civil aviation sector. A government source told BT that a senior minister in the Modi 1.0 government had once observed that whatever negative connotations the civil aviation ministry and the sector may have acquired, the perception started changing with the introduction of the UDAN-RCS. "Like the waters of river Ganga, the scheme has washed away the sins of the past," the person said, quoting the minister with a chuckle.