It's business as usual on a balmy Wednesday afternoon at a cricket academy in Chennai. The coach attends to parents dropping by for enquiries, even while keeping a sharp eye on a bunch of youngsters practising batting drills at the nets. On the side, he keeps his laptop open, ready for him to jump into an office call on Zoom or MS Teams whenever his US client needs him.
Confused? What's a cricket coach doing with a laptop for 'office calls'? And we're not talking about calls with cricket authorities here. Well, this particular 'coach' is actually a senior-level UX designer at a leading multinational IT company. The cricket part is his passion, something that he has been able to indulge in thanks to the flexibility of remote work his office allows. The coach has been playing out this 'double role' on most days since June 2021, when he realised his dream of setting up his own centre to teach children cricket. His routine: log in at 10 am, attend a few office calls, have lunch, go to the ground by 3 pm, and juggle office work and coaching duties till 7 pm.
"This is cheating—plain and simple"

Rishad Premji
Executive Chairman
Wipro
"My boss knows about it, although I didn't take any explicit permission from my employer. I think it is not required because it's not a competitor. Hybrid work allows me to be at the academy as well as do my office work," says the 41-year-old, requesting anonymity. He is not entirely sure if what he does constitutes moonlighting (which is essentially doing jobs or projects not connected with one's employer). His workload is manageable, he feels his productivity hasn't dropped, and his boss is aware of his side venture. He says a few of his colleagues are even pursuing acting on the side.
The practice of moonlighting is not new; it has been around for ages and will likely continue. But there has been a baseline shift. Earlier, people would indulge in their passions or side projects (on the sly) mostly during weekends and holidays. But new-age moonlighting, spawned by the pandemic's hybrid/remote work paradigm and its inherent flexibility, has brought weekdays and official work hours also into play. Ergo, the example of the cricket coach and his open laptop.
"No, moonlighting is not cheating"

Mohandas Pai
Chairman
Aarin Capital
Still, things would have continued without a ripple, but for Wipro Chairman Rishad Premji's tweet on August 20 about moonlighting being "cheating—plain and simple". His comment, clearly aimed at employees doing work on the side for competitors, snowballed into a fierce debate in India's $150-billion-plus software exports industry. Should it allow its 4.5-million-strong white-collar workforce to take up income-generating side gigs or not?
Industry voices have mostly been critical of it. Premji has since said that Wipro fired 300 employees found moonlighting for competitors. TCS COO N. Ganapathy Subramaniam sees it as a long-term loss to the industry, while CHRO Milind Lakkad has called it an ethical issue. And IBM India MD Sandip Patel finds dual employment "not ethically right". Infosys has warned that employees caught moonlighting will be fired as it is unethical to take up a second job 'during or after work hours', while RPG Enterprises Chairman Harsh Goenka has backed Wipro in a tweet: "If the customer finds even a remote chance of data compromise, it will not be tolerated."
"If we make something like this [moonlighting] for short-term gains, in the long term we will lose out"

N. Ganapathy Subramaniam
COO
TCS
But moonlighting also has its proponents. Tech Mahindra MD & CEO C.P. Gurnani is supportive of the idea and has said he would introduce policies to enable employees to be more open about it. Former Infosys CFO and Board Member T.V. Mohandas Pai has said it doesn't amount to cheating. And Union Minister of State for Entrepreneurship, Skill Development, Electronics & Technology, Rajeev Chandrasekhar, said: "Efforts of companies to pin their employees down are doomed to fail". Meanwhile, Sanjeev Sanyal, member of the Economic Advisory Council to the Prime Minister, in a tweet, wondered how it could be an ethical issue if it wasn't about data privacy.
What, really, is moonlighting? Let's take the dictionary route first. The Cambridge Dictionary defines moonlighting as "the act of working at an extra job, especially without telling your main employer". What do others think? To gauge the popular opinion on moonlighting, BT undertook a social media poll of 5,500 respondents. It found that more than 44 per cent of those surveyed don't view moonlighting as cheating (see chart).
Of course, moonlighting is not to be confused with gig work, or freelancing, which comprises outcome-based assignments without being attached to any one full-time employer. Moonlighting falls into two buckets. One, taking up income-generating side jobs in the same industry as the primary job. Two, taking up income-generating hobby projects unrelated to the primary job. While the former is the subject of fiercest censure by IT industry captains, the latter is not without complications either. And the dividing line between what is acceptable and what is not, is a thin one.
"I have no problem; I will make it policy"

C.P. Gurnani
MD & CEO
Tech Mahindra
Premji, for instance, clarified at an event later that the definition of moonlighting for him was "having a second job secretively". Vouching for transparency, he said that employees can have candid conversations with the organisation about wanting to play in a band at night or taking up a project over the weekend and see if that works for the employer or not. Says Yeshab Giri, Chief Commercial Officer, Staffing & Randstad Technologies at recruitment and staffing firm Randstad India: "As long as it doesn't impact the core job or productivity or stickiness to the organisation, but is just the pursuing of a passion which has a monetary impact, it doesn't qualify as moonlighting. But it's a thin line."
Still, the employer may seek disclosure, adds Sanju Ballurkar, President at Experis IT, a subsidiary of staffing firm ManpowerGroup. "If you are generating serious remuneration from it and it takes up a majority of your time on the weekend, you should have very good reason why you don't want to disclose it." So, the point of contention may arise from the division of time, attention, effort, loyalty or resources. Dwindling engagement is not something organisations investing heavily to attract, train and retain talent may take kindly to, especially when the Great Resignation has driven up attrition to an average 20 per cent-plus across industries.
"If the customer finds even a remote chance of data compromise, it will not be tolerated"

Harsh Goenka
Chairman
RPG Enterprises
But the deepest concern surrounding the trend is more about the misuse of confidential data and the breach of contracts IT services firms have with their clients rather than about the monetary impact. "Such moonlighting activities may also have ramifications under the contract an IT services firm would have signed with its client. There are contracts that prevent the service provider from allowing an employee—who in that role is dedicated to the operations of a client—from doing anything else," says Abe Abraham, Partner at law firm Cyril Amarchand Mangaldas. "All the more reason why you need employees to be doing what they are supposed to be doing. Otherwise, these could expose their employer to resultant negative consequences." There is more at stake for the employer than the employee because liabilities are higher on the employer when something goes wrong, point out experts. "Suppose an employee violates the end-user agreement of a licensed software to use it (for the side gig); who is going to be responsible for it? It will be the employer's responsibility, not the employee's," says Ballurkar of Experis IT.
To be fair, no law currently prohibits dual employment in India other than the Factories Act, which mostly exempts the IT sector. But any legally allowed clauses an employee has agreed to by signing an employment contract are legally binding on them, experts say. For instance, if a contract says an employee has to work 18 hours a day, that won't work legally. But agreeing to not take on a side job will prevail. All leading IT majors in India have stringent clauses in their contracts prohibiting employees from taking on a second job. Infosys's contract, for instance, clearly mentions that an employee cannot take up full-time or part-time employment in any business activity without the company's consent. "The consent may be given subject to any terms and conditions that the Company may think fit and may be withdrawn at any time at the discretion of the Company," a typical contract says.
"Organisations sometimes hire third-party firms to check whether additional PF is being generated for these employees just to find out if they are actually moonlighting"

ANKITA RAY
Partner
Cyril Amarchand Mangaldas
Most experts admit that they do not know the extent of the problem. Others say moonlighters may only account for a small percentage of the workforce. For instance, Tech Mahindra MD & CEO C.P. Gurnani said the issue was not rampant. On the other hand, Wipro fired 300 employees found to be moonlighting. "Quantification is very difficult. We don't even know how bad it was to begin with, but we have reasons to believe the quantum has increased in the WFH and Covid-19 period," says Ballurkar. But there are some base signals that mark out unusual activity that employers tap. A sudden performance or productivity drop, unusual traffic flow on the employer's systems, excessive use of licensed products and other company resources, unreported absence from the system for a few hours, and changes in the availability pattern of the employee all tell them something's up. When the employee is confronted, they mostly confess, adds Ballurkar.
Vijay Sivaram, CEO of IT Staffing - Recruitment & Search at Quess Corp, says he has seen instances where clients ask HR firms to investigate certain employees whose productivity levels have dropped without a particular reason. Ankita Ray, Partner at Cyril Amarchand Mangaldas, says organisations sometimes hire third-party firms to check whether additional provident fund (PF) is being generated for these employees just to find out if they are moonlighting, although the practice itself falls under a grey area in the privacy landscape. But recruiters add that PF may not be the best metric either because moonlighting assignments would mostly come without benefits like PF and insurance. "It is tough to estimate it because there are no PF or compliance records of it, and the person could be working as a consultant freelancer. The only way is to encourage employees to disclose their side gigs," says Sivaram.
"There needs to be trust between both employees and employers to make this [moonlighting] happen' which in large companies will take time to evolve"

SANGEETA GUPTA
Senior VP And Chief Strategy Officer
Nasscom
For the employees, the forced shift to remote and flexible work during the pandemic opened up a plethora of opportunities. Far away from their managers' supervision and with time saved by not commuting to office, they were free to explore these opportunities. The primary driver, of course, is money, experts say. One digital and content marketing manager from IBM, who wishes to remain anonymous, has been moonlighting at night as a full-time content strategist with an Australian travel company for a year now. He took it up for some extra income and recently managed to buy a property in his hometown in Uttar Pradesh. "I had some initial trouble adjusting my sleep hours for about a month. But after that, it's been smooth," he says, adding that he plans to continue the gig as long as he can.
Why would someone risk their primary job and health for such a work schedule? One reason could be that employees feel their compensation has not risen in proportion to their workload. And so, at times they find other avenues for their under-utilised skills, and at other times they pursue their passion and make some money.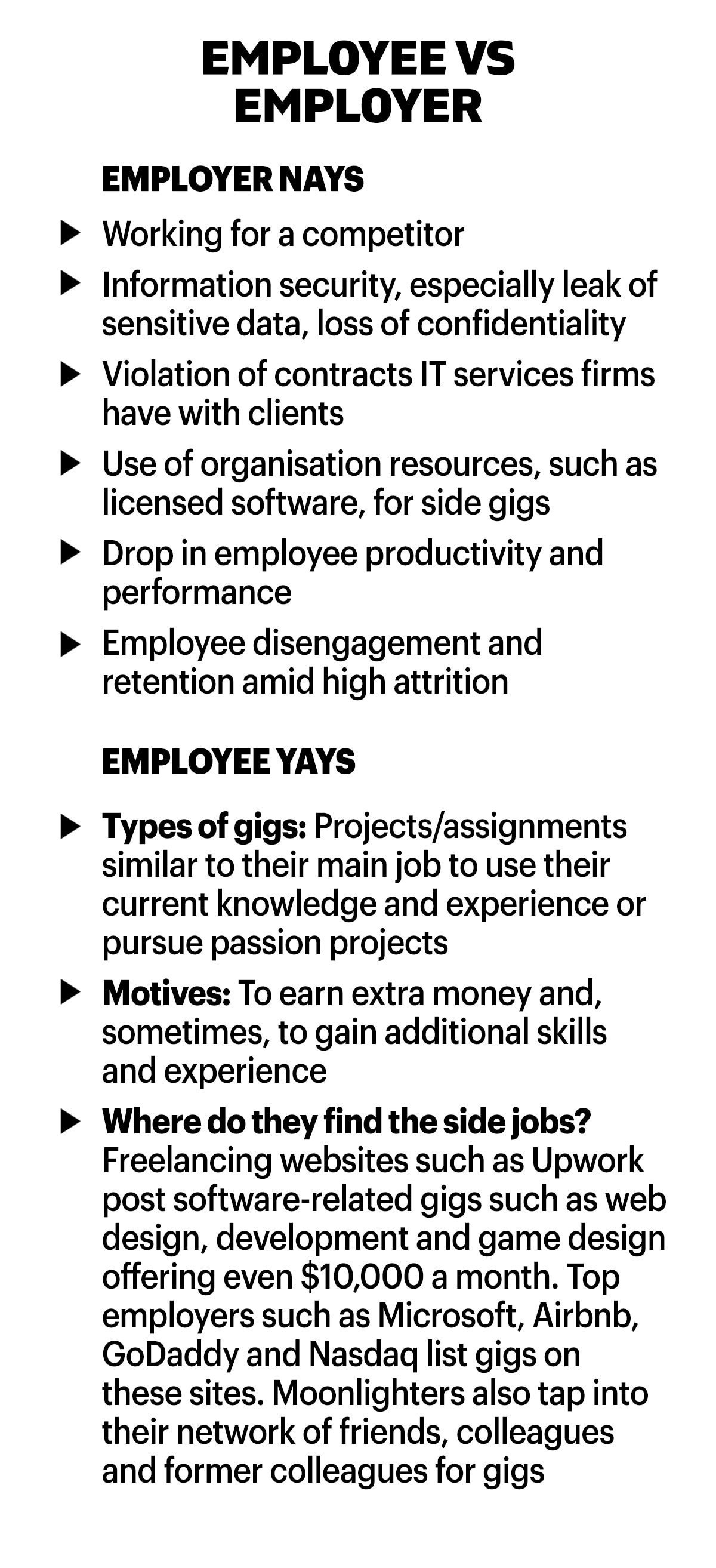 "Time of work is defined in the employment contract, but you ask employees to work more. You must give them some incentive. That's not the practice now, so why is the organisation cribbing?" asks IT veteran Pai, who is now Chairman of Aarin Capital. He says moonlighting happens across levels, including seniors in the software services industry who help out start-ups for a fee without the knowledge of the primary organisation. He also flags stagnating fresher salaries as one of the main reasons: "First, you must pay people better in the first five years of their career because right now they are exploiting them." Agrees Anand Lunia, Founding Partner of early-stage VC fund India Quotient: "Some industries have to accept the reality of what they are and not live in their glorious past. The entry-level IT salaries haven't risen at all in the past 25 years. Not even in pace with inflation."
"If an employee violates the enduser agreement of a licensed software to use it [for a side gig]' it will be the employer's responsibility' not the employee's"

SANJU BALLURKAR
President
Experis IT
Harpreet Singh Saluja, President of Nascent Information Technology Employees Senate (NITES), even points out that some industry leaders were themselves moonlighters at one point. "Flipkart was founded by Sachin Bansal and Binny Bansal while they were working for Amazon. Freshdesk [now Freshworks] was founded by Girish Mathrubootham while he was working for Zoho Corp." Countless start-ups today were born while their founders were employed full-time at another firm and some of their first hires also come from their previous employer, agree experts. Some say it would have been difficult for the likes of Infosys to have taken shape but for moonlighting. Infosys Founder N.R. Narayana Murthy refused to respond to BT's email queries, saying he has retired.
Besides, Saluja points out that there are no IT jobs where an employee can work for both, say, Wipro and its direct competitor. "If people are moonlighting, they are probably freelancing as gig workers, for their friends, or family, or for small start-ups. Can any of these places be considered as direct competitors of Wipro?" he asks of the firm's claim of firing 300 employees found moonlighting with their competitors.
The other side of this coin is the 'where'. You want to moonlight, sure, but where do you find the gigs? It's far easier to moonlight today because of dedicated freelancing platforms such as Upwork, Freelancer and Toptal, which are awash with gigs, supposedly posted even by leading firms such as Microsoft, Airbnb, GoDaddy and Nasdaq. Web design and development for $75 per hour, app development for a flat $7,000, and a three-month assignment as Senior Network Gameplay Engineer for $9,000, are among the more than 160,000 gigs up for grabs on Upwork alone. Physical organisations are also 'hiring' engineers for testing, integration, training, and even for interviewing other candidates.
These geography-agnostic platforms with short but well-paying assignments and the fact that technology work itself has been broken up into small bits that can be finished in two-to-three hours also accelerate the trend, says Pai. "Moonlighting is going to be a fact of life because this industry has become global." Abhishek Rungta, Founder & CEO of Kolkata-based mid-sized IT services firm Indus Net Technologies, admits that they can neither gauge the extent of the trend, nor can they practically verify if these are non-competitive in nature. "It's like a non-regulated market. You cannot close it, but it will be best if you can regulate it through basic framework and disclosures." The firm plans to introduce guidelines about moonlighting roles that will not hurt its business.
"Flipkart was founded by Sachin and Binny Bansal while they worked at Amazon. Freshdesk was founded by Girish Mathrubootham while he was at Zoho"

Harpreet Singh Saluja
President
Nites
The practice is not limited to IT services firms alone; almost every knowledge- and services-based industry has moonlighting going on in some degree. Freelancing portals are brimming with listings for creative work such as design, writing and translation. Even non-creative service-based roles such as HR, finance, sales and marketing, and legal skills are in demand on these sites. The education sector is especially prone to it. Mohit C., a school administrator, says many teachers conduct private tuitions after school hours, despite the conflict of interest between the two jobs.
One of the tenets of the edtech business model is work flexibility for teachers. "If our workforce gets involved in parallel engagement opportunities, it will deviate them from their goal of assisting learners," says upGrad CHRO Saurabh Deep Singla. The edtech platform says it doesn't plan to introduce a moonlighting policy for external engagements. Instead, it has built in-house engagement sessions for their teachers to acquire new skills and become internal subject matter experts on academic subjects during non-working hours.
Roles that do not require the employee's physical presence throughout the day are more likely to lend themselves to moonlighting, says Quess Corp's Sivaram. "Sales executives take up a night shift in other industries, a retail employee could be working at exhibition centres after shift hours, social media marketers work for different brands and companies, and the engineering technology sector has an element of moonlighting involving UI/UX designers and auto designers."
But moonlighting's significance gets amplified in the IT services industry, a high-competition sector that is the largest employer of the country's white-collar workforce. Ensuring both client data protection and talent retention are paramount, especially to remain attractive to a changed workforce in a post-pandemic, post-WFH era. But the industry is yet to arrive at a consensus on what moonlighting is and what exactly is prohibited because it was not a serious problem so far. Besides, they have little reference to take from the global tech giants given cultural and legal differences, recruiters say. "Moonlighting as a structural problem is discussed more in India than globally because the hybrid technology workforce is obviously larger in India. Globally, firms may not be using the term 'moonlighting', but they have clear-cut policies on dual employment, etc. In the US, if you make an offer to an employee and he accepts that offer, it is 99 per cent likely that the employee will join. In India, if you make an offer to an employee, you hope that he joins," says Sivaram.
Vijay Sivaram
CEO
Quess Corp
Ballurkar says the employee is also a victim of lack of clarity: "Tremendous clarity on what the contract says will enable employees to have complete free will and a guilt-free approach." Calling it a solvable problem, he says the IT bellwethers will set the new best practices for an industry that will become more outcome- and KPI-based in job descriptions and appraisals. "Efforts are good but outcome is better—that will be the approach," he says.
Sangeeta Gupta, Senior VP and Chief Strategy Officer at the IT-BPM industry's trade association Nasscom, says they recommend to companies that they strengthen their onboarding process (including background checks), communicate to their current and potential employees what their contracts mean, what the dos and don'ts are, and to be flexible enough to find roles within the firm where they can hire gig workers or where their own employees can do gig shifts.
Even now, moonlighting is not chronic, but it is the fact that it has set a precedent that is worrisome for organisations. Net result: they are beginning to take a long and hard look at their employment contracts, experts say. "There's a fair amount of movement to have exclusivity and non-compete-during-the-employment-term clauses if they don't have them already. The only thing employers are seeking out is whether they should completely ban these practices or should they say, 'You can do this with our permission'. That becomes a question of talent retention as well," says Ray of Cyril Amarchand Mangaldas. For instance, Swiggy's recently announced moonlighting policy requires employees to declare necessary details about highly sensitive projects that leverage professional know-how. The employee can pursue these projects once Swiggy approves.
Putting in checks on possible data breach, loss of confidentiality and productivity impairment, among other things, will be the realistic way to adopt moonlighting, experts say. But that's way more complicated for IT services firms that operate on multiple contractual caveats around data security, confidentiality and conflict of interest with their clients, compared to a consumer-tech platform like Swiggy where the tech development is purely for the company's own use.
If the IT services industry chooses to embrace moonlighting, it has a lot to consider: which roles to permit moonlighting in; ramifications on the contracts the IT services companies have with their clients; how much access to mission-critical data to provide to a moonlighting employee; and how much to invest in that employee's learning and development. "It will come with riders, and cannot be a blanket approval," says Randstad's Giri. Firms also have to consider simplifying approval processes for employees who want to accept projects outside the contract, Nasscom's Gupta says. "There needs to be trust between both employees and employers to make this happen, which in large companies will take time to evolve," she says.
Meanwhile, back in Chennai, the UX designer-cum-cricket coach has a plan for himself: Quit his IT job in two-to-three years when his venture starts turning in a profit, and focus full-time on cricket. "By then, younger talent will start coming in [in his industry]. I'm not keen on attending interviews at that stage," he says.