Two days before the first nationwide lockdown in March 2020, the Godrej Group, best known for its locks and soaps, saw its first employee fall ill as it was finalising its financial services venture. Soon, everybody was asked to work from home. As things came to a halt, its non-banking finance company (NBFC) licence was also delayed. "We finally got started when the second wave struck. We have had nothing but adventures [since then]," says a beaming Manish Shah, MD & CEO of Godrej Capital, from the group's headquarters in Vikhroli in suburban Mumbai.
Not far away in Kurla, another Mumbai suburb, healthcare and pharma giant Piramal Group was in the midst of a perfect storm. Even before Covid-19 struck, the group's wholesale lending business in the real estate space had been dealing with one shock after another, such as demonetisation, GST and RERA. A year before the pandemic, Chairman Ajay Piramal, and his son and Executive Director Anand Piramal, had started strategising about diversifying into retail and more granular wholesale lending. A week before the lockdown, they had managed to convince Jairam Sridharan, then CFO at Axis Bank, to spearhead the group's expansion into retail lending. Within a year of Sridharan taking over as MD of Piramal Capital & Housing Finance Limited (PCHFL), it managed to acquire the beleaguered Dewan Housing Finance Corporation Ltd (DHFL) after a bidding war in the midst of the pandemic.
Around the same time, in Pune, Adar Poonawalla—whose Serum Institute of India (SII) was busy rolling out the Covid-19 vaccine—was laying the groundwork for his financial services arm. The SII CEO also took the acquisition route, picking up the three-decade-old NBFC, Kolkata-headquartered Magma Fincorp (now known as Poonawalla Fincorp). The wild card was Singapore-headquartered DBS Bank, the first foreign bank that went the subsidiary route in India. Months after the advent of Covid-19, the Reserve Bank of India (RBI) allowed DBS Bank India to acquire private sector lender Lakshmi Vilas Bank (LVB)—the first time the regulator had allowed a foreign bank to acquire an Indian one.
The timing of this flurry of activity may be a coincidence, but this shows that a brave new breed of players—with deep pockets and brand names—has entered the financial services space. They're not deterred by the presence of big banks and NBFCs, starting out at a time when fintech firms are also upending long-standing payments and lending practices.
The industry has gone through tough times... and needs reputed players who are well-capitalised to offer innovative solutions by leveraging technology.

Abhay Bhutada
MD
Poonawalla Fincorp Ltd
But why are new players getting into this competitive space? The answer lies in the Rs 200-lakh crore banking and NBFC space in India. The market has seen Pune-headquartered Bajaj Finance emerge out of nothing to give established players such as Shriram Finance, Mahindra & Mahindra Financial Services, Tata Capital Financial Services, Muthoot Finance, and Cholamandalam Investment & Finance Company, among others, a run for their money. Plus, the space vacated by failed big entities like IL&FS, SREI and Reliance Capital offers an opportunity for the new players to rush in and gain market share. "We are still far away from peers like China in terms of credit-to-GDP ratio. So, there is scope for credit growth, per se," says A.M. Karthik, vice president of financial sector ratings at ICRA Ltd (see graphic 'Looking for an Opening'). Some of the new players, he adds, are looking at business segments that have not been fully ventured into, like unsecured and consumer financing. "They are all using technology and partnerships for asset-light models," says Karthik. Failed NBFCs Reliance Capital and SREI, too, are also on the block under the Insolvency and Bankruptcy Code.
The government has already begun the process of privatising two medium-sized public sector banks, while the stake sale for IDBI Bank is well underway. The Adani Group, Vedanta, and a few other large corporations are also said to be looking for ways to scale up inorganically in the space. "I see further consolidation in the sector," says the CEO of a mid-sized NBFC, who preferred to remain anonymous. Abhay Bhutada, MD of Poonawalla Fincorp, adds that the industry has gone through tough times over the past five to seven years, and needs reputed players who are well capitalised to offer innovative solutions by leveraging technology. So, what are the plans of the new players?
Manish Kumar
Group CHRO
Poonawalla Fincorp
BUY AND BUILD
Inorganic expansion is clearly a key part of their strategy to establish a network of branches and retail assets. The Cyrus Poonawalla Group started off by focussing on business loans, personal loans, and loans to professionals like chartered accountants. "We took a conscious call of looking at the credit-tested and the most premium of the customer segments," says Manish Chaudhari, President and Chief of Staff at Poonawalla Fincorp. The lockdown was a blessing in disguise. "That's when we got the confidence that a digital model with a focussed business strategy is sustainable and profitable for us," he adds. The company was initially focussed on cracking the difficult unsecured loans business. That was when it stumbled upon Magma Fincorp, which it lapped up for Rs 3,456 crore. Magma had a loan book of Rs 15,000 crore and was into commercial assets, agri finance, SMEs, mortgage and general insurance, with a network of 298 branches and a presence in 21 locations. It provided an ideal vehicle for the company to expand from unsecured to secured products like loans against property, machinery loans, and equipment loans, which it was planning to add before the acquisition.
As for DBS, it was expanding its branch and kiosk network just before it acquired LVB. It had announced 110-220 touch points, including 40 branches and approximately 80 e-kiosks a year before the pandemic struck. When the LVB opportunity came, the bank jumped in. "We felt that in the longer run, we will be able to absorb some of the challenges that a bank like LVB was facing," says Surojit Shome, MD & CEO of DBS Bank India.
When the Piramals started thinking about scaling up their retail business, they were also looking for an acquisition target with three main characteristics: a loan book of Rs 20,000 crore-plus; secured retail assets; and geographical presence in untapped smaller towns and cities. And DHFL was the perfect fit. Ajay Piramal, often referred to as the master of acquisitions, had some simple advice for his senior management. "Go beyond the headlines and dig deeper to see if there is some new insight," he told them. And they did just that. "Our core thesis for buying DHFL is not to maximise the pickings from the whole portfolio; it is about getting access to infrastructure, and being able to build a new business on top of it," says Sridharan.
SYNERGY PLUS
For many of the big names entering the space, it is also a means of synergy between different arms of their business. That was evident when Godrej Properties Executive Chairman Pirojsha Godrej, while launching the group's foray into the financial space, said Godrej Capital will form a key pillar in the overall growth of the group. Godrej Industries is the holding company of Godrej Capital, which, in turn, owns Godrej Housing and Godrej Finance. "We are getting to build a start-up in a 125-year-old group… There is a very clear, long-term, multi-decadal focus," says Godrej Capital's Shah.
It is not just their group's brand name and capital strength that new players like Godrej are using, but also the professional expertise and network. "Our first goal is to become the No. 1 financier in the Godrej Properties ecosystem... Godrej Capital [also] plans to introduce cash flow-based unsecured lending, which is basically business loans," says Shah. The group has a large ecosystem in the consumer products business, and the agri products business—through group entity Godrej Agrovet. It plans to expand into affordable housing next. "We will expand brick by brick, succeed in the existing geography, and go to the next," says Shah, adding that the group will focus on retail, its core strength.
If you see where the market is versus where it was a few years ago, PSBs have consolidated and large private sector banks are very selective in underwriting.

Jairam Sridharan
MD
Piramal Capital & Housing Finance Ltd
The Piramal Group, with its roots in real estate, decided to plunge into the lending business a decade ago. The thesis was to enter the wholesale real estate lending business, which was a large opportunity then as very few banks were present in the space. Last October, the board of the group's flagship firm Piramal Enterprises Ltd (PEL) approved the demerger of the pharma business from PEL, and simplification of the corporate structure to house its two key businesses—pharma and financial services. PEL is in the process of demerging the pharma business and amalgamating PHL Fininvest, its existing NBFC, to create a listed NBFC in the wholesale lending space. PCHFL—that bought DHFL—will remain a 100 per cent subsidiary of PEL.
As for the Poonawalla Group, after acquiring Magma, it has discontinued its commercial assets business; instead, it is using Magma's network for consumer lending—personal loans, loans to professionals, machinery loans and medical equipment loans. "These are loans that are more in sync with our strategy of doing consumer and MSME lending," says Chaudhari.
A DIVERSIFIED BOOK
These acquisitions have helped the new players diversify their lending book. For instance, the Piramal Group's financial services business has a retail share of 36 per cent from nearly zero a few years ago. "We have started getting new business," says Sridharan. The group, with a loan book of Rs 60,000 crore, is now betting on merchant loans. "Nobody has cracked it yet," says Sridharan, adding that nobody knows how to tap this market as though there are 63 million MSMEs, the credit bureaus have records of only 20 million. It is also looking at the under-penetrated used-car business, which, Sridharan says, could become bigger than the new car lending business, just as it happened in most global markets. According to available statistics, the lending penetration for used cars in India is around 20 per cent against 65 per cent for new cars. "Affordable housing and MSMEs will be our core areas," says Sridharan, adding that the group will build businesses around these.
Meanwhile DBS, with a lending book of Rs 43,898 crore, classifies its businesses as large corporates, SMEs, and consumer. Its loan mix is about 60 per cent large corporates with the balance equally divided between SMEs and retail. Under retail, it has gold loans, small business loans, and credit cards. "We currently have about 3 million active retail customers. So, we can also start doing credit cards for them," says Shome. DBS is also exploring getting into affordable housing finance. "We will probably do it through a combination of first working with large-scale affordable housing players, and then deciding whether we want to do it ourselves. We could also do it as a combination of the two," says Shome. The bank is looking at an ideal loan mix of 40 per cent large corporate, with 30 per cent each of SME and consumer banking. The bank has big plans for MSME lending, small business loans in smaller geographies, and affordable housing loans.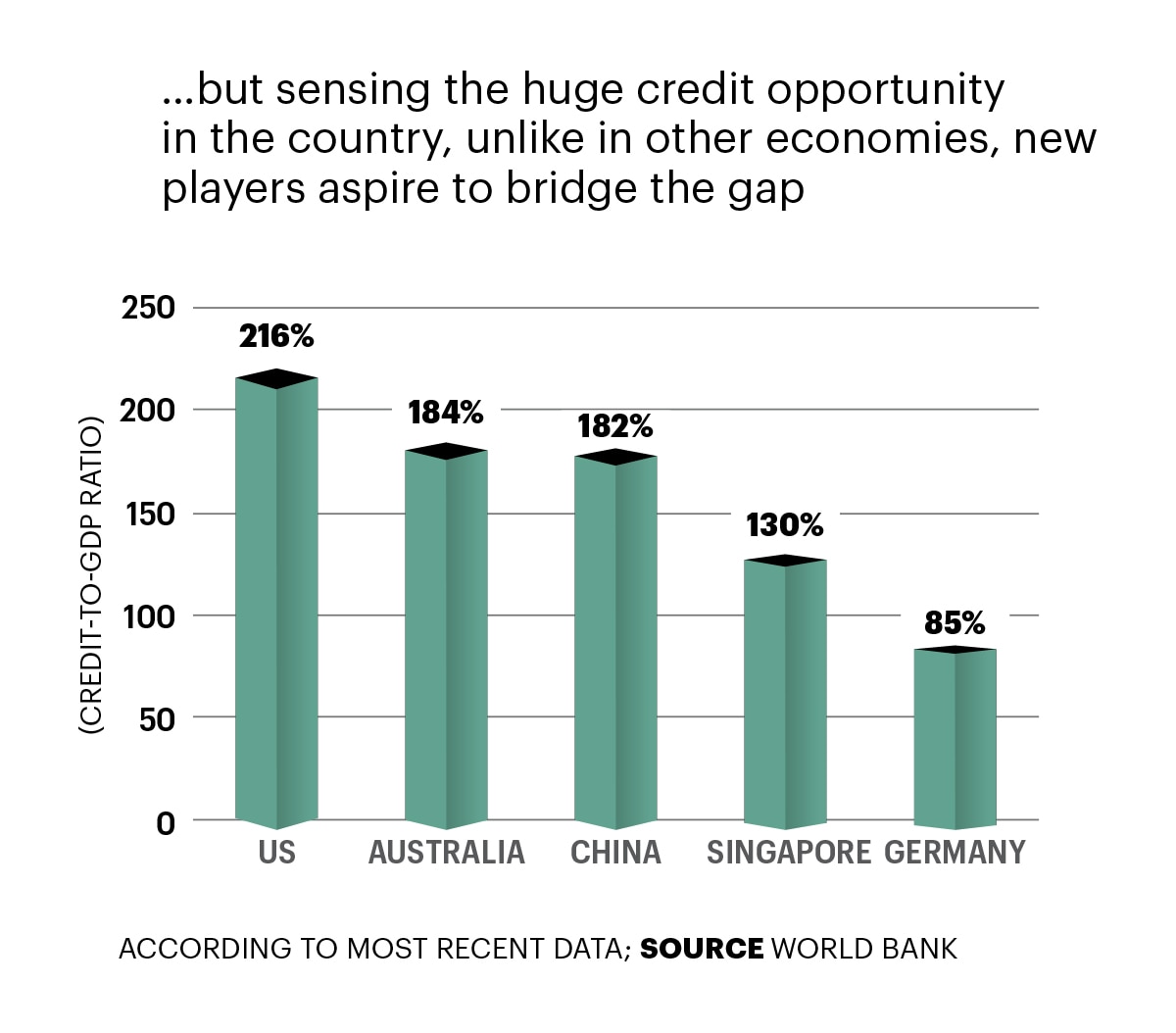 The Godrej Group, too, has a loan book of nearly Rs 2,400 crore as of June this year. "By March 2026, we will have Rs 30,000 crore," says Shah. Over the past 18 months, the group has approved Rs 4,300 crore of home loans, including loans against property, and served almost 5,500 customers. "We were able to build a book of Rs 1,775 crore by the end of March, with no delinquency," says Shah, adding that the group is happy with the quality of its loans.
Meanwhile, Poonawalla Fincorp has built a book of about `17,660 crore. The company has said that one of its objectives is to triple its assets under management (AUM) over the next three years. Chaudhari says the company wants to have an AUM of `50,000 crore by 2025. "We have the requisite capital available for it. And, we are performing well on all parameters in terms of our credit losses," he adds. It plans to maintain a mix of secured and unsecured accounts at about 60:40. Currently, the unsecured portion is less than 24 per cent of the overall book.
DIGITAL FIRST
One big advantage the new players have, which is often overlooked, is that their operating costs and models are leaner than the traditional banks and financial institutions. "It's cloud-first, open API, and digital from the inside from day one. If the customer chooses not to use all of it, no problem. We are as digital as the customer needs us to be," says Shah of Godrej. He narrates an incident when a potential homebuyer, who worked for a technology major in Bengaluru but was working out of his hometown during the Covid-19 lockdowns, decided to put off the purchase. The team convinced the buyer to do the entire transaction online, including signing the loan documents digitally, disbursing the money, and making sure that he went ahead with his home purchase without visiting Bengaluru.
It is also focussing on more innovative offerings in a commoditised home loan market. For instance, it has launched a product called 'Design Your Own EMI', under which the homebuyer can decide to pay only the interest as EMI in the initial years. "You have to do this at scale. And, if you have to do this at scale, it cannot be person-dependent. It has to be system-driven," says Shah. The company is also amongst the very few players offering loans with a tenure of 25 years.
At DBS, the focus is on SME lending—where it is using both its physical network and technology to reach out to potential customers. "We have built our own underwriting platform, which is end-to-end digital. And, we use 10-12 different data sources to estimate credit quality," says Shome, adding that this includes scraping legal reports, social media, etc., to home in on credit-worthy firms.
As for the Piramal Group, it has built a lot of core technology itself and created a modular structure so that the company can link up with multiple external parties. "We have invested a lot in building our own tech and analytics capabilities," says Sridharan. Similarly, Poonawalla Fincorp offers a 100 per cent digital journey for unsecured loans.
THE WAY AHEAD
While the space is exciting, it's not without challenges. For instance, the new RBI guidelines have taken away arbitrage opportunities for NBFCs. "If your greatest attraction for getting into this business was the regulatory arbitrage between banks and NBFC, then that [story] is over," says Godrej Capital's Shah. Clearly, the regulators want serious players. "They want players who will get into untapped geographies and under-banked areas," he adds. "I think it's high time that we get aligned to the fact that this is a very regulated business. And, the arbitrage, if at all, can only be short term," adds Chaudhuri of Poonawalla Fincorp.
"These new players are on a hiring spree at all levels. The biggest challenge comes from this as the people come from different organisations," says a consultant with the Big Four who is working with some of these NBFCs. For the Godrej Group, the first 100 people came from 50 different companies—mostly from financial services. "[Only] our first couple came from within the group," says Shah, who was employee No. 5. "There is a clean slate in terms of bringing people on board with a clear understanding," he adds. In fact, the requirements for talent are very specialised in the technology and fintech space. "The company's CTO joined from Amazon... We believe that very different kinds of talent are required to run some of these functions today," says PCHFL's Sridharan.
Another big challenge is access to low-cost funds as NBFCs do not have access to current and savings accounts or CASA, as banks do. Chaudhari, however, begs to differ. "The cost of funds is really not a challenge for us. We are one of the AA-plus rated entities.... The kind of equity we have makes us get funds at one of the most competitive rates in the industry," he says.
We have to set ourselves up for the next phase of growth. And the platform here allows us to grow at least three times over the next five years.

Surojit Shome
Managing Director & CEO
DBS Bank India
Both on the equity and debt side, the key raw material for scaling up an NBFC business is capital, and the new players are prepeared. There is a strong equity commitment from the groups with access to a diverse pool of debt capital. "If there is an opportunity to bring in a strategic equity partnership, I think the group is well placed for that," says Shah. Godrej has committed Rs 5,000 crore in capital over the next four to five years.
DBS, meanwhile, has improved its CASA deposits from 14-15 per cent of deposits a few years ago to about 30 per cent-plus. "Given our network, we are hopeful of getting close to 40 per cent," says Shome. The bank has a fairly large corporate deposit base, which is diversified between large corporations and multinationals. "A large part of our SME and corporate business is also short-term because it's mostly trade finance," says Shome. The bank will build a liability base that matches its asset profile. The Piramals also have a deposit licence from DHFL which is pending with the RBI.
The next logical extension for these new players would be to expand the business to mutual funds, insurance, and other financial services. As part of the acquisition, the Poonawalla Group got an insurance company, Magma HDI, that operates in the general insurance space. "As of now, we are not looking at any other new lines of business," says Chaudhuri.
The Piramals also got a life insurance business along with the DHFL acquisition. DHFL had a 50 per cent stake in Pramerica Life Insurance, which is now part of the Piramal Group. The business suffered for want of capital as DHFL's promoters were not in a position to pump in additional capital. As a result, the life insurer's ranking plummeted from the eighth largest in terms of premium collection before the DHFL crisis, to the 20th position now. Sridharan jokes that the only way is up from here. "We are working with insurance regulator IRDAI to get in as a promoter. We have re-shuffled the entire board," says Sridharan, who has also joined the board as chairman. The Piramals claim to have a strategy and a structure in place which they believe can move this business forward. "You will see us making investments in that business, better integration of the business into some of our [other] businesses, and a more aggressive Pramerica in terms of originating insurance policies... We like mutual funds, general insurance a lot. We will keep watching the financial services space," says Sridharan.
Clearly, the ambitions of these new players are not just restricted to lending alone. Watch this space for more action.