In the land of hope, there's never any winter. K. Narmada, all of 19, epitomises this. She grew up in Katpadi, a small town in Tamil Nadu, and her dreams have brought her to a rented accommodation at Kanchipuram, 70 km from her home. Daughter of a freelance painter, Narmada works in Sriperumbudur near Chennai and supports her family of five living in one of Katpadi slums. Her most immediate dream: to see her younger sister in college. Narmada, who is sustaining her family with the majestic Rs 4,000 that she earns, says: "I have to work and I am glad there is work." She also wishes to pursue a B.Com degree through correspondence while working as that would increase her future earnings potential. Not very long ago, the same Narmada was sitting at home after completing her 12th standard.
B. Mohanavalli, 22, hails from village Iyengarkulam near Kanchipuram. The onslaught of imitation silks and the prohibitive cost of pure silk have practically killed her father's business of silk weaving. She had to abandon her desire for higher studies and the ambition of working in a bank in favour of immediate earnings. Mohanavalli is working and waiting for her brother to finish his studies and get a job. "I will then get married and quit," she says firmly.
Narmada and Mohanavalli are not alone. There are thousands of women in Sriperumbudur, who have turned dream weavers for their families, thanks to their work.
Giving wings to these aspirations are an eclectic mix of companies— which in the case of these two is a company that specialises in connecting people, Nokia.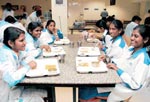 Says a Nokia spokesperson: "You will find that 70 per cent of our workforce is women." This is not due to any discrimination but simply because "women pass our dexterity test better than male walk-ins," says Sachin Saxena, Director (Operations & Logistics), Nokia India. Nokia has 8,000 employees and has completed more than two years of operations at its Sriperumbudur SEZ.
Like Nokia, there are scores of telecom and electronics majors in Sriperumbudur, which are employing increased number of women—who constitute over 40 per cent of the workforce. Girl power in the region had never been so strong. Apart from Nokia, there are Dell, Motorola, Samsung and Flextronics that have set up shop here. Says a senior Flextronics executive: "We employ women wherever electronics is deployed, and employ men for heavy-duty machining— this is simply to ensure lesser risk for women."
Inside the Nokia SEZ, suppliers such as Salcomp, Aspocomp, FoxConn, Perlos, Jabil, et al employ workforce that are 40-50 per cent female. "Women get employed not by deliberate design. It's just that they are eminently suited for the telecom manufacturing industry or wherever electronic components are used," says Sunder Vadivel, Head (HR), Perlos. The SEZ collectively employs at least 7,500 women in an area spanning 210 acres.
On the job
"These days, fathers (in the region) depend more on their daughters rather than sons to sustain their families," says T. Claimans, Senior Manager, HR& General Administration (GA), Samsung India Electronics. Claimans is not exaggerating.
S. Chitra, 20, a worker at Samsung, hails from Punnapadi village in Arcot district. Her father was a farmer but with the groundwater drying up, the family found itself in choppy waters. Her younger siblings are both in school. Chitra herself had taken up tailoring till she found her calling at Samsung. "There is work freedom here," she says. Congenial surroundings are a great incentive, second only to the regular monthly salary that feeds her family.
At Samsung, the girls are bubbling with enthusiasm about their work. In fact, so zealous are some of these girls that they want to come to work even on holidays. "It becomes boring during the weekly offs," say S. Shankari and D. Sangeetha in unison, "even if we go home, we talk to our parents and siblings about the number of TVs we made and other company matters."
Samsung, which has a low attrition rate in Sriperumbudur, currently has only one shift for these women— the day shift, which allows them to maintain sensible hours. The HR team under Claimans makes it a point to visit every family personally and enquire about their well-being.
Problems and complaints are also sorted out. "If our workers have inhibitions in their workplace about anything, we get to know from their parents and rectify them," he says.

Nurturing hope
For their part, these companies are giving impoverished young girls in the region a chance to live life out of the ordinary. At Nokia, each employee is given a smart card, which has food credits. At the end of the month, employees can buy biscuits and other snacks for their families with the credits left, a feature much appreciated by all. Says Nokia's Saxena: "Many of our employees never did the things normal kids do. For some of them, chocolates were a rarity and an indulgence, and here they get it every day."
At Nokia, these women get hired between ages 19 and 22. They are encouraged to pursue their studies (if they can with their earnings) for better prospects and better employment at a later stage. Sometimes, these women opt for diploma courses specified by the company, which, in turn, help them change their job profiles through internal transfers.
There is no lacking of the fun quotient at work. At Samsung, picnics are organised on a regular basis. However, talk to women employees in Samsung and you discover a flip side of this extraordinary life as well. Unlike their counterparts at Nokia, women employees here are less interested in pursuing higher studies. "We are very happy here and would like to be with Samsung as long as we can," is all they say.
For every girl working in these high-tech factories in Sriperumbudur, the place has become a beacon of hope. Much more perhaps, than the patron saint of Sriperumbudur Sri Ramanujacharya had envisaged centuries ago.