Ask Meenakshi Kohli, senior manager, Communications, at Child Rights and You (CRY), about some landmark near her office and she is most likely to come up with "the big garbage dump surrounded by stray cows". Her small office is situated at DDA Slum Wing Baraat Ghar in the filthy, dingy bylanes of Kotla Mubarakpur, behind the posh South Extension in Delhi, but that has not deterred young professionals working in swank offices in Gurgaon and elsewhere from volunteering to work pro bono at CRY. The young and the restless in India are working hard and giving back all at the same time.
When CRY approached Chaitali Banerjee, 26, for a donation a year-and-a-half ago, she decided to sponsor a child for one year. However, a mass mailer from the organisation asking for volunteers set her thinking. Though not sure she would be able to spare time doing pro bono part-time work, she still gave it a shot and has since persisted with it.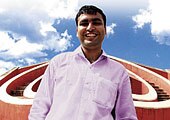 A fine balance: Accenture's Ruchir Jain pitches in at Salaam Baalak Trust
Her work at CRY involves research, policy, building public opinion and planning campaigns. "I pay an education cess (to the government); and now, I know how this money can be utilised better." Banerjee, who holds a regular job as Assistant Manager, Human Resources, at Max New York Life Insurance, on weekdays, is busy thrashing out policies on child rights every weekend. Her motivation: "I have the ability to make a difference; so why not make use of it?" The returns: "It has opened a very invigorating world for me."
Sanjoy Roy, Trustee, Salaam Baalak, offers an interesting theory by way of explanation. "It usually starts because it seems a 'cool' thing to do-as partying was cool for the 80s generation," he says, adding: "Though a substantial number of these Good Samaritans discontinue after a while, the number of those who stick it out is increasing by the day."
Data on this phenomenon-scratchy though it is as most NGOs do not categorise volunteers and donors by profession-does bring out a trend. At CRY, where such data is categorised age-wise, the number of contributors in the age group of 25-35 years has increased 46 per cent year-on-year in 2006. Young contributors below the age of 25 have increased a stupendous 100 per cent.
Part of this sub-25 group is Ruchir Jain, Analyst, Business Consulting Division, Accenture. The 23-year-old has become adept at maintaining his work-philanthropy-social service balance. Jain's second "career" (in giving back to society) is as old as his day job-two years, first in Chennai and now in Delhi. He teaches commerce to destitute children at the Paharganj centre of Salaam Baalak Trust. Unlike others, he is not a weekend Good Samaritan, but manages to pitch in with late night classes after work. Jain, who commutes 22 km one-way for this, says: "The classes at Salaam Baalak Trust reflect my desire to help the unprivileged to lead a better life and become self-sufficient. Doing this gives me immense satisfaction. This is my way of giving back to the society, which has given me so much."
While some do it for this reason, others do it for rejuvenation. Maulshree Kalothia, 29, Strategy Consultant with FCB Ulka, is a story teller with a mission. She volunteers as a story teller at India Habitat's Book Forum for Children and the British Council and makes children aware of Indian authors and gives them an insight into regional literature.
Brain power: MNYL's Banerjee helps out at CRY
On weekdays, while she strategises for 30-second television commercials or 100 column centimetre print ads, on Saturdays, she tells stories, play-acts, or prepares props for her stories. "It is my rejuvenation time," she says. Seeing a book dog-eared gives her the ultimate high.
Probe further and one realises that these young professionals are not just givers, but achievers as well. Jain is a Chartered Financial Analyst (us) level-II candidate while Kalothia is an ma in Psychology and takes immense pride in being "the first woman candidate on the rolls of the Indian School of Business, Hyderabad". Banerjee is an MBA from Symbiosis, Pune, and has a clear career path charted out for her.
While some call it an unusual fallout of the economic boom and rising salaries, Salaam Baalak's Roy prefers to call it a worldwide phenomenon that is catching up fast in India. "Simply put, if you have been able to feed your own stomach and still have some energy and resources, it's time to take up causes."
Technology, too, has acted as a catalyst. Amita Puri, General Manager, Resource Generation, CRY, points out: "Payment channels like the internet and the mobile phone make it convenient for them (youngsters) to contribute. In addition, of course, volunteers have filed RTI petitions, highlighted human rights violations of marginalised groups like tea plantation workers in North Bengal, taken forward anti-child labour campaigns and much more."
Moral tales: FCB Ulka's Kalothia
Neeraja Phatak, a consultant working on child protection issues for more than two decades, sees a discernible pattern in the attitudes of the young. Several young professionals are realising the value of philanthropy, and the reach of the telecom, media, internet sectors has spread awareness about this further, she says. However, she adds that there is a large group of "unconverted professionals" and millions of needy people still left untouched by such efforts. "Philanthropy is really for everybody," she says.
And it is these dedicated and socially responsible young professionals who are redefining the "work-hard-party-harder" ethic that, in popular perception, at least, characterises today's allegedly hedonistic generation. And in doing so, they are giving back to society some of the benefits they themselves received from it.