At the Tata auditorium, NCPA, Mumbai, a group of young relationship managers from a leading bank huddle together on a warm August evening. The excitement is palpable as they vociferously discuss the intricacies of the event about to unfold over the next couple of hours.
Numbers crunched databases at their fingertips, the managers are ready for the performance of the day. We are talking business all right, but with an "arty" twist. Theatre has now gone luxe, and banks and financial services companies are turning to this fine expression of art to "capture" high net worth individuals (HNWIs). An evening of theatre is not just about power-packed performances; it is turning into a powerful medium to create a premium aura around brands and more importantly, capture leads for business conversions.
It was a germ of an idea that clicked for HSBC Premier, the private banking arm of HSBC Bank, which has been associated with theatre for the past three years. "The HNWI space has seen intense activity over the past few years. To differentiate ourselves in this space, it is important to engage with customers beyond their banking and financial needs," says Rajesh Iyer, Head (Personal Financial Services, or PFS, Marketing), HSBC India.
So, how exactly does theatre work for banks and financial services companies? Says Girish Shah, Head (Branding), Reliance ADA Group: "The objective (of the theatre experience) is to be able to engage with HNWIs in a nonobtrusive environment. Done right, it's a great multiplier for the brand."
The initiative starts with choosing the right producer and the right play to complement its brand message. On the City of Dreams play that Ashvin Gidwani Productions staged for Reliance Capital, Shah says: "Reliance Capital is all about 'enabling people to achieve their financial dreams'. Our association with City of Dreams, which is about how aspiring Indians come to Mumbai to realise their dreams, was, therefore, the right fit as there is a congruence between our brand philosophy and the play."

Exploding markets
The intense competition in the race to acquire HNWI clients has prompted several banks and financial services companies to turn to theatre as a hook. Sample these numbers: according to the 12th Annual World Wealth Report released in June 2008 by Merrill Lynch and Capgemini, India led the world with a growth rate of 22.7 per cent in its HNWI population in 2007. This followed an equally impressive performance in the previous year. Banks can ignore this market at their own peril, says a market analyst. For the record, the HNWI threshold stands at $1 million (Rs 4.3 crore) excluding the value of their residential premises.
Standard Chartered Private Bank, which was launched in India in June 2007 as part of a global launch across 11 markets, has been an early adopter of theatre as a marketing tool—and with good reason. "Following the acquisition of American Express Bank, Standard Chartered Private Bank has expanded its footprint across five centres in India—Mumbai, Delhi, Kolkata, Chennai and Bangalore.
India is a key market, has an HNWI population of 123,000, and a growth rate higher than that of any other country," says Shiv Khazanchi, Managing Director and Head (Private Banking), India, & Global Head (NRI Banking), Standard Chartered Private Bank. And where does theatre fit in? "Theatre has always been a fine expression of art, and can be very engaging. We create unique experiences therein," he says.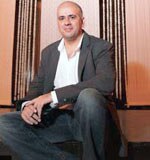 This new-found interest of banks such as HSBC Premier and Standard Chartered Private Bank and financial services companies has spelt exciting times for theatre production houses. Ashvin Gidwani, the man at the helm of the eponymous production house, which has created "properties" (read: plays) for banks and financial services companies, calls it "corporate theatre". And for a nonbanking person, he seems to know his numbers quite well. "Of the 200 shows that we did/are doing in 2008, 85 per cent have been created for banks and financial institutions.
Over the next year, of the 400 shows planned across the world, 60-70 per cent will cater to the banks and financial services companies." The percentage is lower because insurance companies, too, are jumping on to the theatre bandwagon, he adds.
Unique recipe
Every bank and financial services company has its own culture and guidelines to showcase through theatre. Says Sevantika Bhandari, Head (Marketing), ICICI Group Global Private Clients: "Everything from venue to décor to food and beverages has to be 'best in class'.
This is our single-point brief to all our partners. We also focus a lot on the synergies between our brand image and that of the production house and artistes and, hence, support productions based on their credentials and content."
Standard Chartered Private Bank, too, has its distinctive specs for content and ambience. "Creating an experience for our clients involves a lot of planning and careful execution. We usually initiate work well over two months in advance. Planning involves going through every minute detail to deliver a fine and special experience," says Khazanchi.
For HSBC Premier, as with other banks, the idea is to deliver the essence of its brand— "opening a new world of possibilities for our customers by linking them to the world, and the world to them"—through theatre.
For banks and financial services companies, it is important to ascertain subjects that will have a broad mass appeal (or no appeal) in a country as diverse as India. The trick is to know which brands (noncompeting) to associate with, decide on pre-event engagement initiatives and, then ensure delivery accordingly.
"It is important to have both—engagement with customers at the venue as well as brand salience; and we do that in consultation with the production house that we work with," says HSBC Premier's Iyer.
Ultimately, it is not about getting HNWIs to watch a play, but to create an overall experience that will stay with them even after the show is over, reason most banks.
The future is here
Reliance Capital plans to extend its footprint in theatre across the top 20 cities in India, and this will be a key driver of its growth within the HNWI universe in the near future. "We are strategising towards developing a panel of like-minded producers with whom we will work on an annual basis, so that our association with theatre is omnipresent," says Shah.
To this end, the company has roped in Ace Productions of Raell Padamsee that is staging two shows of the play Noises Off for it in September. Says Padamsee: "Theatre is becoming a curious mix of art, food and networking, triggered by the growing need of these banks to address a certain kind of niche market."
HSBC will continue to build on this platform for the future as the overall feedback from customers and the frontline has been positive. Iyer claims: "While there have been isolated instances of banks and financial services companies getting involved with theatre, we were the first in India to have adopted the medium as a fullfledged platform for brand-building, not only for our business here but also for our NRI business across multiple geographies like the US, the UK and West Asia. "
Given the high fragmentation levels in the media and the difficulties in targeting specific consumer communities, it has become imperative for banks and financial services companies to go beyond the 30-second TVC and other conventional media. In such a scenario, theatre works as an innovative marketing practice. "Theatre, apart from being more effective in terms of communications and costs, strategically weaves in our brand experience and product sampling with the HNWIs," says Shah. For banks, then, it's a decisive "curtains up" for theatre.