TVs aspire to be full entertainment hubs and much more. The best large screen TVs are LED, have Internet connectivity, 3D options and HD quality sound that lives up to the expectations of the high-definition pictures they produce. While once they cost an arm and a leg, today the prices have descended to mortal levels. We look at some value-for-money propositions.

32 INCHES

Samsung UA32D5000PRMXL
Price: Rs 39,899

As they say, this Samsung TV is all about practicality and you can play most movie formats using the USB ports. If you have Full HD content to play, the TV is up to the task with the 1080P Ultra Clear Panel which absorbs external light and eliminates reflection. This not only gives natural colour but also recreates a theatre effect. Then there is the SRS Theatre Sound to augment this effect. The TV also features Anynet+ technology to control Samsung devices.
Sony Bravia KDL-32EX520

Price: Rs 44,899
Among 32-inch LED televisions, Sony's KDL-32EX520 stands out for its picture quality and some unique features. This Full HD TV comes with slim edge LED backlight, while the new X-Reality engine ensures crisp pictures and vivid colours. The TV is Internet-ready and users can log on to the Net to access websites and video through a Wireless LAN or the Wi-Fi Direct adaptor. For video chats using Skype read, you will require an additional camera. The 20W S-Force Front Surround 3D speakers put the Dolby Digital sound technology to good use. Photo TV HD lets you create slide shows directly from Sony cameras in hi-def.
LG 32LV3500
Price: Rs 34,890
This TV from LG too gives a brilliant picture thanks to the LED backlit display. On the 1920 x 1080p resolution, the IPS-enabled LED panel negates lag and gives a smooth picture. The TV comes with low/very low/the lowest power consumption modes, enabling you to cut down greatly on unnecessary electricity usage. The Infinite Surround system is good enough for you to not need extra speakers. The TV is capable of playing DiVX video through the USB ports.
40 INCHESSamsung UA40D5500RR
Price: Rs 61,660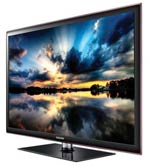 This Smart TV from Samsung tries its best to be your entertainment hub with Internet connectivity and apps that almost make it a large computer. Samsung's new filter and ultra clear panel construction eliminates layered images and gives crystal-clear pictures from all angles. Then there is Wide Colour Enhancer Plus and Clear Motion Rate technologies to make the picture even better. Users can download various apps to search for TV content, surf the web and also do social networking. The ConnectShare Movie features gives playing video using the USB the ease of plug-and-play.
Sony Bravia KDL-40EX520
Price: 64,899
This Full HD LED TV comes with Net connectivity, which makes it better than the KLV-40NX520, which however is much cheaper. The X-Reality Engine ensures the best-in- range picture by enhancing the content and ensuring that you will enjoy everything in HD whatever the source. The TV can be connected to VAIO laptops for seamless navigation. This feature is also handy since you will be accessing a lot of content online. The S-Force Front Surround 3D speakers provide great audio. It also comes with surround mode.
40+INCHESSamsung UA46D6000SR

Price: Rs 91,110
If you like your neighbours and wouldn't mind then getting a sneak peek at what you are watching on TV, get this 46-inch Smart LED TV from Samsung. Yes, this one comes with 3D too so the neighbours get good value for your money. Jokes apart, the 3D experience is one of the best available for home users now, thanks to added 3D Auto-Contrast and 3D Audio features. Being a real smart TV, there is also a Social TV feature that lets you blog and chat.
Panasonic VIERA TH-L42D25
Price: 88,000
Panasonic sells only 32-inch and 42-inch LEDs in India and it certainly has one of the best devices in the latter. With a Dynamic Contrast ratio of 2,000,000:1 and IPS panel, the TH-L42D25 promises images that do not fade when viewed from an angle. Despite the slim design, the colours are very true and even fast moving images appear crisp. VIERA CAST with Skype lets users enjoy Internet content right on the TV and the web interface is easy to use.
Courtesy:
Gadgets and Gizmos