The brrrrr days are here. Everything has turned cold to the touch, making summer seem like a delightful tropical island. Out have come the blankets, the woollens and the jackets in preparation for the couple of months of chilly weather. You can make winter a more salubrious season with the help of some smart gadgets. No, not just your air blowers or your halogen heaters. Don't forget stuff that help you avoid chores that are painful in the cold.


Kohler Numi Integrated Toilet Seat
Price: Rs 6.5 lakh
Commodes with seat warmers and auto flush have been available for quite some time now. But Kohler has come up with an advanced toilet seat that opens and closes when someone approaches it or moves away. Other than the heated seat, this facility also blows warm air up from the floor-level vent that heats the floor surface to keep your feet warm. Adjustable front and rear sprays, integrated dryers with controllable air temperature, deodoriser, bidet wand with self-cleaning UV light and an intuitive touch interface plus music are the highlights of the fascinating Numi Integrated Toilet Seat.
SPECS: Automated functions; Touch interface, 1.28 and .6 gallons per flush.


Eureka Forbes Euroclean Robocleanz
Price: Rs 6,990
Imagine having to clean the house when you'd rather curl up in bed with a book and a tureen of hot soup. You can actually. Get yourself the Euroclean Robocleanz, an automatic vacuum cleaner with intelligent path judgment. It is equipped with a smart side brush for easy cleaning of nooks and corners and the sleek design ensures it does not neglect to clean beneath the sofas, tables and the beds. So, just set the Robocleanz going on its dust-down mission while you turn the pages of your chosen tome. Or perhaps catch your favourite show on television.


LG F1480RDS29
Price: Rs 70,990
Pulling out the damp clothes from your washing machine and hanging them out to dry can leave you irritable on a cold day. The LG F1480RDS29 offers a solution. This washer-dryer combo has a direct drive technology that claims to clean clothes better than hand washing, while the Steam Refresh blasts clothes with a powerful burst of steam, removing wrinkles and odours.
SPECS: 9 kg washer, 6 kg dryer; Washing options; Steam mode.



Braun ThermoScan 3
Price: Rs 2,500
A change in weather is often accompanied by ailments, especially cold and fever. Having a thermometer at hand is advisable. Although this Braun Thermoscan 3 is designed especially for children with its one-second temperature reading time, it can also be used on adults. Quick and accurate, the ThermoScan also remembers the last temperature reading.
SPECS: 3V lithium battery; 11 disposable lens filter; 1-second reading time.


Philips Mini Kettle
Price: Rs 1,895
It is prudent to avoid chilly liquids and to drink warm water or beverages in the winter. Having an electric kettle by the bed side or on the office desk can, therefore, be a good idea. This one from Philips comes with indicators for liquid levels such as one cup or two cups. It also has a blue light indicator that shows whether the kettle is on.
Tip: For those who enjoy drinking green tea, this will heat your water whenever you want, without a hass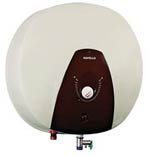 Havells Gero
Price: Rs 8,000
With the onset of winters, the long-neglected geyser comes back to life. Of course, while it heats your bathwater, it is also gobbling up a lot of electricity. In the spirit of saving energy, you could consider installing the Havells Gero at home. This ensures quick water heating while consuming lesser power. With a 5-star rating from the Bureau of Energy Efficiency, it has CFCfree PUF insulation that prevents over 45 per cent of normal heat loss. The high precision thermostat and multi functional safety valve keep water hot for close to 24 hours while consuming just half a unit of electricity.
SPECS: 15-litre capacity; Heating indicator lamp; 5- star BEE rating; White, ivory, brown colours


Westinghouse Convector Heater
Price: Rs 3,490
Move over traditional electric heater, here comes a modern replacement. The Convector Heater from WestingHouse comes with two heat settings and adjustable thermostat antifrost projection. With a 24-hour timer for on/off, the heat output is 2000 watts. It is designed to prevent overheating. Good looking, it can be used in a free-standing position or can be mounted on a wall.


Bajaj Majesty RH 9 Oil Filled Heater
Price: Rs 5,804
Where conventional heaters reduce the oxygen level in the room while heating it up, the oil-filled heaters warms up the room without reducing the oxygen level. Bajaj's oil-filled heather, the Majesty RH 9, comes with oil that when heated evenly increases the temperature in the room. With a wheeled stand, it is easy to move around the room, and it has temperature selection for just the correct degree of toastiness.


Panasonic Hair Dryer EH2271
Price: 6,490
Step out of the house with wet hair and invite winter maladies like cough and cold. And if you are against hair dryers for leaving your tresses dry and brittle, you can try this special one from Panasonic. The EH2271 is designed to make sure that your hair doesn't lose the moisture or the shine. Also, along with hot air, it comes with a selection of cool air options, an advanced feature that most other dryers don't have.
SPECS: 200W power; External ion outlet; 3-speed selection; 4-temperature selection.

WARM WISHES FROM ABROAD

Pajama Warming Pouch
Price: $31.95
www.hammacher.com
This one is an electric blanket for your clothes. The Pajama Warming Pouch warms your clothes so you don't pull on cold nightwear. Using heating elements, it heats the clothes to a nice 48 degrees Celsius within 10 minutes, consuming 50 watts. Of course, it need not be used just for pajamas-you could well warm up your shirt, towel, hats, gloves, whatever.

Etre FivePoint Gloves
Price: 40 pounds
www.etreshop.com
Capacitive displays are cool, but not during winters when your gloves interfere with the slide of fingers across the screen. If you feel that you have to have gloves on, you wouldn't do better than to get the Etre FivePoint gloves that are designed for touchscreen devices like smartphones and tablets. So there, no frozen digits, no stoppage in work.

USB Heating Gloves
Price: $19.99
usb.brando.com
From a touch display to a keyboard is another story. For this you would probably need a different type of gloves. So why not stylish USBheated mittens. These come with open fingers, allowing work on a keypad. Made of wool, the mitts have heating pads whose temperature can be controlled. Each glove needs to be connected to a USB port individually.

Zippo Hand Warmer
Price: $12.50
www. amazon.com
The Zippo hand warmer, as the name suggests, keep your paws from freezing in the cold. This device from the popular lighter maker fits easily into the pocket and uses the Zippo premium lighter fluid to keep the outer case of the warmer many degrees above freezing. With the appropriate heat selected, it can stay active for close to 12 hours on a single fill.

Outdoor LCD Thermometer
Price: $12.90
www.thinkgeek.com
It is always advisable to check the weather forecast before heading out of the home. You want to be neither overdressed or undressed for the weather, do you?The Outdoor LCD window thermometer shows the current temperature along with the minimum and maximum temperature achieved during the day. The thermometer is weather resistant.

Courtesy:Gadgets and Gizmos