FEMME FATALE
If you were to be told that an iconic model was the most dangerous celebrity on the Web, you'd be thinking wildly of Al-Qaeda converts on the ramp. But McAfee says the model is none other than Heidi Klum, the popular Victoria's Secret model and host of reality TV show Project Runway. According McAfee, clicking on links promising sexy pictures or videos of Klum comes with a nearly one-in-10 chance of contracting a bad case of spyware, adware, phishing scams or other malware. Cybercriminals often take advantage of people's interest in celebrities to trick them into visit sites that will automatically deposit malware on their PCs. The top 10 on the dubious list: Klum, Cameron Diaz, Piers Morgan, Jessica Biel, Katherine Heigl, Mila Kunis, Anna Paquin, Adriana Lima, Scarlett Johansson and Brad Pitt. Tiger Woods is not on the list!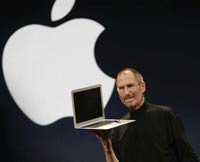 STEVE JOBS, 24.2.1955-5.10.2011
So what made Steve Jobs such an extraordinary maker of extraordinary gadgets? Here is how Donald Norman, former vice president at Apple and author of Living With Complexity, analysed Jobs in New York Times. "He was brilliant at understanding what a product should be and he was a dictator. He micromanaged, which goes against all conventional wisdom about management. He went to product reviews every week. He'd say, 'Move that two pixels over.' A CEO telling you to move something, a pixel? Then he'd come back a month later, and say, 'I told you to move that. Why didn't you?' That's a unique characteristic. He cared about details and he remembered."


GAMERS TO THE AIDS
For those who thought gaming was a frivolous pastime, this is a great riposte. A group of gamers on a site called FoldIt have unravelled the structure of an enzyme, helping researchers working with HIV and AIDS. While scientists had struggled with the puzzle for a decade, the gamers cracked the case in three weeks. FoldIt, launched in 2008, calls itself a "scientific discovery game that allows players to contribute to biochemistry by folding and designing proteins".


NIKON GOES SMALL
Okay, after Panasonic, Olympus, Sony and Samsung came out with their mirrorless camera systems, we were wondering when biggies Canon and Nikon would follow. The suspense is over, at least partly. Nikon has launched not one but two mirrorless cameras, the J1 and the V1. These are cameras with interchangeable lenses that sit between a high-end point-andshoot and a heftier DSLR. The J1 does not have an electronic viewfinder or a hotshoe and is, therefore, cheaper of the two. Both cameras sport a 3-inch LCD, USB and HDMI ports and ISO speeds of up to 3,200. Their advantage over the competition is their faster lens.

2.7 billion: Number of Internet users by 2015 across the world, up from 2 billion at the end of 2010. So, by 2015, 40 per cent of the global population will have access to the Internet, according to market research firm IDC.


WEAR YOUR MUSIC
A jogger and an MP3 player make a great team together. You get to exercise to the beat of your best songs. But this particular music player goes beyond being just the fitness enthusiast's weapon of choice. The entire running suit is itself the MP3 player. It is equipped with a kinetic motor, and the users simply have to go for a walk or jog in order to get the player charged and ready to go. Its designer Rafael Rozenkranz has come up with some fashionable versions, including a bright red one-piece spandex version. And don't worry, the suits are all washable. So work up a sweat!


TAKE ON TECH
"If you add all information that was generated by mankind for the last 30,000 years beginning with the first drawings on the walls of the caves until year 2003, an equal amount of information was created last year in only two days. It took two days to create an equal amount of information to the one that was created by all people that ever lived from the dawn of civilisation until 2003. And moreover the same amount of information will be generated in 10 years from now within just one hour."
Yuri Milner, Managing Partner, Digital Sky Technologies, and investor in Internet companies


THE SCREEN THAT BENDS
Move over yoga practitioners and contortionists, flexible displays are here. At the Flexible Display Center in Arizona State University, the HP Lab and the E Ink, a concern of the Massachusetts Institute of Technology, have made flexible displays on sheets of specially created plastics manufactured by DuPont. These "electrophoretic" flexible displays are much lighter weight in a convenient foldable look and consume just fractions of power in comparison to LCD displays. They are also easier to manufacture than LCD screens. As sponsors of the project, the American Army has first dibs on the technology, but consumers could soon get their hands on them too.