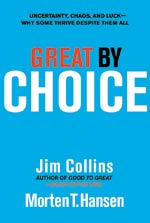 Great by Choice
By Jim Collins and Morten T. Hansen
HarperCollins Publishers
Price: Rs 799

In an environment where the legend of Steve Jobs makes us believe everything he touched turned to gold instantaneously, it is interesting to read that when Jobs returned to Apple in 1997 after a dozen years in the wilderness, he first instilled discipline in finances and operations and got people focused on the ethic of "work all day and all of the night", with the firm belief that discipline was a prerequisite for creativity! Jim Collins and Morten T. Hansen write that Jobs "made the most of the Big Thing he already had" rather than immediately look for the Next Big Thing. The launch of PowerBooks and iMacs in this period of four years before the advent of the carefully researched iPod and iTunes is used by the authors to make the point that big successes are often the result of a "multi-step iterative process based more upon empirical validation than visionary genius".

ALSO READ: Nokia India chairman reviews Steve Jobs biography

The beauty of this book is its ability to make these telling points. In times like these when leadership has to suffer the daily onslaught of critics carried away by hubris about competition, as well as dark economic predictions, the book has many doses of researched strategy wisdom that are well worth reflecting on. The '10X' - the authors' label for 'exceptional' - cases Collins and Hansen have detailed, where companies have risen from initial positions of vulnerability in potentially harmful environments to sustain exceptional results for 15-plus years hold lessons for the corporate sector across the world. Dispelling myths about innovation holding the key to spectacular success and successful leaders being bold, risk seeking visionaries, the authors warn against radical change and excessive speed in decision making and suggest that it is not luck that makes 10X companies different but what they do with the luck that comes their way.

---
It is not luck that makes 10X companies different but what they do with the luck that comes their way
---
That said, the model advocated in Great by Choice is rather simplistic, stating that the highest level of ambition - what the authors call Level 5 - can be achieved through empirical creativity, productive paranoia and fanatical discipline.
But the real reason to read this book is to examine the case studies, carry out independent research on companies that fall within one's industry sector and develop a strategy development and deployment model for the difficult times that all of us envisage. If in this process, one follows the mantra of John Brown at Styker that it is best to be "one fad behind" in launching new initiatives or products, or adheres to the well articulated process of piloting new initiatives by using a bullet - as an empirical test of what works as a low cost, low risk and low distraction alternative - to firing a cannon ball at the desired objective, there is much that will go right. CEOs should pause to reflect on their own favoured methods and make course corrections to achieve their aspirations for their own firms.
Given the series of earlier mega bestsellers from Collins, it is good to find that this book lives up to the expectations raised by its predecessors and in many cases, even exceeds them. An exhaustive set of frequently asked questions provided by the authors also enables Collins fans to link up the concepts presented in his earlier books to this one's model and ensures that continuity of thought and action can be brought into the practice of some of the ideas in the book. Truly a book worth reading and ideas worth putting into practice after careful analysis, reflection and choice.
The author is CEO of Zensar Technologies and Co-Chair of the National Knowledge Council of the Confederation of Indian Industry