What the customer wants you to know
Ram Charan
Portfolio-Penguin
Pp: 192
Price: Rs 295
Let me begin this review with a little story of my own. There's this publishing company that has been having problems with the only colour printer it has. The printer has decided to stop working and the company that makes it has sent a battery of engineers to fix the machine but to no avail. First, the engineers couldn't figure out what was wrong with the printer, and when they finally did, the part that was sent for replacement wasn't compatible with the printer. Meanwhile, the publication continued to work without a colour printer.
When last checked, the printer manufacturer had finally sent in a stand-by printer, but was yet to fix the original machine. The moral of the long, and seemingly inconsequential, story? Despite all the talk about customer delight and hyper competition, marketers still take their customers for granted.
To this, Ram Charan, one of America's bestknown management gurus, brings another dimension: Selling as practised hitherto is passé; what customers want is not just the best technology, the best price and the best after sales service, but also improved business performance as a consequence of the purchase. One might think that would be true largely of business-to-business selling, but Charan, a former Boston University professor who turned a consultant more than 30 years ago, says that's true of retail selling as well. At the core of Charan's proposition is what he calls "value creation selling", which does not end once the sale is made. The value creating salesman, in fact, needs to be a strategist—the customer's, that is. "No longer do you measure your own success first. Instead, you measure success by how well your customers are doing with your help," writes Charan, whose curious lifestyle (he's single, didn't have a home of his own until recently, and is forever on the road) and guru-like reputation among top American CEOs prompted Fortune to profile him (over eight pages) last year.
But, how is a mere salesman supposed to become a customer strategist? First, writes Charan, whose consulting fee is said to be upwards of $20,000 (Rs 8 lakh) a day, "devote large amounts of time and energy— much more than you do today—to learning about your customers' businesses in great detail". Then, use a multi-function team to make the sale and to carry the relationship forward. Finally, among a few other things, the management must switch to a new reward system where everyone in the multi-function sales team gets rewarded proportionately.
Charan's book is reflective of the man; it makes important points simply, and there are no heavy-duty graphs or tables. Instead, there are Charan's hand-drawn diagrams. As the 68-year-old Charan, who grew up in a village in UP before going to Harvard Business School for his MBA, warns readers, making the switch from transactional selling to value creation selling isn't easy. But it's a switch every company must make.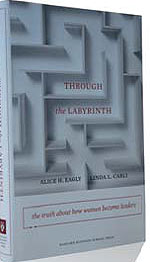 Through the labyrinth
Alice H. Eagly & Linda L. Carli
Harvard Business School Press
Pp: 308
Price: $29.95 (Rs 1,200)
One of the most important phenomena in the corporate world of the '90s and thereafter is the rise of women leaders, not just in the US but also in India. Indra Nooyi, Naina Lal Kidwai, Chanda Kochhar, Renu Karnad, Vinita Bali are some women who have risen to positions of power within large corporations. But why aren't there more women leaders like them? Traditionally, an invisible glass ceiling has been blamed for stymieing their rise to the top.
But Alice Eagly and Linda Carli, professors of psychology at Northwestern University and Wellesley College, respectively, argue that what cuts short a woman executive's rise up the totem pole is not so much a glass ceiling as a labyrinth. As the authors explain, "with progress toward equal opportunity, the barriers that women now encounter no longer take the form of an exclusionary wall or a rigid ceiling," but take the shape of factors such as prejudices and maternal responsibilities.
To women who want to navigate such a labyrinth successfully, the authors make two general suggestions: One, is that "women should demonstrate that they are both agentic and communal, and (two), they should create social capital". Through the Labyrinth is easily the best work yet on the obstacles women leaders face at the workplace.