Next year, when BT More conducts its annual Indian Wine Ratings, I can assure you we'll have a lot more wine to drink. I can say this with confidence now that Karnataka's Wine Board has taken a leaf out of Maharashtra's book and announced a slew of reforms to promote winemaking and wine tourism in the state.
For many years, Karnataka has been associated with Grover Vineyards, owned by a Mumbaibased family whose main business is the import of machine tools. But Kapil Grover's passion for the project, and the advice he has received from the redoubtable Michel Roland, put Bangalore firmly on the country's wine map.
Grover's business is now owned partly by India's leading wine importer, Aman Dhall of Brindco, who has imported a Frenchman of Indian origin, Ariff Jamal, from Burgundy to infuse quality and marketing zest into it. The Grover-Dhall-Jamal combine, though, has competition fermenting in their backyard. Two wines from Karnataka—Big Banyan and Mandala Valley—are already creating ripples in the market. Big Banyan is an Indo-Italian joint venture promoted by Paul John, a Florida-based NRI better known as owner of the Kumarakom Lake Resort in hometown Kottayam.
Mandala Valley is another labour of love, though it is still in its infancy, so I will reserve judgment on the quality of its wines. Ramesh Rao, Mandala Valley's founder-owner, is a typical newgeneration wine entrepreneur, like Paul or infotech tycoon Ranjit Dhuru, the founder of Château D'Ori, the winery that walked away with three out of the 11 awards at the First Annual BT More Indian Wine Ratings.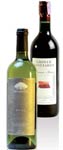 With such passionate people in the wine business, Karnataka can become the challenger to Maharashtra, even though its best-known liquor baron, Vijay Mallya, who is being advised by the former Grover wine-maker, Abhay Kewadkar, has opted for Baramati to produce UB's Four Seasons wines.
But with Karnataka announcing a radically new grape processing policy, exempting wine producers from excise duties paid by alcoholic beverage companies, allowing wine bars and greenlighting wine tourism, we are likely to see a lot more wine labels emerging from the state in the coming years.
How they'll taste is another matter altogether. A lot will depend on how serious the wine producers are about maintaining the quality of their grapes. Now, if Indian wines, whether they are from Karnataka or Maharashtra, have to compete in the international market, they must be packed with the power of grapes that have got an opportunity to ripen fully in the sun.
The new entrants in the Indian wine business have a lot of catching up to do. They also have the advantage of learning from the mistakes of others and not repeating them. The way the Indian wine market is shaping up, the new entrants won't have the luxury, like the early birds, of getting away with mediocrity.
Karnataka can grow into a serious wine power only if the producers don't make bad wine in the protective shade of the big banyan tree called state benevolence.
Sourish Bhattacharyya is Executive Editor, Mail Today