Ralph Waldo Emerson once wrote "the only gift is a portion of thyself". In the world of corporate gifting this would translate into giving a little something as recognition and appreciation for a year's worth of hard work. Owing to the soaring trend of business gifting, luxury manufacturers across categories are upping the ante with limited editions, promotional packs and customisation services. From customised spa packages to gold plated office essentials just off the ramp, there are plenty of options to choose from.

Apple iPad 2
The sleeker and lighter version of the iPad has been incorporated with a dual-core A5 processor for greater speed. Its front and rear facing cameras bring the iPhone's unique face chat feature to the iPad.
Price: $499(16GB); $599 (32GB) and $699 (64GB)


Lavazza Coffee Machine
This espresso machine has a tank capacity of 1.4 litres and starts brewing with the turn of a knob. The used espresso capsules are collected in a drawer and automatically ejected when the capacity is reached. Can also be used for making cold coffee.
Price: Rs 32,500


Kodak Playsport
This portable camcorder is waterproof up to 10 ft and allows you to shoot clear videos and images with its 1080p HD recording and 5 MP camera. It is available in white, black, gray and purple.
Price: Rs 8,990


TAG Heuer Meridist
The 1.9" OLED display is covered with 60.5 carat sapphire crystals and the rear panel can be trimmed in leather or rubber. Its stainless steel carbide body comes with red, black and white back plates.
Price: Rs 4.19 lakh

SPORTING LIFE


Technogym RunPersonal
The avant garde treadmill is integrated with a 19" screen that displays an interactive digital platform which manages your workout through exercise guides and training benefits. The entertainment features like iPhone and iPod connectivity along with an IPTV interface and gaming console are bound to keep you hooked through your workout.
Price: Rs 7 lakh onwards


Harry Winston Ocean Diver
This diver's watch is water resistant up to 200m and features an automatic chronograph movement. The 44mm white gold and Zalium case encloses a sporty anthracite dial with gold hands and contrasting chronograph sub dials at 9 and 6 o' clock. While the rose gold bezel adds a touch of elegance, the rubber strap enhances durability.
Price: Rs 22.95 lakh


Ferrari Daytona Limited Edition
The eyewear is designed to commemorate the 40th anniversary of Ferrari's legendary win in Daytona, Florida. Set in 18 carat gold, the glasses feature detailed leather on the temples and sides of the lenses, and come encased in a lacquered wood box adorning the logo of Ferrari's 365 GTB4.
Price: Rs 10 lakh


Callaway Warbird Set
This 14 piece set comprises a 10.5 degree driver for better control, a Fairway Woods driver for distance shots and Hybrids that combine benefits of iron and wood. It also includes the classic Callaway putter and comes in a stand bag which is available in graphite and steel.
Price: Steel set: Rs 54,990; Graphite Set: Rs 59,990

DESK JOB


El Casco Turtle Bell
Hand crafted in the Basque country of Northern Spain, this intricately hand plated and polished turtle shaped service bell is set in 23kt gold and weighs about 800gm. It is available at William Penn outlets across the country.
Price:
Rs 11,725
Victorinox Secure
Shaped as a classic Victorinox Swiss knive, the device is powered with a storage capacity of up to 32 GB and secures your data with fingerprint sensors. It is integrated with a white light laser pointer and Bluetooth among other things.
Price:
On Request
Parker Premier Fountain Pen
The Delue GT "Graduated Chiseling" fountain pen features an intricately handcrafted barrel plated in 23K gold and precise modern chiselled lines on a brass base. It flaunts an 18K nib engraved in either gold or rhodium.
Price:
Rs 16,500
PRIVILEGE DEALS
ITC Gift Certificates
From free room stay and breakfast to discounts on spa and salon services, these gift vouchers cover a range of services at the ITC hotels and are valid at select hotels across the country.
Price:
Rs 500 to Rs 15,990
Delhi Duty Free Vouchers
The Delhi Duty Free at the Indira Gandhi International Airport at Terminal 3 offers shopping vouchers which can be availed at all shops at the duty free and are customisable in terms of price.
Price:
$100 to $2,000
Spa Packages
The most sought after spa services include: The Ayurveda Full day experience at Amatrra Spa in Delhi(Rs 17,000). The stress relieving Monsoon Raga at Mumbai's Quan Spa(Rs 6,500). The Himalayan Romance Package at the Ananda(Rs 89,000 to Rs 2.5 lakh).The personalised spa packages at the Sereno Spa in Goa (Approximately Rs 27,000 per night).
STYLE FILE
Swarovski NEVADA Crocodile Bracelet
This wide bracelet is set in polished steel. The clasp is embellished with pave Jet crystals and resembles a
crocodile's head.
Price:
Rs 17,000
Dunhill Cufflinks
Inspired by the stripes of the fabric found on deckchairs, these square cufflinks flaunt narrow blocks of royal blue Sodalite and Nacre pearl.
Price:
$395 (Rs 17,635)
Montblanc Star Chronograph
It features an 18K red-gold case, and a sapphire crystal case back . The beige dial is studded with 25 jewels. It comes with a brown alligator skin strap and 18K yellowred gold triple-folding clasp.
Price:
Rs 6.66 lakh
Paul Smith Shoes
A part of this year's Spring Summer collection, the shoes are set in bright colourful new styles sitting alongside classic shapes. The collection includes brogues, oxfords, flip flops and loafers set in dip dye leathers and bleached suede.
Price range:
Rs 5,500 to Rs 23,000
Tom Ford Sun Glasses
While some glasses come with thin temples inset with the designer's signature metal 'T', others feature visible screws that attach the front bar to the metal trims. These can be fitted with optical lenses.
Price:
Rs 10,000 to Rs 30,000
AFTER-HOURS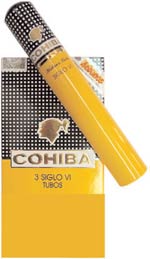 Cohiba Siglo VI
The rich and complex flavours of the cigar spill out creamy tones of leather in the beginning and move on to a taste of cocoa and sweet spice. The hand rolled is 143cm long and has a Ring Gauge of 46mm.
Price:
Rs 6,465 for a pack of three
Dewar Signature Bottle
Having undergone Dewar's double ageing process, the spirit is rich and fruity on the nose and blends raisins, sultanas (Turkish white grapes), apples and honey in its dry finish. Each bottle is individually numbered and comes in a classic wooden case.
Price:
Rs 14,670
Porsche Design Cigar Cutter
Using Solingen made blades especially designed to put less pressure on the cigar, it ensures a smooth cut and a fine draw. The body is made from ergonomically formed aluminum and is set in combinations of black and chrome.
Price:
Rs 10,000
TT Champagne Trunk
The movable trunk features an ice bucket with a 4 bottle capacity and a door that contains 18 flutes. The lower part has a 751 refrigerator capacity and cools more than 20 bottles at a time.
Price:
Rs 10.9 lakh