No question, the British music is back in vogue. These last few months have seen some kind of a revival. Coldplay brought out an "experimental" album. There were popular debuts by Scouting For Girls and The Ting Tings as well as a landslide of white soul singers like Duffy. The real surprise is the return of old Brit Pop giants like Oasis, Portishead, and Spiritualized. In real danger of being sidelined as pop dinosaurs, their new albums are bold and unexpected, proving that irrelevance is never an issue if you keep having fresh ideas.
Unlike their peers The Verve (who also returned this year with the pleasing Forth), Oasis never really went away. They've been making one patchy album after another over the past decade while retaining an almost rabid fan base—the likes of Ryan Adams and The Arctic Monkeys, all of whom cite Oasis' first two albums
Definitely Maybe and What's The Story (Morning Glory
)? as huge influences.
The band's seventh album Dig Out Your Soul (see pic left) is a big deal because after years of frustrating expectations Oasis is finally delivering the goods. They've realised that the exuberance of younger bands were making them sound dated. So, they steer clear of plodding rhythms and dabble in different arrangements and layered production. Noel Gallagher, the band's chief songwriter and band leader, says that they were looking beyond tunes to grooves. The new album has loads of them, as well as drones and electronic effects. Once a Noel tyranny, the new Oasis is a benevolent dictatorship, so he allows bandmates Gem Archer and Andy Bell to write a song apiece—both colossal turkeys. But Noel is in fine form, writing some of his best songs in a decade. Whether it is the driving psych rock opener
Bag It Up
, or the Chemical Brothers influenced
Falling Down
, the songs are heavy with bass grooves, tinkly one-note pianos, and the trademark loud guitars. For a change, here sonic adventure sounds exciting and concise, without a hint of flab.
You could say the same for Spiritualized. After their psychedelic classic
Ladies and Gentlemen, We're Floating in Space
(1997), singer/songwriter Jason Pierce took the band further into the stratosphere on the next two albums, abandoning any restraint. By contrast, the new album
Songs in A&E
brings with it a thrilling sense of urgency and adventure. As does the latest release from Trip Hop gurus Portishead. Had they returned after eleven years with hazy, wide screen epics like the ones that made them famous, they would have looked passe. So, on Third, they sound like a whole new band, making great use of the versatility of singer Beth Gibbon. Her alternately dreamy, accusatory chanteuse vocals are impossible to pigeonhole, so the band experiment around it with faster rhythms, folksy flourishes and electronica freak outs.
It's the vocalist that's key with Oasis, too. Once a brash, nasal cross between Johnny Rotten and John Lennon, here Liam Gallagher discovers new nuances, especially on the superb ballad he has written—
I'm Outta Time
. All in all, the boys are in great form, and with something yet to say. So now, we wait with bated breath for a new Blur album. Then we can all party like it's 1995.
Other releases


Kaiser Chiefs
Off With Their Heads
The lads from Leeds join hands with hotshot producer Mark Ronson to produce a surprisingly ambitious album, which is garnering some great reviews.

The band plays contrary to type, trading in the large anthems for more experimental sounds, tying swaggering punk guitars to great melodies and throwing in novel sounds like a fairground organ on some songs.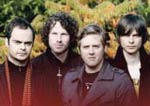 Keane
Perfect Symmetry
The three-piece band turns from their bland piano-driven pop songs to make a political record, which they fervently hope will change the world. The songs are a bit more interesting than usual, with some nice instrumental add-ons to their basic sound with brass, synths and other assorted curiosities.