Over the last two columns, I have been discussing what shape cars of the future will take, the technologies that will be used to drive them and what kind of features they will have. And apart from the science fiction world, manufacturers have tried their hand at not only designing concepts but also equipping them with technologies that will play a crucial role in cars of the future. The trend, it is believed, will be towards personal mobility solutions and although Segway has launched some futuristic products already, car companies have also showcased many personal mobility solutions for the future.
These are all based on highly intuitive safe systems that require little human involvement The first time I came across a concept that was futuristic and practical at the same time was the I-Real, showcased by Toyota. Even though this vehicle, if one can call it that, looked very futuristic, it was a personal mobility solution much in the same vein as the Segway personal transporter except that it was much more intuitive, offered seating of sorts instead of the standing position on the Segway and could be converted into a three-wheel vehicle from a two-wheel one depending on the use and space available. It was a more toned-down version of the Toyota I-Swing, which Toyota had showcased a couple of years earlier.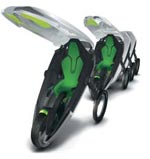 From the way it wraps around your body to the way it looks, it is definitely very futuristic. And in looks, it definitely makes the Segway look prehistoric. So, while using busy pedestrian walkways it will be a two-wheeled vehicle, while for visits to the nearby hyper-store or for the 10-minute drive to the jogging track, it will convert into a fourwheel one. Also making its debut was a perimeter monitoring system that warns of imminent collisions, although with a top speed of 30 kmph, the chances of going wrong are minimal.
Since then, several companies have showcased futuristic personal mobility solutions, including Suzuki, which showcased the Suzuki Pixy, the personal mobility pod. This is a fourwheel vehicle, which has been designed for use on sidewalks. It looks like an encapsulated moving chair from a Star Trek episode and has its own outdoor mobility solution in the shape of a rectangular contraption with space enough inside for two pods. The latest company to showcase a personal mobility device is Volkswagen, which has made concepts for the year 2028. As part of a concept for the future, Volkswagen has showcased the One, a three-wheel vehicle with a host of advanced features.


First and foremost, it is designed to stack up among other vehicles of its type in a semi-vertical manner, somewhat in the way shopping carts or airport luggage trolleys do, and, thus, save parking space. It will also be a wellnetworked vehicle with Car-2-X communication. This will help the vehicle move like a train with other vehicles headed in the same direction and will also guide the vehicle to enter a flow of traffic on a motorway. Personal mobility systems will be the next big thing as full-sized vehicles become more expensive, space gets constrained and fuel gets costlier. And even though these concepts look far-out, they have found encouraging response and a lot of people have said they will buy one.