Golf has come a long way from the snobbery of elite clubs. With manicured fairways, scientifically engineered products and competitive tournaments, this weekend pastime is on its way to becoming a serious sport . With millions of dollars offered as prize money, even in local tournaments like the Indian Open and the Avantha Masters, young putters have enough incentive to perspire on India's humid greens.

Golf enthusiasts look to stalwarts like Jeev Milkha Singh who clinched the Volvo China Open(2006) and Bank Austria Open(2008); and Arjun Atwal who struck gold at the American PGA last August. On the Asian circuit too, champions such as Jyoti Randhawa and Digvijay Singh are drawing attention their game.

The Gurgaons, Greater Noidas and Aamby Valleys of India are roping PGA veterans like Greg Norman, Almond Palmer and Nick Faldo to set up world-class courses. This has encouraged brands such as Callaway and TaylorMade to bring to India their scientifically engineered golf gear worth crores, and even offer customisation services to professional players.

So the obvious next step was an IPL-style Indian golf league. And here it is. The Louis Philippe Cup, which was held in Bangalore recently, pitted 28 professionals and eight city-based teams against each other across two days of fierce stroke-play. Golf was never short of sponsors but this event has broken records and given the sport an entertaining edge, something it lacked.

The men of the moment tell us how they bring in the high octane energy around them, into the world's slowest game.


JEEV MILKHA SINGH
Son of Olympian Milkha Singh, he was awarded a Padmashri in 2007, 50 years after his father received it

Inside my golf kit
I love the feel of the Callaway RAZR Hawk Driver, which has helped me gain considerable distance compared to my FT-3 driver. It uses a forged composite material on the crown, an advanced light weight material developed in partnership with Lamborghini. I also play with Callaway RAZR forged Irons which offer a soft feel and incredibly responsive feedback, essential for great play. For putters, I rely on the Odyssey Black Series Tour Design #4 Putter, the best in the world.

Accessories I sport
The Callaway Hyperbolic golf shoe is lightweight, comfortable and offers great traction on the greens. I wear a Rolex Cosmograph Daytona, which embodies prestige and performance, qualities I take pride in relating too.

A moment to remember
Jack Nicklaus winning The Masters at the age of 46 with his son playing caddie.

Greener Pastures
Augusta National Golf Club, Georgia

Taking a tee-break
The best courses and golf shows make Las Vegas my favourite golf vacation.

The man behind
I de-stress and energise myself with a 30-minute yoga session everyday. My source of calm is my family. I spend time with them and read philosophical books.


DIGVIJAY SINGH
Has recently ended his 12-year title wait by winning the Panasonic Open and holds 12 wins in the Indian PGTA.

In my golf kit
I use TaylorMade woods, Titleist irons and balls and Odyssey putters. I am a granola bar addict so you'll never see me with a shortage of those. I depend on my 2-wood and 3-wood irons.

Accessories I sport
You'll never see me without my Oakleys. I have different colours for each season. I enjoy experimenting with my wardrobe. I complement my funky and colourful wardrobe with golf shoes from Foot Joy.

A moment to remember
Mr. Watson finishing second at the British Open at the age of 60 was a great moment for golf. If I look at my career, I can point to the time I won my first professional tournament at the BPGC Open way back in 2000.

Greener Pastures
The Royal Springs of Srinagar is set in a picturesque background and is a pleasure to play on. Here, you can pluck plums and apples in between shots.

Taking a tee break
My holidays are not about golf, but about taking a break from it. Being an adrenaline junkie, I enjoy sky diving, target shooting and biking. Having enjoyed my scuba diving experience at Phuket, PhiPhi and James Bond island, I am planning to go to Borneo and Egypt next.

The man behind
The best form of meditation is enjoying whatever you're doing at that very moment. This is what I do to keep stress at bay. In free time, am watch movies and hanging out with my family.


VIKRANT CHOPRA
The urbane Delhi boy bagged the Northen India Open amateur title in 2005 and hasn't looked back since then.

In my golf kit
My idea of being fully geared is a bunch of Titleist irons, a Gel putter, a Callaway driver and 3-woods by TaylorMade. For longevity of shots, I have complete faith in my titanium driver.

Accessories I sport
Oakley sunglasses keep the sun at bay. Foot Joy shoes have spunk and offer the right grip. Add an Omega watch to this and I am all set for a long day at the greens.

A moment to remember
Tiger Woods making the chip on the 16th hole in the Augusta Masters, 2011. That was just the most unbelievable shot ever! The most memorable moment in my life was when I won my first amateur tournament at Eagleton Golf Course in Bangalore in 2004. My score was 21 under par and the record from that tournament still stands. I consider this nothing less than a turning point in my career, and life.

Greener Pastures
I play at the Delhi Golf Course very often, and absolutely love the experience.

The man behind
For me, golf mandates work. So, when I'm not putting around, I am a total adrenaline junkie. It's exciting to grapple with the terrains of North India, especially when you're biking or fishing across them. I am also a big beach person and enjoy all water sports immensely. Recently, I have taken up sky diving and my highest jump has been from 6000 ft at Hisar. The experience is exhilarating, mind-blowing and the best way to beat stress.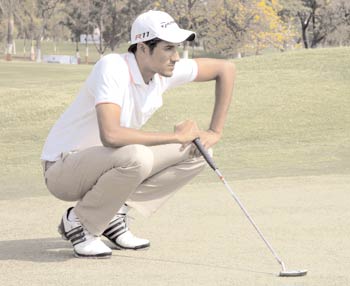 ABHISHEK JHA
He clinched a title in his rookie year at the PGTI in 2010. In a sport where perfection comes with age, he's clearly on the right track.

In my golf kit
All my irons and drivers are manufactured by TaylorMade. Since I am 6 ft 6, I need clubs that are an inch longer than the regular sized ones. The brand customises the equipment for me. My 15-year-old club is the most treasured and trusted part of my kit. Since it has been with me through thick and thin, I refuse to give up on it.

Accessories I sport
I draw my style and comfort from Oakley sunglasses and Adidas shoes. You'll never spot me without them.

A moment to remember
In golf, more than other sports, history is created everytime an underdog emerges victories. So, an underdog's victory is the moment that touches me the most. On a personal note, I will never forget the time I was up against Vikram Rana in the quarters of the All India Championships.

Greener Pastures
The wind makes golf both, a challenge and a pleasure at the Coimbatore Golf Course. Since it's also a place where I've done well, this patch of green in the south is very dear to my heart.

The man behind
There's a world away from strokes and swings. In this world, I unwind by watching TV and hanging out with friends. I catch up with people dear to me, one of them being fellow golfer Anirban Lahiri. He introduced me to Vipasna meditation which change my life. I now try and observe the continuous practice through the days and sometimes when in the zone, sit in a meditative state for about two hours. Given the peace that I derive from Vipasna, I make it a point to do the course once, or twice, every year.


JYOTI RANDHAWA
A regular at international tournaments since 2002, he features in the top 100 of the Official World Golf Ranking.

In my golf kit
TaylorMade equips me with irons, woods, golf balls. I use a black series putter by Odyssey, but my favourite driver is the R-11, which I use frequently. I also carry energy bars, dry fruits and being injury prone, I also keep band-aids handy.

Accessories I sport
Oakleys are easily the best lenses, I also use them while biking. FootJoy shoes offer stability on the course. On a casual day, I wear Rayban Wayfarers and Church's shoes. I alternate between a Tag Heuer and a Hugo Boss watch.

A moment to remember
I hit the 2nd shot straight to the hole from a distance of 160 yards at the Indian Open in 2008. Tiger Woods has given the world many moments, which golfers around the world draw inspiration from.

Greener Pastures
Apart from the golf courses in Gurgaon, where I've spent maximum time, the Capiliano Golf Course in Vancouver is one of the best golf courses to play on.

The man behind
I unwind over skydiving, target shooting and deep sea diving. In fact, Digvijay and I have got into all sorts of adventurous activities together since school. I also broke my collar bone in a biking accident in 2001 but that hasn't deterred me from biking. In my spare time, I watch action flicks like Black Hawk Down and Saving Private Ryan. Also the Indiana Jones series is one that I can watch over and over again! In between games, I take a dip and distract my mind with movies.