My humble house
Hotel ITC The Maurya, New Delhi
Phone: 011-26112233 Extension-2935/1978
Hotel ITC The Maurya has joined hands with the Singaporebased Tung Lok Group to open its hugely popular Chinese restaurant, My Humble House, which has a presence in Beijing, Tokyo and Singapore. The last has been voted one of the World's Top 100 Restaurants by British publication Restaurant.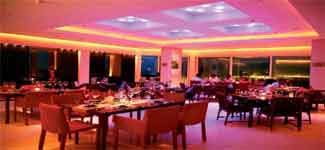 DÉCOR AND FOOD: The roof-top restaurant's design was conceptualised by renowned Japanese design firm Myu Planing and the main dining area, with 114 covers, has two private dining rooms and four semi-private alcoves. The décor is minimalist with bold design elements like a Flos chandelier in one of the private dining rooms. The menu, titled "Work of Art", has recipes that have been exclusively created by Master Chef Sam Leong, the Director of Kitchens, Tung Lok, and consists of generous dashes of international flavours like wasabi, mayonnaise and herbs like thyme and rosemary, all fused to create the experience of contemporary Chinese. Most of the ingredients, including some of the fish, prawns and mushrooms, are imported from Thailand and Singapore. The restaurant also boasts a bar lounge which has a wide collection of more than 300 wines, spirits and malts.
MUST TRIES: Behold the Flight of Fantasy— chicken broth with bamboo pith mushroom; and Song of The Sea—Fried Prawns Glazed with Wasabi Mayonnaise.
TAB: A meal for two will cost Rs 2,500-3,000.
K 2
MGF Plaza Mall, Gurgaon
Phone: 0124-4379151-3
Korean food often suffers in comparison to its more glamorous Chinese, Japanese and Thai cousins. This, and dark rumours of dogs in the pot, have mostly kept Indians off this delicious branch of East Asian cuisine. The restaurant is also a Karaoke Club for those wanting to test their singing skills.
DÉCOR AND FOOD: Designed in sleek stylised colours of chrome, red and black, with high-backed red leather chairs, the restaurant looks like a set from a Quentin Tarantino film. But the USP is the food. Apart from standard Chinese fare, K2 offers a large selection of authentic Korean food. The restaurant does not offer any drinks beyond beers.
MUST TRIES: K2 serves an excellent Kususogogi, which is braised tenderloin in oyster sauce. It also has a selection of other beef dishes like the XO Tenderloin Sogogi. The restaurant specialises in off-beat seafood like the Shark Fin Platter where the shark fin is cooked with scallops, sea cucumbers and prawns. The star of the show is a Kim Chi—Korean meat and vegetable stew—called the Kim Chi Chige, a slightly sour stew of pork, diced cabbages and onions that comes bubbling in a nice stone pot. It is a fermented dish, which accounts for its distinct sour taste. Another traditional Korean attraction is the Jea Yuk Dap Bop (pork cooked with red and green bell peppers, sliced cabbages, black peppers, carrots and tomatoes and sprinkled with sesame seeds). It is a traditional form of grilled meat called Bulgogi (or "fire-meat"). Vegetarian dishes are not K2's forte, but the restaurant does offer the traditional Jab Chea (a dish of fried vegetables and glass noodles in soya sauce) to Oyster Pokchoy, which is Chinese cabbage boiled and served with oyster sauce.
TAB: A meal for two will cost Rs 1,500-2,000.
Sevilla
The Claridges, New Delhi Phone: 9871384038/011-41335133 Discover a little Mediterranean delight in the backyard of the Claridges, right in the heart of Delhi.
DÉCOR AND FOOD: The restaurant serves a range from all over the Levant, with cuisines not only from the Spanish provinces but also from Sicily and Campania in Italy and Casablanca in Morocco. With the ambience reflecting the mood of the Spanish Rivera, the evenings at Sevilla are usually illuminated with Roman torches and aromatic candles.
MUST TRIES: Grilled Jumbo Lobster with Citrus Marmalade and Spanish Butter Sauce; Chicken Breast Stuffed with Chorizo and Iberian Ham Scented with Basil and Italian Mustard; Grilled Spanish Crepes Stuffed with Pay Lentil and Green. Beans. You can even savour Tavines, a Moroccan dish with vegetables and meat cooked in traditional clay pots, or any of a variety of pastas or spaghetti. Round off the meal with gelatos, or a Casablanca Medley, an exotic combo of nut briouates with almond stuffed peaches, or a Tartufo—a large gelato truffle served with hot chocolate cake or Tiramisu—the Italian combo of cookies, coffee and cream laced with wine. Ignore the sangrias (wine cocktails) at your peril.
TAB: Food for two will cost around Rs 3,000.
Awana
12 Banjara Hills, Hyderabad Phone: 040-23300427 Awana, a London-based Malaysian restaurant group, has just opened shop in Hyderabad and serves contemporary Malaysian cuisine. Awana means "In-The-Clouds" in Malay.
DÉCOR AND FOOD: The staff sports uniforms that are a fusion of Chinese-inspired hand-woven gold thread belts and Nehru collar shirts. The 107-cover restaurant and 24-cover cocktail bar uses traditional Malaysian elements, such as teakwood and batik silk to add authenticity. The restaurant offers a selection of 120 Malaysian dishes for which it imports the spices, sauces and key raw materials from Malaysia.
MUST TRIES: Lamb Shank with Pumpkin, Sweet Potato and Lemon Grass; Lobster and Seafood Flat Rice Noodles; Sweetened Crispy Flat Bread filled with banana in heavy milk.
TAB: A meal for two will set you back by Rs 1,200.
JUNOON
Outer Ring Road, Bangalore
Phone: 9845175777, 9845799855
If you're in Bangalore and want a break from the usual Continental and Chinese fare, try Junoon, a restaurant that serves authentic North West Frontier food in settings reminiscent of a bygone era.
DÉCOR AND FOOD: The manager, dressed like a Mughal courtier in bright flowing robes, welcomes you with an Urdu greeting and guests can sit either in the very public Diwan-E-Khas and Diwan-EAam areas or opt for the more private Baithak areas. Junoon shocks the senses with interiors decorated in rich fuchsias, plums and electric blues with gold motifs. The food, according to the grapevine, is the best in its class south of Vindhyas. Junoon also has a Martini bar.
MUST TRIES: Non-vegetarians can expect to be treated like emperors with dishes such as Sharaabi Murgi, legs of chicken marinated and cooked in rum with the choicest of Indian potli masala; Nasheeli Chammpein, a starter made by marinating mutton chops in rum; and Keema Mutter, finely sorted mutton cooked with peas. Don't despair if you're a veggie, since you can order Peshawari Chana, Karela Salad, crunchy bits of bitter gourd and onion in tamarind dressing and a rather unusual Aloo Chana Biryani, a diverse combination of chic peas and potatoes, served with bhurrani or garlic raita.
TAB: A meal for two will cost at least Rs 1,000.
THE BRIDGE
Floatel, Kolkata
Phone: 033-22137777
Colonial cuisine in the middle of the River Hooghly… what more can you ask for?
DÉCOR AND FOOD: The Bridge is a 24-hour coffee shop at the four-star Floatel, which is actually a specially-designed 180 ft x 50 ft ship. It has huge glass windows that offer panoramic views of the sunrise, sunset, and of the barges sailing up and down the river from 80 ft above the river. The staff, dressed in naval regalia, looks straight out of a period film. The décor gives guests the feel of being on a ship.
MUST TRIES: Mushroom Allen—marinated mushrooms filled with herbal cheese served on a bed of coriander pepper vinaigrette; Prawn Molly Malone—curried prawns flavoured with coconut milk and mango chutney served in tartlet (quiche); Mr Brown's Ball Curry— curried lamb koftas served with coconut rice; and Steak Major Cunningham—tender fillet steak cooked with a secret recipe served with potatoes and vegetables. Vegetarians can choose from Crepe Farci Kaziranga— babycorn, mushrooms, cottage cheese and peppers encased in pancakes and Dhingri Jehanara—mushrooms filled with cottage cheese served in an aromatic gravy. There is also a wide selection of desserts to choose from. And don't miss the Mulligatawny—curried lamb and lentil soup; Cantonment Onion Soup—Floatel's classic onion soup and Cream Aunty Ann—cream of tomato garnished with crispy fried okra and garlic croutons.
TAB: A meal for two will cost Rs 900.
KURRY KLUB
Swabhoomi, Kolkata
Phone: 033-23203444
It's difficult to pinpoint the origin of the food that's served here—Mongolian Pomfret served on a bed of Tom Yum pasta served with chicken Dim Sum, or Italian-style risotto and mushrooms served with crispy chicken or typically Bengali river fish in Thai curry sauce. Kurry Klub churns out a lipsmacking fusion of Mexican, Italian, Mongolian, Chinese, Thai and Indian cuisines, all at one go.
DÉCOR AND FOOD: The 125-cover eatery next to Swabhoomi, is fast becoming one of the most preferred locations for connoisseurs. Chequered upholstery, cane furniture and lines of lanternlights along the walls make for a memorable fine dining experience.
MUST TRIES: The selection will leave you spoilt for choice with its line-up—Grilled Pabda fish in poppy sauce, accompanied by green chutney risotto, smoked Bangladeshi hilsa in red curry served with cooked bacon and leak salad, tandoori Parshe fish marinated with Creole spice served with chana dal and rice and the Lovely Couple, a shrimp and chicken item with spicy garlic sauce with a portion of pea pulao.
TAB: A meal for two (without liquor) will cost Rs 900-1,000.
WILDFIRE
Crowne Plaza Today, Gurgaon
Phone: 0124-4534000
Wildfire is probably what dedicated carnivores in the city had been waiting for. Grilled meats have always been popular the world over and now Delhi gets its own meat bonanza courtesy this "Brazilian" restaurant. The food is not just Brazilian though, and some of the dishes are more Mediterranean than Brazilian.
DÉCOR AND FOOD: This 80-seater is all fierce reds and slick chromes. Real flames lick the darkness all over the restaurant, from the huge barbecues and ovens to the massive pots spewing fire. In keeping with the theme, there are meats. Marinated and grilled to perfection and offered up on swords.
Drinks served are heavy-duty cocktails like the Caipirinha, the national drink of Brazil. Wildfire also has a decent collection of French and new world wines.
MUST TRIES: The menu is fixed; so, once the chicken and thyme soup is consumed, there begins an endless and overwhelming parade of chicken legs, chicken morsels wrapped with bacon, tenderloin, pork loin, pork sausages, lamb loin, lamb chops, duck, lemon prawns and salmon.
Lest the vegetarians despair, there is mozzarella, saffron-infused pineapple, fungi tart, cheese soufflés, eggplant caponata (a Sicilian delicacy) and watermelon shooters. If you still have appetite for desserts, you can choose from blueberry cheese cake, chocolate and pistachio terrine or a fresh fruit tart.
TAB: A meal for two (without drinks) will set you back by Rs 3,000-3,500.
MOSHE'S
7, Minoo Manor, Cuffe Parade, Mumbai
Phone: 022-22161226/66
Moshe's, the Mediterranean eatery in Mumbai's tony Cuffe Parade right opposite the fishermen's shanties, has no signboards to guide you as Moshe Sheik, the chef-owner, relies on word-of-mouth to attract patrons.
DÉCOR AND FOOD: The carefully maintained dishevelled exterior looks like an old, abandoned house. Take your pick from a range of Italian, Israeli, Turkish, Lebanese and Moroccan delights served in a taverntype ambience. When Mumbai is not drenched with monsoon showers, there's also seating outside in the courtyard for about 20 people.
MUST TRIES: Carnivores can choose between a Turkish Lamb Kebab; a Prawns Charmoula, prawns cooked in lime, cumin and garlic served with a cracked wheat and parsley salad; or an Oaf Memulay, Israeli stuffed chicken with couscous, pine nuts, mustard, pickles, garlic and mint, with carrot and zucchini in balsamic, red wine and thyme sauce; or an Italian char-grilled Rawas. Wash these down with the restaurant's wide selection of Indian and foreign wines. Vegetarians can order a Lebanese Med Platter with four kinds of dips or a fondue, followed by Moshe's Penne, a dish of pasta in paprika. The restaurant does not serve beers or hard liquor.
TAB: A meal for two will cost Rs 1,300, plus taxes.
Casa Soul Fry
MG Road, Mumbai
Phone: 022-22671421
Nestled in the heart of Mumbai's heritage and financial district, lies a little piece of Goa. Casa Soul Fry is arguably the only authentic Goan restaurant in Mumbai (barring its older sister, Soul Fry, in another part of the city), with some of the recipes having been passed down through the generations. The décor is nothing less than that of a traditional ancestral home in Goa. The friendly, warm ambience and personalised service only adds to the flavour.
MUST TRIES: Start your meal with Paneer Pindi, Tandoori Mushrooms, Prawn Loncha, Sungta Maria. Non Crab Peri Peri, Prawn Vindaloo, Mutton Xecxec or Crumb Fried Lamb Chops. For desserts, you shouldn't miss Bibinca, a traditional Goan dessert delicacy, made with egg yolk, cononut juice and wheat, which is then torched from above.
TAB: A meal for two will cost you Rs 1,200-1,400.
(With Pallavi Srivastava, Amit Mukherjee, E. Kumar Sharma, Rahul Sachitanand, Ritwik Mukherjee, Tejeesh N.S. Behl, Deepti Khanna Bose)