Brioni apparels for Men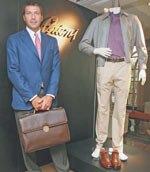 Brioni, often referred to as the Rolls-Royce of men's fashion, has launched its store in Delhi. One of Italy's best-known brands and known for fine tailoring, Brioni has introduced a wide range of suits, jackets and shirts as well as accessories in the signature store. Try their formal shirts and suits and walk into office looking a new man altogether.
Price:
On request
Available at:
The Oberoi, New Delhi and Mumbai
New Wave cutlery from Villeroy & Boch
This new range from Villeroy & Boch is characterised by an intentionally plain, subtly restrained design and simple, distinctive styling. It is designed as a short series of five main pieces and a set of servers, all polished in 18/10 special steel.
Price:
Rs 15,000 for a set of 24 pieces
Available at:
Villeroy & Boch store, Churchgate, Mumbai
Monogram Galliera
This brand, from the House of Louis Vuitton, is characterised by its very supple canvas that gives it a trendy and feminine look. The Galliera is distinguished by its modern design.
Price:
On request
Available at:
Louis Vuitton stores in Delhi and Mumbai
Sunglasses from Roberto Cavalli
The new collection will ensure that all eyes are on you. The frames are highly sophisticated and inspired by jewellery in terms of both materials and design. The shapes are generous and exaggerated and the colour tones are natural and pale.
Price:
Rs 22,660 onwards
Available at:
Shoppers' Stop and all leading optical outlets
Jimmy Choo's new shoes
The special selection of shoes from Jimmy Choo for 2008 includes "Chilli"—a glossy, sexy sandal. This striking modern cut is a must have this summer.
Price:
Rs 5,000 onwards
Available at:
At the Jimmy Choo Store at Galleria, Mumbai
Spring/Summer '08 Collection from Bungalow 8
Bungalow 8 has unveiled its new Spring 2008 Collection, which is a melting pot of different influences from the East. The block-printed table and bed linen pay homage to the lush Mughal gardens, and the burnt and burnished look of the terracotta planters and Pondicherian vases provide an organic earthy touch.
Price:
Block-printed table linen and bed linen Rs 1,300 onwards; Pondicherian vases Rs 4,250 onwards
Available at:
Bungalow 8 Wankhede Stadium, North Stand, E-F Block, D Road, Churchgate, Mumbai
mosimageBathroom fittings from Nagina Waters
They are one of the best known bathroom fittings brands. Nagina Waters of London has now arrived in India and opened a flagship store in Delhi. Its new range of bathroom fittings is rather luxurious with its gold-plated faucets and bespoke Italian marble basins. Give your bathroom a new look.
Price:
Rs 5,000 upwards
Available at:
Nagina Waters Showroom, Tribhuvan Complex, New Friends Colony, New Delhi
Chenin Blanc from Indus Wines
The new Indus Chenin Blanc (white wine) displays subtle aromas reminiscent of wild flowers and honey. On the palate, the wine has a soft and silky texture, balanced with a natural sweetness derived from the grape. The wine is best savoured with fish preparations and lightly-spiced kebabs.
Price:
Rs 420

Available at:
Select liquor stores in the metros
Swimwear Collection from Puma
Make a royal splash with the brand new swimwear collection from Puma, which includes shorts, bikinis, tank tops, one-piece swimsuits , shorts and bermudas for men and women. Flirt outrageously in the swimwear that comes in summer colours such as marine blue, bright yellow and floral green.
Price:
Rs 699-2,299
Available at:
Puma outlets across the country
Aigner Shirts for Men
The collection includes shirts with a smart new silhouette and extra-slim fit in exclusive fabrics. The combination of functional micro-fibres and natural materials creates an exciting look. The light nylon bomber jackets or a short trench in a summery linen-cotton mix are absolute must-haves.
Price:
Rs 3,500 upwards
Available at:
Aigner store at the Grand Hyatt Plaza, Mumbai

Dior Christal "Rubber Blue"
Defined by the daring pairing of hi-tech rubber and sapphire crystal, the hand-cut, hand-polished signature of the Dior Christal line premieres a new variation: Dior Christal "Rubber Blue". It is a stunning special edition, 38-mm chronograph set with 76 dazzling diamonds. Its blue lacquered dial is brilliantly illuminated by the slightly lighter blue of the sapphire crystal intricately inlaid among the diamonds on the bezel, and securely screwed into the deep blue rubber of the strap.
Price:
On request
Available at:
Dior, The Oberoi, Delhi