Ever since the dawn of the rock era in the '60s, music festivals have been an integral way of experiencing great music. While fests like Monterey Pop, Woodstock, Altamont and Isle of Wight have assumed legendary proportions, there are some great fests to choose from. As summer comes to Europe and the US and the festival season gets off the ground, we tell you about four fabulous festivals that you shouldn't miss.
Glastonbury festival of contemporary performing arts pilton, England
When: June 27-29, 2008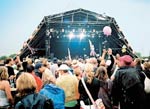 Better known as Glastonbury or just plain Glasto, this festival is easily the largest of its kind in the world, and one that takes its cue directly from the mud-and-music vibe of original festivals like Woodstock and Isle of Wight. Glastonbury began life in 1971 as Glastonbury Fayre with stars like David Bowie, Traffic and Fairport Convention as the headline acts.
The festival came into its own in the '80s and '90s as it grew in size and popularity. Following an old tradition of holding open-air cultural festivals during the Summer Solstice, the Glastonbury experience is incomplete without the rain, the mud and inspired performances. Today, the festival has expanded to include several parallel stages, with every stage having its own bill of performers. The main stage is the Pyramid Stage, which is famous for its unique structure. If you want to explore the upcoming "buzz" bands and artistes, check out the bill for the Other Stage and the John Peel Stage, named after the famous BBC DJ.
This year promises an eclectic line-up. The Pyramid Stage will feature artistes of the calibre of The Raconteurs, Crowded House, The Verve, Manu Chao and Leonard Cohen, among others. If you want to check out the Indie Rock scene, there is the Other Stage with musicians like Vampire Weekend and Jack Penate.
For tickets and full line-up, visit http://www.glastonburyfestivals.co.uk/
Lollapalooza Festival Chicago, Illinois


When: August 1-3, 2008}


The biggest alternative music festival in the world started in 1991 when Perry Farrell, the lead singer of the cult band, Jane's Addiction, organised Lollapalooza to highlight underground music. Since its inception, it has grown incredibly in size and popularity, and true to its credo, showcases a host of new talent alongside veterans. In the '90s, Lollapalooza was instrumental in fuelling the alternative music boom with bands like The Smashing Pumpkins, Pearl Jam, Sonic Youth and Soundgarden playing at the festival. At present, it has found a temporary home at Grant Park in Chicago, and will stay there till 2011. Like at Glastonbury, at Lollapalooza you have a host of acts to choose from across its eight stages.
Reacting to the challenge posed by newer and hipper fests like Pitchfork and SXSW, Lollapalooza returns this year with a fantastic line-up. So, you get Radiohead, Bloc Party, The Black Keys, Broken Social Scene, Kanye West, Duffy and some 50 other bands and artistes.
For tickets and full line-up, visit http://www.lollapalooza.com/
Bonnaroo music and arts festival, Manchester,Tennessee
When: June 12-15, 2008
Bonnaroo started out in 2002 as a festival for jam bands and acts like The String Cheese Incident, Keller Williams and Gov't Mule, and quickly became one of the biggest. And the bigger it grew, the more diverse its musical palette became. Today, Bonnaroo provides a platform for other genres of music as well, from Indie Rock acts to Hip Hop and Rap. Recently voted by Rolling Stone magazine as the "Best Festival", the line-up of Bonnaroo throws up an interesting array of artistes. This year, you have veterans Phil Lesh and Friends; Indie darlings Vampire Weekend; Blues legend B.B. King, Metal pioneers Metallica as well as Rap superstar Kanye West. And that's just the tip of the iceberg.
Though you are too late to attend this year's edition, be sure to book your tickets in advance for next year's fest.
For tickets and full line-up check out http://www.bonnaroo.com/
The Chicago Jazz Festival Chicago, Illinois
When: August 28-31, 2008
It's not every day that you get to hear some of the finest artistes in contemporary jazz along with the old giants of the genre for free. And that is exactly what the city of Chicago has been doing for the past 30 years. Along with the Newport Jazz Festival and the Berlin Jazz Festival later this year, this is one of the most vibrant and important fixtures on the international jazz calendar. It began in 1978 as a series of concerts to commemorate the music of legends like Duke Ellington and John Coltrane. As the prestigious festival turns 30 this year, a stellar cast will turn out to play. The festival will kick off with a performance by the legendary saxophone player, Sonny Rollins. If that does not leave you salivating, then there's another of the originals—saxophonist Ornette Coleman, one of the creators of Free Jazz, along with John Coltrane. The four-day festival is preceded by a Jazz Week, which features, among other things, a tour of Chicago's jazz clubs. This is not a festival you'd want to miss.
For schedules and other information visit http://www.cityofchicago.org/