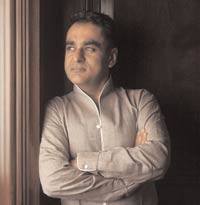 VINEET BHATIA
RASOI, London & Geneva
Michelin Star since 2001 (London); Michelin Star since 2010 (Geneva)
Apart from cooking up the proverbial storm in his kitchen, Vineet Bhatia also knows how to woo his audience with a candour that's quite rare in kitchens where the biggest egos often clash. "Michelin stars cannot feed my children; adulation must translate into real profits," says India's biggest culinary export. His restaurants, Rasoi in London and Geneva, have both been adorned with the culinary world's most coveted stars. He is the only Indian chef to have achieved such a feat. His creations are far from fad fusion yet you can't label him a purist either. He marries traditional Indian ingredients with contemporary food aesthetics to create magic on a plate.
SIGNATURE DISH
Biryani khichdi-the prosaic khichdi is reinterpreted as risotto but made with basmati rice and spiked with some garam masala, tomatoes, and turmeric. He pairs the dish with his other signatures that include tandoor glazed lamb chops and crisp lamb-pea samosas
LAURIE GEARTHE ARTICHOKE, Buckinghamshire, UK
Michelin Rising Star, 2011
A fire that gutted his beloved restaurant, The Artichoke, in 2008, derailed Laurie temporarily but in retrospect, the time off from his restaurant proved to be a turning point in his life. He joined the legendary Noma in Copenhagen at a time when it was on an upward spiral. He considers his stint there as the catalyst that helped in widening his culinary tutelage. The Artichoke reopened in 2009 and since then it has stirred things up for itself. Gear has won a bevy of important food awards including the Michelin Guide's Rising Star in 2011 and the Good Food Guide 2012 award.
SIGNATURE DISH
A marinated and seared loin of tuna served with Isle of Bute seaweed jelly, pickled Asian mushrooms, wasabi cream, pomelo, pear and brown shrimp cracker. The unique ingredients come together to create an epic dish.
FRANCES ATKINSTHE YORK ARMS Ramsgill-in-Nidderdale, UK
Michelin Star since 2001
It is rare to find a woman in the hallowed halls of Michelin-starred chefs but Atkins more than knows how to hold her own. "What you serve is what matters," says the chef who chose her passion for food over her marriage. Fortunately (for her devoted patrons,) the marriage is in the past and the present is about being one of Britain's most exciting chefs and a Michelin star holder. Best known for her creativity and love for local produce, she brings a certain aesthetic sensibility to her dishes that only a woman can achieve. She has impressed both gastronomy bigwigs and food critics with her balance of flavours and technical flair.
SIGNATURE DISH
A light and zesty mousse made with caramel, blackcurrant and liquorice. Chilli and mango sorbet act as palate cleansers to break the monotony of crème and sweetness. A poppy seed feuillentine further adds to the crunch factor. People travel from far and wide to try this elegant and pretty-like-a-picture dessert.
IAN CURLEYTHE EUROPEAN GROUP, Melbourne
Good Food Hat 2011
To be a rising star in a city that is celebrated as a food mecca is no easy feat. Melbourne has produced many an epicurean and all three MasterChef Australia judges, Matt Preston, Gary Mehigan and George Calombaris, are Melbourne-based. The British-born and long-time Australian resident, Curley, gained worldwide acclaim as executive chef of the European Group. Today, he heads three venues, three kitchens and a team of over 30; clearly it's never a boring day in the kitchen. Curley has re-introduced quintessential British cuisine to the rather evolved palate of the city's diners. His food philosophy is simple: "to create imaginative, honest and flavoursome food."
SIGNATURE DISH
Seabass with cauliflower puree, fennel confit, braised witlof with cauliflower confetti and curry oil served with dehydrated grapes, pine nuts and micro herbs.
MARCELLO TULLYKINLOCH LODGE, Isle of Skye, Scotland
Michelin Star since 2010

Marcello Tully has bridged the gap between consumer foods and gourmet meals. "While it is very difficult to recreate a dish to its exactness, during my service at Roux Brothers in the UK, I learnt the art and science of quality control that yields high-end dishes that are consistently good," says the revered chef who created pre-packaged food for the retail and airline sectors during his six-year stint with the company. His current job keeps him occupied in the beautiful wilderness of Isle of Skye, Scotland. As the head chef of the Kinloch Lodge he understands the importance of local produce but also knows that a destination restaurant like his needs to be innovative and cater to holidaying guests who are looking for variety.
SIGNATURE DISH
Julienne of carrots, courgettes and celeriac flavoured with honey and chilli, wrapped in a chicken mousse with cauliflower puree, wilted spinach, sweetcorn espuma and popcorn snow. A dish that spells perfection.
The chefs were in New Delhi for India's maiden Gastronomy Summit organised by the Creative Services Support Group (CSSG).