Raise a toast

Toast can make for a warm breakfast in under two minutes. The variations are endless, the most common being toast with jam and toast with butter and honey. Use breads that list whole wheat as the first ingredient.
Fruity solution

Through fruits, nature can provide us with a fantastic breakfast - complete with fibre and vitamins that are both tasty and filling. For instance, an orange has 3 grams of fibre, 1 gram of protein and only 60 calories.
Cereal eater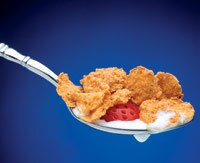 Cereals make for a good breakfast, but do stick with the ones that list whole grains as the first ingredient. Aim for fibre content of at least four grams per serving; nil saturated fat; and sugar content of under 10 grams.
Juice riot

If you can't be bothered to eat your fruit, drink it! For this very reason, blenders ranks right up there with the microwave oven for the rushed office-goer. Throw in some fruits, push a button, and, you've got juice!
Oat's up?

Easy-to-make oatmeal is nothing short of miracle food - it lowers cholesterol and reduces the risk of heart disease. While a single pack of oatmeal contains loads of vitamins and minerals, it has barely 150 calories.
Leftovers

The next time you toss up pancakes, make a few extra pieces and seal them tightly in plastic wrap. Store in the freezer for the week to come, and you just have to heat them in the microwave oven for a quick breakfast!