Glenlivet
Casked Wonder
Louis XIII Rare Cask 42,6

Remy Martin's Louis XIII Rare Cask 42,6 is the embodiment of the rarest cognac - precious, rich and utterly magical. As the 100 years for maturing the Louis XIII drew to a close, the casks revealed a jewel - a rare blend of 1,200 eaux-de-vie - that had transformed into truly exceptional cognac. Just the second cask to join the rare cask collection, it has a remarkable aromatic richness and complexity that reveals itself in layers through multiple tastings. It has notes of plum, dates, gingerbread, prune stone and tobacco.
Price:
Rs 15.19 lakh
Precious Liquor
Glenlivet 70 Year Old
If there's any spirit that should command your respect, it's the Glenlivet 70 Year Old. Filled into a Sherry cask as the Battle of Britain waged on, the whisky spent decades fermenting -- paying the angels their share until there was just enough left to fill 100 full-sized decanter bottles. Nose the whisky, and you detect a hint of blood oranges, tangarine and Jaffa cake jelly.Sip it, and you get a slight hint of ash, peat and orange jelly - coupled with zestiness and a trace of Ruby Port. The liquor is complemented by a beautiful tear-shaped crystal decanter with an elegant British Hallmarked silver stopper, framed in a handmade box from Scotland. Bow before you drink.
Price: Rs 15.27 lakh
Pop the Bubbly!
Dom Perignon Vintage 2004

The Vintage 2004 from Dom Perignon pays tribute to the traditional bouquet of wine, and rounds off with a marvellously detailed touch on the palate. This champagne is intriguing - its subtlety glides into intensity as you sip and is a sight to behold with its symphony of ecstatic bubbles swirling in the background of pale gold. Its citrusy core is smooth on the palate and is beautifully embellished by a mineral tang, coffee grind and the slightest hint of sugar. On the nose you can discern almond and cocoa.
Price:
On request

Scotland's Pride
Royal Salute 38 Year Old Stone of Destiny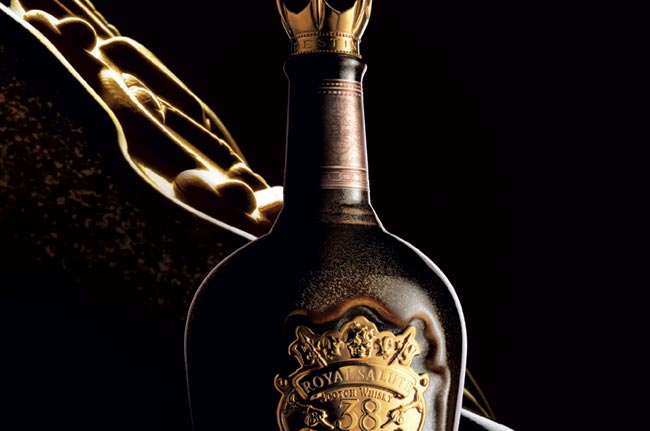 A veritable prince in the realm of whiskies, the Royal Salute 38 Year Old Stone of Destiny is emblematic of the virtues of nobility. The story behind this royally golden blend of rare whiskies, all of which have been aged at least 21 years, is a fascinating one. The stone of destiny, which was placed under the throne as a part of the Scottish coronation ceremony, is believed to be the repository of mythical power. You couldn't agree more if you were to take a sip of fruity, floral and smoky fragrances melded in perfect harmony. The rich libation with notes of malt and allspice is contained in a gorgeous handcrafted porcelain flagon topped with a gold-plated stopper!
Price:
On request
SMOKE TRAIL
Opus X 'A'

Behold the mammoth Opus X A - a delectably subtle smoke that improves with a few years in the humidor - if you can wait that long. With a formidable length of 9.2 inches and a ring size of 43 inches, it is packed with full-flavoured Rosado filler leaves. Its flavour ripens as the length dwindles.
Price:
Rs 4,830
Louixs

This luxury cigar is not something you just whip out and start smoking - you preserve it for special occasions and let it age in the humidor. With a manufacturing process involving fifth generation tobacconists, this cigar is nothing short of a dream.
Price:
Rs 3,057
Cohiba Behike

This cigar is so exclusive that it can send even the most seasoned aficionado into a tizzy. Its exemplification of classicism, disarmingly artful pigtail and redundancy of the need to age it makes this cigar an incredibly delightful and rich smoke.
Price:
Rs 28,740
His Majesty's reserve

His Majesty's Reserve is unanimously considered the 'Rolls Royce' of cigars. Its filler of fragrant Dominican-grown Cuban Piloto is infused with Louis XIII cognac before being wrapped in a rare-aged Dominican wrapper, yields a velvety smoke.
Price:
Rs 45,860