Nokia 8800 Gold
The ultimate fashion accessory has to be the Nokia 8800 Gold edition. However, unlike other phones designed to impress, this is a fully featured device.
A brilliant screen, a 2-megapixel camera and exclusive ringtones complement this device, which is clad in 18-carat gold and makes one hell of a statement.
Price: Rs 63,299.
Sony Ericsson S500i
And it isn't just Nokia that makes phones aimed at women (though they never actually say that) but Sony Ericsson, too, and it makes no bones about it. From the colours of the phone to the way it functions, the S500i is the first device from Sony Ericsson designed around the "Emotive" platform. A wallpaper that changes according to the time of day and interesting ringtones add to this device's appeal. It will be launched soon.
Price: Rs 14,000 (expected)*
Nokia 7900
The Nokia 7900 is part of Nokia's forthcoming Prism collection—phones that are designed with diamond cut keys and new materials. It also uses colours in new and innovative ways.
The 7900 has an organic LED main display, the first phone to have this energy-saving feature. It also has a "living wallpaper" that adjusts itself according to the time of day, signal strength and battery power.
You can also set up an illumination colour that will light up the keypad. But, not to be left out, the phone also has 1 GB of internal memory, a two-megapixel camera, dualband 3G as well as quad-band GSM. It will be launched in September 2007.
Price: Rs 25,000 (expected)*
Nokia 8600 Luna
A sexy mirror and glass finish makes this phone a beautiful-looking device from the Finnish manufacturer and completely changes the theory that phones have to be ugly.
It features the latest release of Nokia's Series40 software (like the 8800) and is fairly well featured. It will be launched in late 2007.
Price: Rs 35,000 (expected)*
Nokia N76
The Nokia N76 might be the only device in Nokia's N-series lineup which is seemingly targeted at women.
A slim form-factor clamshell, the N76 is a goodlooking device and features all the N-series technological features.
Price: Rs 18,000
Sony Vaio CR11GH
The Sony Vaio CR is a cute-looking Windows machine—it comes in pink and red as well as in black, blue and white.
Aimed at younger users, it features a keyboard that is similar to the one on the MacBook—and it is actually quite friendly on the fingers and also offers a degree of protection for your nails.

Price: Rs 54,990
Apple MacBook
It does look purty, but make no mistake, this is a very well-featured machine as well—a glossy 13-inch widescreen display and overall form factor make this an easy-to-own-andhandle machine.
The MacBook also makes Wi-Fi surfing a breeze.
Price: From Rs 66,900 onwards
Sony CyberShot DSC T100
Sleek, slim and loaded with lots of functions, the DSC T100 not only has a great form factor but comes with a generous set of features and excellent image quality for a point-andclick digital camera.
An 8.1 megapixel sensor and 5x optical zoom along with HD resolution on video make this a great value product to boot.
Price: Rs 24,990
Apple iPod Nano 4GB
Why the iPod? Because it remains the best digital audio player on the market. The second generation Nano has a brighter screen and better battery life.
Why the 4GB model? Heck, because it comes in a variety of colours—silver, green, blue, pink and black. And the Nano also has a great range of neat accessories.
Price: Rs 13,200
Samsung Bordeaux Art 32-inch
Why? Because your TV has to look good, too. The Bordeaux Art is pretty unique in the fact that it is one of the best-looking LCD panels on the market while also being fairly state-ofthe-art when it comes to features.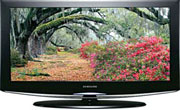 LCD TVs might require a lot of wiring, but this one is fairly simple to operate and now comes for a great price as well.
Price: Rs 55,000
Creative Zen Stone
The small little MP3 player from Creative is very easy to use, comes with one gigabyte of capacity and fits anywhere.
It has no screen (which means a cheaper price tag) but the player has three small LED lights to signify its status. It also comes with a range of cool accessories and is available in six colours.
Price: Rs 3,299
The Jabra JX10 Cara
Gold- or silver-plated around a stainless steel body, the Cara is possibly one of the most elegant Bluetooth headsets out there.
Small, lightweight and with tremendous sound quality to boot, the Cara is a fantastic accessory to have.
Price: Rs 5,999
Canon HV10
A very well featured full "high definition" camcorder is the perfect thing to have when you want to capture quick home videos.
This gadget has a load of useful tricks in its small body, including a 10x optical zoom. It's pricey, but worth it.
Price: Rs 99,995
Nintendo Wii
So what if it is (officially) not available in India. With a host of fun, cute games—no gore or madcap shooting here—and the funky "Wii"mote controller, the Nintendo Wii will make gamers out of girls, too.
Very easy to use and nice and small to behold, this is the console for you.
Price: $249 (Rs 10,209)**
**US price; grey market prices in India vary from city to city
Nike+iPod
Again, a great device for those who love to go for a jog or a walk. Nike has developed a special series of "Nike+"shoes into which you slot in a special transponder.
This transponder transmits signals to your iPod, with information of your exercise routine —including how far you've run, in how much time and how many calories you've burned. The big idea is to let you see the impact of your exercise. And no, the music doesn't stop while it's receiving and giving you this information.

Price: $29 (Rs 1,189)**

** It is available at Apple and Nike outlets in select countries; in India, it is available on the grey market and prices vary from seller to seller.