Harish Moolchandani, CEO and MD, India and Indian sub-continent, Beam Global Spirits and Wine talks about the books that have made him what he is today.
The World is Flat
by Thomas L. Friedman
This helps you find your feet in the complex business world of decision making. The recent edition offers insight on how the world is connected and what to expect in the coming years.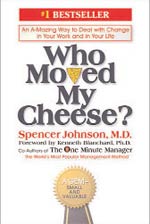 Who moved my Cheese?
by Spencer Johnson
This is an interesting book which teaches us how to make the most of changes in our careers and personal life. It is highly motivational.
The Power of Positive Thinking
by Dr Norman Vincent Peale
An extremely powerful text, this is bound to have a positive impact on people's lives, making them thankful for what they have.
The Bhagavada Gita
I draw the essence of my life from this text. It has acted as a life line and guided me through my growing years.