Whether it's a speedboat slicing through Venice's Canal Grande or the noisy rattle of a ride in a south-east Asian tuk tuk, these iconic modes of public transport are the essence of their cities.

NEW YORK YELLOW CAB
Nothing says New York like a yellow cab. All officially-approved cabs sport a medallion on the hood, so make sure you look out for these. These medallions are in fact, greatly valued and sometimes cost as much as six figures. Many are passed down as heirlooms from father to son.


LONDON BLACK CAB
Though cabs in London now come in a bunch of other colours, the original black cabs are still officially known as Hackney Carriages and have been seen on London roads since the early 60s.


VENICE WATER TAXI
While water buses are a cheaper and more practical mode of transport through Venice's canals, and gondolas are the tourist favourite, nothing spells style like hopping aboard a water-taxi speedboat. It may be one of the more expensive ways to travel in Venice, but they make a compelling style statement.


BANGKOK TUK TUK
A popular and cheap way of getting around,t the tuk tuk, or auto rickshaw as it is known, is a popular public carrier in developing countries. This three-wheeler has now been introduced in many Western countries including Germany and the Netherlands.


MALDIVES SEA PLANE TAXI
One of the most amazing cab rides in the world, these planes seat up to 18 people and serve up to 40 resorts in the region. Not only is this the fastest way to travel within the archipelago, it's also the most convenient way to travel from the international airport in Male to other parts. Book yourself a spot in advance.


HAVANA COCO TAXI
The unconventional egg-shaped coco taxis are also three-wheelers seating passengers within a fiberglass shell. Inexpensive and relatively comfortable, they're perfect for a balmy evening ride in tropical Cuba.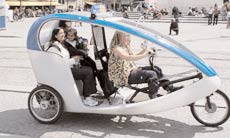 BERLIN CITYCRUISERS
Though these open air taxis only function during the warmer months from April to October, they employ the most environmentally friendly method of travel. They are manually powered and emission-free, but pack a battery-powered engine in case the driver wants a quick break.