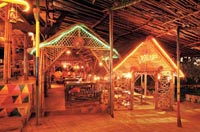 Late night is when a city truly shows its colours. When you've done a bar or three, and it's past midnight and you really, really need a meal, what are your options? Can your metro step up to the (dinner) plate?
BT More
sent its correspondents Anamika Butalia, Bibek Bhattacharya, Anumeha Chaturvedi to find out.
There's nothing like peoplewatching at a late-night eating joint. All the night owls and characters wash up there—the sweaty club kids fresh from the dance floor, the drunken office parties, the tired, the boisterous, the whole giggling, staggering rabble. Late night cravings know no barriers or caste. They afflict us all equally. And in our teeming cities, in a country obsessed with food, we asked the question— are our night owls being properly served?
Well, sometimes. Poor Bangalore, of course, is suffering a clampdown on its very soul right now—our correspondent couldn't find anywhere within the city limits that would rustle up a plate after 11.30 p.m. But we found some nice spots in Mumbai, Kolkata and Delhi.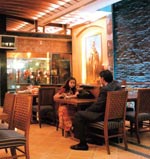 Kinara in Mumba
i is probably the best of them all. Certainly the biggest with 1,000 covers over three acres. It's serene despite being situated just off the Mumbai-Ahmedabad highway, and it's always breezy, given the giant marsh to one side that ends up in the sea. Patrons can either lounge on the charpoys, sit in a hut-like arrangement called "The Village" or opt for the Indian-style seating atop machchans. (The machchans are let to patrons for two hours at a time, and require a minimum bill). If you'd rather stay in, there's an air-conditioned party hall. Every night there's a live ghazal performance till 1.30 a.m., and the food is Indian and Chinese, though all-time favourites come from the Tandoor.
You'll find them all here— corporate types, call centre employees and party-goers. But what makes Kinara rock is that it serves alcohol and hookah along with food, and there are three projector screens exhibiting various sports all year round. Look forward to a new vegetarian kitchen and restaurant opening up next month. In
Delhi
, the plush
Punjabi By Nature
has a well-deserved reputation among night crawlers.
Two floors and a bar, situated in Vasant Vihar, it's a haunt known for its regulars, Punjabi families for the most part. Don't settle for the typical butter chicken and dal makhani —this place is best known for more unsual Punjabi fare like masala quail, prawns marinated in wine and kastoori kebabs. Vegetarians can go for the tandoori broccoli, prepared in a mustard marinade, or sarson ka saag—fresh mustard greens served with homemade cornmeal bread. But their trademark vodka filled golgappas are the house speciality.
In
Kolkata
, if you're driving down Ballygunge Circular Road either in the evening or late at night, you're sure to find a long line of cars outside the huge
Azad Hind Dhaba
. There are always hungry people to feed on their way to a party on Park Street or dropping in late at night desperate for Punjabi food. There are both vegetarian and non-vegetarian dishes here, to be chased down with delicious glasses of lassi in clay khullars. The painting on the wall of majestic prancing horses is an original M.F. Hussain. He clearly loves the dhaba.
Kinara Restaurant Where:
Sasupada, Mumbai-Ahmedabad Highway, Mira Road (east), Thane
Contact:
022-32504143
Open:
7 p.m. onwards
Meal for two:
Rs 1,200 (excluding alcohol and hookah)
Punjabi By NatureWhere
:Priya Cinema Complex, Vasant Vihar, New Delhi
Contact:
011-41516666
Open:
12:30 p.m.-1 a.m.
Meal for two
: Rs 1,200
Azad Hind DhabaWhere:
12/1, Ballygunge Circular Road, Kolkata
Contact:
033-24864742
Open:
11:30 p.m.-1 a.m.
Meal for two:
Rs 600 plus taxes
Must try:
Tandoori chicken
Other late night options
Mumbai:
In Juhu, Bandra and Colaba, street stalls serve pav bhaji, pulav and egg bhuji. They stay open till 5 a.m. Failing that, try the pizzas at Trattoria at Taj President, or the desserts at Peshwa Pavilion, ITC Grand Maratha Sheraton.
Delhi:
Try 24/7, the recently opened multi-cuisine restaurant at Intercontinental, The Grand—great pastry shop and bar. Or Café Uno at Shangri-La is a good bet, too.
Kolkata:
Hot kathi rolls are the midnight snack of choice for most city slickers. The best are found in Queen's Mansion next to the Park Hotel. The hotel itself has a great coffee shop called the Atrium.