Mulled wine
Ingredients

1 bottle red wine
110 ml water
60 ml sugar
1 stick of cinnamon
Anise
3 cloves
1 tbsp. lemon peel
1 tbsp. orange peel
Instructions
Boil the sugar and spices in water, leaving them to soak for half an hour. Then, strain the water and mix with wine. Heat, but don't boil. Float lemon and orange peels on top. Garnish with a cinnamon stick. Serve in an Irish coffee cup.
Irish coffee
Ingredients
40 ml Irish whiskey
1 tsp. brown sugar
170 ml hot coffee
Heavy whipped cream
Instructions

Combine whiskey, sugar and coffee in a mug, and stir until dissolved. Float whipped cream on top. Do not mix.
Hot buttered rum
Ingredients

1 tsp. sugar
1/2 tsp. butter
1 jigger of light or dark rum
Four cloves
Instructions
Combine butter and sugar in a pan and heat till butter is melted. Add mixture to a glass of rum and mix. Garnish with cloves and serve.
Hot Toddy
Ingredients

1 tbsp. honey
3/4 glass tea
2 shots brandy
1 slice lemon
Instructions
Brew tea and fill a tall glass 3/4 full. Mix in honey. Mix in brandy shots. Add lemon slice and enjoy.
Christmas punch
Ingredients

2,270 ml water
450 gms sugar
Juice and rinds of
3 lemons
1 bottle rum
1 bottle ruby port
Grated nutmeg
Sliced apple
Sliced orange
Instructions

Boil the water, sugar and lemon rinds in a saucepan. After cooling, strain. Add the rum, port and lemon juice. Transfer into a large, prewarmed punch bowl. Float the fruit on top and sprinkle with nutmeg. Ladle into punch cups.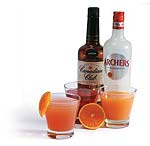 Northern lights
Ingredients

60 ml Canadian whiskey
Dash of peach schnapps
Orange juice
Cranberry juice

Instructions

Pour the Cranberry juice and peach schnapps into an old-fashioned glass filled with ice. Fill with equal parts orange juice and cranberry juice. Stir
Roasted toasted almond
Ingredients

30 ml vodka
30 ml coffee liqueur
30 ml Amaretto
Milk or cream

Instructions

Slowly pour the vodka and liqueurs in an old-fashioned glass filled with ice. Fill with milk or cream. Shake by placing a mixing tin over the glass and giving it one or two good shakes.