Indian in spirit
Michael McSorley of the Hyatt Regency, New Delhi, brings the Indian kitchen alive through his inventive cocktails

Mixology is an unpredictable, eccentric discourse. Blending ingredients which contrast in flavour and consistency, is often accompanied by the challenge of good taste. At Hyatt Regency's Polo Lounge, the man behind the bar tackles this by striking a chord between molecular chemistry and ancient traditions. Here's his take on using Indian spices and condiments in cocktails.

Drawing Inspiration
Before you try and create your own concoctions, use a classic cocktail for reference. Make the Old Fashioned, which features the three main taste notes, sugar, bitter and citrus. Add 60 ml of bourbon whisky, 10 ml of sugar syrup and 1 to 5 dashes of angostura bitters in a glass partially filled with ice. Now, twist an orange or lemon peel into the drink, gently diffusing its flavourful aromas. Let the ice melt for 30 seconds, stir and serve.

The Substitution Paradigm
Use the Old Fashioned as a reference point and recreate by replacing each ingredient. Substitute the whisky with dark rum, sugar syrup with ginger syrup and use cinnamon extract instead of bitters. For garnishing, use candied ginger available in the market or cherries dipped in brandy or cognac (winter favourites).

Modus Operandi
Turning fresh or toasted spices into usable cocktail ingredients is simpler than it sounds. Letting the sizeable amount of spices sleep in the spirit of your choice for a week, or two, makes the drink rich. The solid spices can be taken out and used as aromatic bitters. Simmer the spice of your choice in sugar syrup for a couple of minutes and create a flavourful addition for any hard drink.

Spice of your Life
Each spice is unique and requires a different procedure. Strong ones like star anise, dried red chillies, cinnamon and cardamom pods have a firm woody texture and should be cooked or infused for a longer time than lighter fresh herbs like basil, thyme and mint. Adding white or black pepper will give the concoction a pungent tinge. Use a couple of saffron threads to add colour and a handful of roasted cloves for freshness. While rare in Asia, the Jamaican allspice berry can be used for a heady fruit buzz.

The Tea-Totaler
Teas blend equally well in spirits, as they do in hot water. Choose aromatic herbal variants like honey jasmine, mango, ginger and citrusy orange and lemon ones. Simmer teas in sugar syrup or soak tea bags in liquors. Since tea enhances the bitter flavours of spirits, keep tasting your mixture through the process.

---
SETTING UP YOUR HUMIDORKajal Malhotra, CEO and MD, Kreative Marketing,
specialises in crafting and furnishing humidors. Here's her guide to setting up your own.
Types of Humidors
For the desktop Crafted with cedar, a wood without a fragrance of its own, is retains the aromas of cigars, which tend to absorb any external smell. It is fitted with an oasis for humidity and a hygrometre to measure it. The correct humidity should be set between 65 to 75%. Priced between 17,000 to 35,000, this is the most popular
Cupboard Humidor
It can stock anything from 5 to 100 boxes with moisture that's machine controlled from 65 to 70%. It will cost you anything upwards of 75,000 depending on style and size.
Traveller's Cigar Box
The easy to carry box stores from 5 to 20 stogies and keeps the cigar moist and fresh in its leather finishing.
Price 3,800 to 5,500
Stocking up
There are 5 traditional sizes of cigars which any collection should have. These include Churchill, Torpedo, Robusto, Corona and Petit Corona. Cuba's Cohiba, Dominican Republic's Arturo Fuente and ITC'S Armenteros are also popular
Accessorising
The cutting can be done with clip and scissor cutters and the lighting is best done with a long matchstick or a candle. A lighter works only if it's a butane one.
---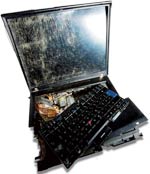 CRASH COURSESunil Chandna, CEO of Stellar Data Recovery
, Gurgaon, on saving your hard drive after your laptop has crashed.
Do's
Stay Calm and take note of your system's working for later reference. Check power connectivity, accessibility of data and take immediate backup. In case of a clicking or grinding noise, turn off your system immediately to avoid any data loss. Such a noise follows from damage of the hard drive, from an intense shock due to dropping, or a scratch. External drives should be double checked by connecting to other systems, ruling out the possibility of a malfunction within the drive.

Don'ts
Looking for home remedies like freezing, heating or opening it up will further damage the drive and dim chances of any data retrieval. Browsing the internet on an affected system will save the cache to the drive and cause data loss. An impatient continuous clicking doesn't work and in fact makes the data irrecoverable.
Quick Tips
Take a back up as soon as you notice signs like unusual clicking, grinding or scraping sounds, or a slow writing and rebooting speed.
---
Sound advice
In a world where the balance between work and play is hard to come by, stress takes its toll. Use music to soothe those tattered nerves.
Sound Therapy
Most yoga, meditation and massage treatments begin with a reverberating sound, be it a sacred chant, or a traditional chime of metallic bells and bowls. According to ancient Indian medicine, our body operates through a movement of various chakras, with one for each part of the body. The purpose of music is to unite and harmonise chakras and improve the body's internal balance. So, focussing your energy on meditational sounds early in the morning brings mental strength and peace.
Playing Along
The only thing better than listening to music, is creating it. Choose an instrument and instead of taking a class, decipher it on your own through CDs and guides. This is mentally engaging and improves concentration.
Playlist Phenomena
When building your song database, make sure there's a song for every mood. In this way, music becomes part of your highs and lows, and helps you get through tough times easily.
---
BUDGET YOUR LONG HOLIDAY
Keyur Joshi, Co-Founder and COO, MakeMyTrip tells you
how best to plan your ideal vacation
in the lowest possible budget. Don't be a passive tourist, when you can be a discerning traveller. To get a fair idea of shopping promotions, cheap flights, and hotel deals, install travel apps on your Smartphone and learn from other's experiences through blogs and rating based online portals.
Saving the Day
Travel portals offer value deals on early bookings so it's advisable to book early. If the airfare is too expensive, alter travel plans to save or change your city of arrival to the next closest port of arrival, which may cost less. For instance, if the ticket to Zurich is too expensive then opt to land in Venice and then head to Zurich by rail or road. This reduces your expenditure and enhances your travel experience.
While visiting multiple cities, travel by night to save on lodging. Holiday Home There are backpacker's and youth hostels everywhere you go. If you're travelling alone then consider sharing the room with someone, after you make sure there's a locker available for your valuables. Even for families, cheap hotels make sense because your time is best spent outdoors.
In most European countries, backpackers are welcome in people's homes. Set up your profile online and seek recommendations from fellow travellers.