A lazy street meanders into a cluster of 19th century Fin-de-Siecle apartment blocks, which look artistic thanks to symmetrically carved windows dotting them. The structures open out to quiet cafes sheltered by awnings, reflecting much of the same Italian languor. A couple are dining in the shade, sprinkling seasoning on creamy parmesan anti pasti and noshing on strong espresso shots. After a long-drawn meal, they slip into their Armani trench coats, shoulder their Gucci totes and clink their pumps and brogues through cobbled piazzas, only to get lost in a city that tells time through church chimes and experiences seasons in fashion trends. Milan marries period art and postmodern design like none other in the world.


This Lombardian city loses out in historic relevance to Rome and Venice, with
travellers barely fitting in a day
or two for Milan to shop, or just gape, at its much admired fashion district. With its heavyweight fashion, cinema and sports industries, Milan's cosmopolitan character is fascinating.
Begin your two-day tour at the Castello Sforzesco, a red stone castle which has been a source of pride for many generations; from the Viscontis and Sforzas to the Spanish and even the Austrians. At first glance you notice cylindrical towers that have gathered moss, remains from dried up streams around the facade, and a drawbridge that is ordinarily merged with the road. The relatively low-key exterior of this castle is compensated more than adequately by the archeological wealth that lies within. This includes military memorabilia, rare art works and royal heritage.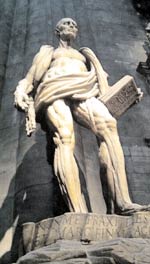 The most notable treasures are Leonardo da Vinci's ceiling fresco Sala delle Asse which depicts a forest and was a gift to the king Lodovico Sforza; also Michelangelo's last and unfinished sculpture of Jesus and Mary named Rondanini Pieta. Castello Sforzesco opens to public at 7 am and opting for an early morning tour is recommended.
Depart from the castle's rear gate and step into Milan's largest park, Parco Sempione. A barefoot stroll on its grassy stretches lead you to the Arco della Pace or the Arch of Peace, an imposing neoclassical structure built by Napoleon to resemble its Parisian counterpart. Sit around the arch for a while and photograph strains of sunlight playing on the metallic statues on its top. The cobbled lanes criss-crossing around the centre are the best spot to capture the city's traditional trams. In fact, trams are the oldest mode of public transport and weave through the city to create a wide web of tracks and wires.
There are only two ways to really experience Milan, walk or take a tram ride. Your next stop should be brunch, which for most Milanese is a quick meal comprising a pasta salad or a mayo-filled panini. Since Milan's restaurants can get expensive (€25 for two), stick to local foods, the cheapest option being a pizzeria. The Bar della Crocetta which offers a wide variety of sandwiches is good for a quick bite, the venison prosciutto being the best.
Head to Sant Ambroeus for handmade candy to round off your meal. Remember that most major monument tickets are sold out two days in advance, so book early on Day 1 and use the rest of it to shop. There's a book fair for old and rare books, at the Piazza Diaz on the second Sunday of every month.
Alternatively, the last Sunday of the month is when the canal side of Alzaia Naviglio Grande will take you back in time with vintage goodies like turntables, Bakelite telephones and antique furniture. If you miss out on any of these regulars, get onto a bus to Cremona, just 39 kilometres from Milan. This town is the birthplace of the violin, and with multiple music boutiques, the best place to buy one.
All this apart, Milan is where fashion comes full circle. Here, the well heeled and trendy locals will induce you to think, or rather rethink, your wardrobe. The Quadrilatero d'Oro is a cluster of crammed streets where the world's most fashionable brands are headquartered. A good shopping strategy is to take a peek at the styles and then head to the Galleria Vittorio Emanuelle II for discounts. The glassand-steel roofed building is the world's oldest shopping mall and also a great place to observe locals.
Chihuahua's popping their tiny heads out of luxurious hand bags and totes are a common sight. If you need a sugar rush to take you through your shopping trip, locals recommend you grab a blueberry muffin at the Galleria's Café Zucca. After your shopping spree, hit the city's nightlife district, Corso Como. The Milanese kick off their evenings with the aperitivo tradition, the city's version of happy hour which features free food with cocktails. The Hollywood and Loolapaloosa nightclubs located here are best known for champagne spilling and serious head banging.
As you wind down from the drama of Day 1, prepare for Milan to make all the right moves to hook you to its exquisite culture on Day 2. Begin by heading to the Santa Maria della Grazie cathedral which conserves Leonardo da Vinci's much debated fresco The Last Supper. A history of deterioration and restoration has led to strict laws around its public viewing. To monitor temperatures, batches of about 20 people are let in for precisely 15 minutes at a time. So make sure you book your slot by phone at least two days in advance and show up at least 30 minutes prior to your booking. At the crossroads of sacred and profane, this faded work remains etched in your memory.
If the mute artwork passively engages your thoughts, the city's performances put an experiential spin on them, be it a crackling soccer session or an opera performance.
During season, head to the San Siro stadium to watch the teams AC and Inter Milan practice every Sunday. At an extra fee of €12, you have yourself a guided tour of the stadium and access to team memorabilia and rare film footage. Follow this up with a trip to the legendary opera house La Scala. The crystal studded chandeliers and scarlet-silk lined private boxes initiate you into a grand tradition.
A minute long walk from the La Scala towards the city centre leads you to the central cathedral Duomo. The Goth church's facade is detailed with 3,400 biblical statues. Casting a dim light into the glum inside are the stained glass windows and candles burning up below statues of saints. Interestingly, high above the altar is a nail said to have been the one that impaled Christ's right hand to the cross.
Then, as dusk begins to set in, zip up to the terrace in the elevator and closely examine the detailing on the statues, spires and buttresses, best viewed in this mellow light. On a clear day, you'll get a glimpse of the majestic Alps, which lie to the north.
Spend your last night by the canal in Zona Naviglio and bite into an authentic slice of pizza washed down with a glass of Italian wine or local favourites like Campari and G&T.
With so much on offer, 48 hours is certainly far from sufficient for this city. Fashion forward Milano doesn't always need a catwalk to make designs and
take off in your imagination
.
STAY ORDER

Comfort Zone
The best luxury hideouts include the city's oldest heritage hotel Principe de Savoia and the contemporary Bulgari and Armani design hotels.

Budget Stay
Located in the fashion district, the Brunelleschi Hotel reflects the city's vibrance in its arty interiors. The centrally located Amadeus offers good business services and dining options.

Bare Minimum
Hostels Greco Milan and Piero Rotta are good backpacking hideouts.


---
BT MORE RECOMMENDS

A Session in Retail Therapy
With big brands like Armani, Gucci, Etro, Paul Smith, Versace and Louis Vuitton lining its narrow streets, the fashion district Quadrilatero d'Oro is the epicentre of the world's fashion industry. Be the first to own haute couture off the runways of the biggest fashion weeks.

Food for Thought
Local cuisine is the way to go. For daytime bingeing, the contemporary setting, fresh salads and creamy soups of God Save The Food are spot on. For an old fashioned Milanese experience, head to Trattoria Montina. Against the backdrop of the Duomo, this is a traditional setting for tucking into classics like minestrone, risotto and tripe stew.

A Night at the Opera
The opera season runs from November to July. Works of Rossini, Giovani and Mozart can be experienced and appreciated at Milan's legendary opera house La Scala. It is advisable to book for a show online, at least two months in advance. Ticket prices are generally between Euro 10 and Euro 140, depending on the seats you have opted for and opening night tickets are as high as Euro 2,000.