We cast our eyes skywards, yearning for a cloud to burst and drench the thirsty soil. The monsoon in India is a time of rejoicing and renewal.

It is symbolic, significant and central to the country's culture-much like the Western concept of springtime that finds echo in its music, art, and literature. In India as well, the monsoon is a symbol of hope, growth, and fertility. For food lovers the season poses as a perfect time to club travel with authentic food experiences.


India's seasonal foods have been an intrinsic part of its cooking traditions. These have been handed over from one generation to another and the shared experience of eating home-cooked, traditional food has shaped family ties and brought communities closer.
In most cases, they draw on local produce using techniques that promise balanced nutrition, food longevity, and exceptional taste.
As the rains beat down the parched earth from June through September, a number of festivals mark the celebration of monsoon and call upon a bountiful harvest.
The festivities and community feasts result in richer, more boisterous food with a cocktail of ingredients and spices. It's a time of plenty, from decadent ghewar served in Teej and coconut modaks in Ganesh Chaturthi to sugarysweet maalpuas in Janmashtami and sweet saffron rice made during Rakshabadhan.
Everyday home-cooking also comes with a twist. Food is made with several seasonal produce like jackfruit, gourd, aubergine, and potato (a variety that is best for deep frying). Also, some ingredients are used across the country but their taste is localised.
Case in point: corn. If you are from the northern part of the country, bhutta (corn on the cob) will definitely have a place in your monsoon memories. The same corn finds its way in the Marathi snack, sev puri-fried papdis topped with sweet corn and fresh onions and spiked with a tangy tamarind chutney.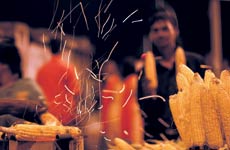 Similarly, potato fried in different ways is almost the ritualistic rain food in India. It is munched as crispy-fried discs with khichuri in Bengal; mashed as chokha in Bihar; mixed with gram flour and fried as aaloo bhujia in Rajasthan and Gujarat.
While there is a lot of common ground when it comes to ingredients, food rituals endemic to a particular area still reign supreme. For instance, while the season for mangoes is long over in the rest of the country, the season's last leg of ripe chausas are still available in North India during the monsoon months.
Another seasonal dish is singhade ki subzi, a dish made using waterchestnut, a fruit that grows wild during this time of the year. It is savoured in eastern Uttar Pradesh.
Health-wise, food prepared in humid conditions have reduced shelflife, so grandma's wisdom suggests raw foods like salads be replaced with well-cooked dishes that can be eaten immediately.
Hygiene is of supreme importance during the monsoon as water-bourne diseases are a major health issue during this time. That said, proper hydration of the body is also important as it loses more water and essentials salts during the rainy season.
This is why buttermilk and kachhi lassi (made with one part cold milk and three parts water) are the favoured drinks in the northern plains. They are light drinks, as against the normal lassi, and can be had numerous times in a day in place of water.
A close cousin of the kacchi lassi is tambli, a kind of buttermilk with a dash of ginger that is favoured across Karnataka. These naturally sour and cool drinks are said to improve digestion during these disease-prone months.
The coastal areas during the monsoon shift focus to vegetarian food and meats, as the rough weather in the olden days made it difficult for the fishermen to go into the sea.
Monsoon is also a cleansing season for coastal Kerala. They prepare yavagu, or rice gruel, that helps in improving digestion and is consumed with a chutney. The rivers on the other hand have an abundance of fish during this time. This is the breeding season and every Bengali believes that hilsa fish (or ilish maach), during this time is a true delight.
The fresh water fish is traditionally prepared with ground mustard, wrapped in a tender banana leaf, and steamed before serving.
Like this favourite from Bengal, each seasonal dish is painstakingly prepared during this time of renewal and revival. After a long and harsh dry spell of summer, the rains bring a renewed love towards food among Indians. It is the time to savour the delicasies and discover the wonder of the rains through food.
---
CHEF ARUN KUMAR, ZAMBAR
"Monsoon is the time when I think fresh: both in terms of food ingredients and cooking. During this time, the food is locally sourced but the preparation is elaborate. From Kerala to Karnataka to Tamil Nadu, food is primarily well-cooked- onion bhajji, cabbage vada, aaloo bonda, pumpkin erissery (made during onam). These are some of the most popular foods during this time."
Favourite Dish: Fried Shrimps
Shrimps are available in abundance during this time of the year in shallow waters in the sea. In coastal areas like Kerala it is deep fried off the tawa and is made with chillis and spices.
---
CHEF MANISHA BHASIN, MAURYA SHERATON
"Saawan is the purest of all season, in my opinion. It is a singular and spectacular occasion in the country where food influences in regions are resolute. Festivals abound this period and go all the way into the winter. We tend to enjoy high-caloric food like besansheeras, sweets, bhajias etc after a long time and we can also digest them better during this time."
Favourite Dish: Malpua
These lovely Indian pancakes are the most delicious monsoon savouries. Prepared especially during Janamashtami, malpuas are a perfect celebration dish.
---
CHEF RAVI SAXENA, THE CLARIDGES NEW DELHI
"Though the much-awaited first showers of the monsoon bring relief from the scorching summer heat, they also bring disease with them. This is why there is an insurgence of hot food in our day-to-day cooking. The food should be contamination free and must be consumed immediately. A variety of chaat is one of the most favoured dishes among Indians during this time."
Favourite Dish: Chai-Pakora

Aromatic, masala chai with crispy-fried pakoras are the quintessential monsoon snack. Nothing like having piping hot, homemade pakoras with chutney and chai!