We have nearly 300 chefs in our extended family and my forefathers worked as chefs for the royal family of Jagirabad, near Lucknow," says Master Chef Irshad Ahmed Qureshi. We sit down for a tete-a-tete with him at Baluchi, the Indian specialty restaurant at the Intercontinental The Grand in Delhi, where he's presently whipping up a feast. Little wonder then that at the age of 13, Chef Qureshi took to cooking like a duck takes to water.
The son of Chef Niaz Ahmed Qureshi and nephew of legendary Chef Mohd Qureshi, he has presided over numerous Lucknawi food festivals in India and abroad and has had several dignitaries literally eating out of his hands. Today, he is cooking for More. After contemplating for a bit, he zeroes in on two of his signature dishes—which, incidentally, were also part of Pakistan President Pervez Musharraf's menu when he came to India in October 2007—Biryani Raan-e-Dum and Bhaap Gosht, a curry that's a staple from the Qureshi family.
First things first:
The trick, says Qureshi, lies in not doing different things but doing things differently. "What sets this Lucknawi biryani apart is the fact that it's not too spicy like its Hyderabadi counterpart and, yet, is rich in terms of ingredients and taste," he says as he checks his ingredients. "A tablespoon each of javitri elaichi, garam masala and kali mirch are the primary ingredients. You can't do without them, but as opposed to red chillies, we use a lot of peeli mirch in Lucknow; it's spicy but not as strong and hard on your throat," he explains.

Meaty matters:
"When it comes to choosing the meat for biryani, we prefer tender meat (preferably from the shoulders and the ribs) as it's moist," he says as he slices a chunk into four neat pieces. Chef Qureshi takes about 150 gm of desi ghee, heats it and adds the spices till they crackle, adds the raan and lets it simmer, regaling me with his childhood stories all the time. "I grew up hearing tales about the origins of biryani from my grandfather. Since the erstwhile maharajas used to travel with all their paraphernalia, it used to be tough for the cooks to come up with elaborate menus in difficult terrains. So, they came up with this idea of working out a dish that was wholesome, in terms of both taste and ingredients," he explains as he adds a cup of fried onions to the raan and cooks for about two minutes.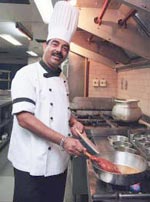 Mixing It Up:
He now adds about 30 gm of ginger garlic paste, a tablespoon of chilly powder, and 60 gm of hung yoghurt. He turns the meat over for a few minutes and, simultaneously boils 150 gm of basmati rice, drains it and keeps it aside. He then mixes the raan with the rice, and adds a teaspoon of javitri elaichi, 5 gm of saffron and kewra water and "dum" cooks the biryani in a cooking pot. "Javitri elaichi is one of the strongest of our spices and a quintessential ingredient of Lucknawi cuisine. The technique lies in mixing the spices well so that the taste of spices won't overpower you. Musharraf and his begum personally complimented me on this one," he concludes, with more than a hint of pride. We dig in. It's a meal fit for royalty.

Royal Recipe
Bhaap Ghosht

Chef Qureshi learnt this dish when he was still in his teens. With a royal name like Bhaap Ghosht, it continues to impress diners.

Ingredients (for two):
Meat (Lamb): 300 gm
Salt: To taste
Dhaniya powder: 1 tablespoon
Mirchi powder: 1 tablespoon

Garam masala: 1 teaspoon
Hung yoghurt: 60 gm
Brown onion paste: 80 gm
Oil: 50 gm
Cream: 10 gm
Javitri elaichi powder: ½ teaspoon
Ginger garlic paste: 30 gm
Method:

Heat oil and add mutton pieces. Cook for a few minutes. Add ginger garlic paste and salt. Cook for about five more minutes. Add dhania powder, mirchi powder, brown onion paste and hung yoghurt. Mix well and add javitri elaichi powder, garam masala, saffron and cream. Pressure cook for 5-7 minutes until tender and serve.