Nothing induces humility better than travelling. The more I venture out, the more quiet and thoughtful a person I return. And therein rises a dichotomy: a part of me that wants to narrate all that I have seen and done; and another that just wants to sit in reserved silence and revere all that I have seen, taking time to absorb the sights and sounds of the previous trip. But to not share would be sheer selfishness. So, if you can pardon the jamminess of my existence, which even I can't explain or attribute to anything but an oversight on the part of God, here are a few things to do when visiting Her Majesty's Kingdom.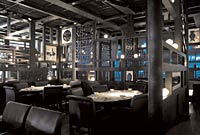 Hakkasan, Mayfair
The gurus of gastronomy know the Hakkasan at Hanway Place. However, they recently opened their new space in Mayfair on Bruton Street. The place retains the charm of the original but adds to it in ways that make the eatery more expansive along with better service. The famous long bar at Hanway Place may be missing but the Mayfair outlet replicates the famously intimate central area of the original. More space on the flanks allows for people to sit and observe this pulsating core of the establishment. Special mention must be made of the Crispy Duck Salad, which was mouthwatering. They are among the most serious restaurants I have visited when it comes to the art of wine pairing. I was served a lovely Veneto rosé that didn't just pair well with one course but several. Each Tuesday, the service team gets together and carries out practical exercises to decide any new wines that may be in contention for a possible listing at the outlet. Food comes along and pairings are done and rated. Anything that doesn't fit is rejected. The result is that no wine tastes awkward with the dishes on offer. So for a wine lover, it's one of the best places to dine in London.
Web: http://w3.hakkasan.com/mayfair

Globe-trotter

There's no luggage brand I prefer more than this one. Extensively decorated on the outside, spartan on the inside. Strong like an elephant, perhaps even stronger (no joke that, their logo has a pachyderm standing on their luggage) and yet attractive enough to be at home at the finest of addresses. My favourite is the Centurion series. They also do certain colours on request, custom-made that is, but there is no extra charge for it. Just a few weeks' worth of wait and the anticipation that comes alongwith.
Web:
http://burlington-arcade. otherworks.com/shops/globetrotter
Stockpot belgravia
I am a tech-junkie and ever since I got to know of certain food-hunting applications, I have been eating more voraciously than ever, following my phone GPS around much like the waterfinders of yesteryears who'd walk with a stick, wavering and weaning, connected to some higher force, that would eventually bring them to a source of potable water. In my case the higher energy is GPS and the source is some restaurant off the regular path. This time only a few steps away from bustling Leicester Square, I was disappointed that the restaurant I'd been looking for had long vanished.
But a few doors down was another quaint little place. I walked in and was surprised to find some very traditional and authentic English dishes on the menu. Before you scoff at the idea, let me admit that I am one of the few who believe that England does have a native cuisine and it's quite lovely. I found myself with a delicious Shepherd's Pie and a giant glass of organic cider, enough to warm the cockles of my heart.
Tel:
+44 (0)20 7839 5142
Westfields
Seldom do I think of malls as an entertaining place. To me they lie somewhere between utility and uselessness. Westfields in the Shepherd's Bush area of London is one the biggest malls in London/UK/Europe, choose as you please. But it wasn't the size that impressed me. Sure it's convenient when you have every noteworthy high street brand packed in under the comfort of one giant roof.
Rather it was the quality of the food court and the Champagne bar in the area known as The Village, that really impressed me. As I've mentioned elsewhere, shopping is hectic and there's nothing better than a glass of Champagne to provide a breather.
And if hunger strikes, Pho does some great homemade-style and noodle soup and there are some vegetarian options as well. We would have to make our way to some fine dining establishment to match the general quality that I found here.
Web:
http://uk.westfield.com/london
Duchamp
This is my favourite accessories brand in the UK right now. The reason is simple: design and range. From socks to ties (both regular and bow), Duchamp's products are a heady combination of colour and imagination running wild. I just can't get enough of them and, given how recognisable each of their designs are, once you've worn a Duchamp tie, you just can't repeat it.
Web:
www.duchamplondon. com
Superdry and bench
Bench is a fantastic urban-wear brand that I have always liked for its quality and cuts. Sure they are a tad expensive, but they last long enough and there has always been a certain snobbery about shopping at Bench. The brand became so famous that a host of others imitated its style concept.
Then there was a rift amongst the owners a while ago, and the founder went away to find a new brand, Superdry. If you hadn't read it right here, you would be excused to think of it as a Japanese brand. But you would detect an uncanny likeness, even today, with Bench. The tags are higher and the level of snobbery is further highlighted when you are told that they never go on sale. Great brands both of them, if you happen to be in London and are looking for some cool threads for the coming season. Web: www.superdry.com/; www.bench.co.uk/international/

Carnaby street
This is a little oasis of a market tucked away behind Oxford Street. Today it's hugely popular and no longer the little haven that it used to be from the noisy tourist madness of Oxford Street. But it still has some quaint little shops and establishments and always makes for an interesting walk through.
Web:
www.streetsensation.co.uk/-carnaby/cs_intro.htm
As is the case with all lists, they are never comprehensive enough. I have had to leave so much out while creating this one-places and areas that I would have wished to include- but space is always an issue, especially when writing about London. In fact, my next trip is already due and I have a new list drawn out for my next scavenging saunters. The more I travel, the more I find about this city to enjoy and marvel at. Whatever you plan of action or list of visits, London is always hot, always hip and with it. Get the most of it.