VERTU TI
Android's never had it this good! Vertu, the world's leading luxury mobile phone provider, has launched the Ti - an ice cream sandwich offering delivered in a titanium case that is strong, elegant and easy on the palm. Its 3.7-inch sapphire crystal screen is virtually scratch proof and promises to be four times stronger than other smart phones in terms of impact resistance. The Ti's Titanium case, on the other hand, makes it about five times stronger than its counterparts in the smartphone market. Solid and beautifully crafted, the phone combines distinctive Vertu design cues with a clean overall aesthetic that promises to draw the attention of every eyeball in the party.


SPECS
3.7-inch screen
Dual Core 1.7 GHz processor
64-GB internal memory
Price: Rs 6.5 lakh-Rs 14 lakh
ACER ASPIRE S7
One of the sleekest ultrabooks in the market today, the 13.3" Aspire S7 is super-thin at 11.9 mm and ultra-light at 1.3 kg. Capable of opening as wide as 180 degrees, this ultrabook can be laid flat and used from both sides for terrific teamwork. Its full HD touch display encourages you to go social, combining business with pleasure. Powered by an Intel Core i5-3317U processor, it has 4GB DDR3 RAM, an Optimised Dolby Home Theater v4 audio enhancement system and up to six hours battery life. The Aspire S7 is available in 11.6" as well.

SPECS
13.3-inch screen
Intel Core i5-3317U processor
4GB DDR3 RAM
Price: Rs 88,579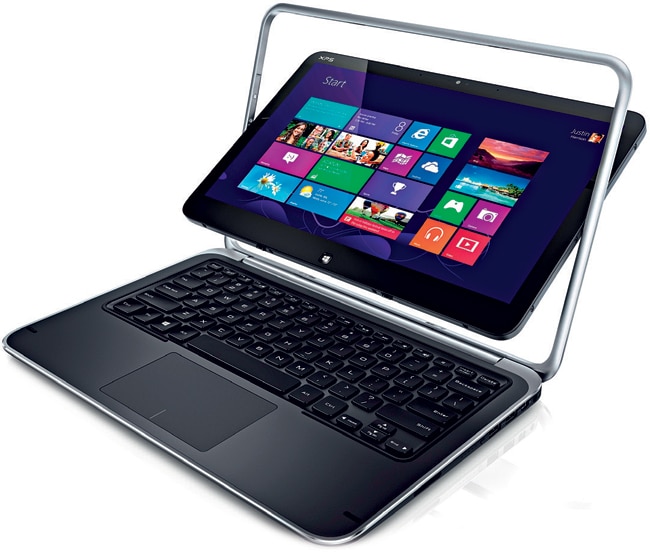 DELL XPS 12 CONVERTIBLE
Wipro e.go Aero Ultra This one from Dell can be dubbed as the Caped Crusader of laptops. While it is capable of acting as an ultra-attractive notebook at meetings, it doubles up as an easy-tohandle tablet at other times. The reason for its flexibility is an elegant flip hinge touchscreen display that's designed to bring convenience to your fingertips, making the most of the Windows 8 operating system. Crafted out of machined aluminium and carbon fibre, it is safeguarded by ultra-tough Corning Gorilla Glass - making it nearly as rugged as its comic book counterpart. Dell XPS Convertibles with high-end configurations feature a Core i7-3517U processor, 8 GB RAM, and a 256 GB solid-state hard drive.
SPECS
Core i5 CPU
4 GB RAM
128 GB solid state drive
Price: Starts at Rs 89,990
WIPRO E.GO AERO ULTRA
Always on the move, but missing the powerhouse you need to keep track of your work? Maybe Wipro can help. Touted as an engineering marvel housed in a body of firm aluminium alloy, the e.go Aero Ultra is arguably the slimmest 14" ultrabook in the country. Weighing just 1.7 kg and packed with 4GB memory and a 500GB hard disk, it comes with an isolation keyboard and a large multi-gesture touch pad. It incorporates revolutionary Intel technologies - ensuring a state of permanent connectivity.
SPECS
1.7 kg in weight
4 GB memory
500 GB hard disk
Price: Rs 39,900-Rs 49,000
THE TAG HEUER RACER
After wowing the world with its very first dashboard and cockpit timer in 1911 and the iconic 12-hour chronograph in 1933, Tag Heuer has decided to make its presence felt in the 21st century with the Racer, a touchscreen smartphone entirely constructed from leading-edge motor racing and aviation materials. Powered by Android Gingerbread, the shock-proof smartphone's sporty yet timelessly elegant look is inspired by high-end GT cars.
SPECS
1 GHz processor
3.5-inch screen
Hi-def 5 MP auto focus camera
Price: Rs 2 lakh