Bentley Flying Spur
Ride like Royalty
Bentley Flying Spur
You may have half the paintings Picasso ever painted and a fleet of choppers waiting at your beck and call, but some would say that you still haven't experienced true luxury unless a Bentley Flying Spur figures in your list of possessions. A 5,295mm-long saloon with four-wheel drive, this baby packs in a 616-hp 6.0-litre W12 engine capable of accelerating from 0 to 99.2 km per/hr in a matter of just 4.3 seconds! The Flying Spur, which combines a Marmite-rear with its now-familiar four-headlight front end, is stately, bold and quite capable of inviting every eyeball on the busiest city street. Enter the car, and you find yourself in a beautiful universe of rich, dark wood with chrome details. True power is priceless, but sometimes you get to buy it for `3.10 crore.
THE FAST
Does a speed demon hide beneath your skin, trying to grapple its way out every time you
take the wheel? Five cars that will help you set the streets on fire, in style.
Looks that Kill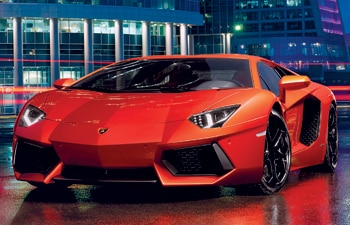 Lamborghini Aventador
If Spielberg were to show a futuristic car in his next sci-fi movie, he couldn't possibly do better than the Lamborghini Aventador. With a sleek body worth its weight in envy and jagged beauty, the Aventador features various products of state-of-the-art technology such as a robotised seven-speed manual gearbox and the dual-clutch automatic system. And yet, at its heart, the Aventador remains a supercar of the old school - powered by an outrageously powerful 6,498cc engine that delivers 691 bhp of gut-busting power. In a hurry to get somewhere? This baby can give you a lightning-fast start of 0-100 kmph in less than 2.9 seconds, and if that hasn't proved unnerving enough, you may step on the gas to reach a maximum speed of 350 kmph. It's said to be a little unresponsive at low speeds - but then - crawling is for golf carts, isn't it?
Need for Speed

Ferrari 458 Italia

A hot body is a thing to cherish, and we are still talking cars here. Designed by Pininfarina, the Ferrari 458 Italia's exteriors are designed for aerodynamic efficiency - producing a downforce of 140 kg at 200 km/hr. At high speeds, the deformable winglets of the car's front grille sink to offer reduced drag and increased downforce. The car's interiors were crafted in consultation with no other than former F1 champion Michael Schumacher, so you can expect nothing but the best in that department. Sitting just behind the occupants' heads, the 458's 4.5-litre V-8 engine is rated at 562 bhp - all the way up at the 9,000-rpm redline. Only a thin divide separates the engine from the passenger compartment, firing it up with a quick stab on the gas and bringing the man that much closer to the machine.

Beauty of the Beast

Jaguar F-Type V8 S
This one couldn't have come from a better carmaker. The Jaguar F-Type V8 S is the closest a vehicle can get to the beast of the American heartlands, purring when idle and roaring to life when you step on the gas pedal. Combining modern technology with age-old exhaust plumbing, the car propels spent combustion gases into the atmosphere in a manner that elevates the complete driving experience. Power, did anybody say? The F-Type V8 S is fitted with a version of the automaker's supercharged 5.0-litre V8 that's rated at 488 horsepower and 460 pound-feet of torque. Capable of touching 300 km per hour, it accelerates from zero to 100 km/hr in just 4.3 minutes. As for the appearance, you only have to look at the sleek boy and smooth edges of the Jaguar F-Type V8 S to be completely bowled over. Or run over, if you don't get out of the way fast enough.

A Responsible Powerhouse

Mercedes Benz SLK55 AMG
The true spirit of the Mercedes Benz SLK55 AMG is best seen when you go medieval on the gas pedal. For it is then that you witness the engine at work, straining like a raging Rottweiler on a leash until it's allowed to roar up the road in an awesome display of gas-fuelled rage. Armed with 414 bhp of power, the car's 5.5-litre V8 keeps the same displacement while providing more power and torque. Consequently, the engine - featuring 32 valves plus direct injection - provides as much as 6,800 rpm of peak power, instead of the expected 5,750. And, crazed by power as the vehicle may seem, it does its bit for nature by donning the mantle of the world's most fuel-efficient V8 car, emitting just 195g/km of CO2. Yes, Peter Parker's ol' uncle Ben was right - with great power comes great responsibility.
The Rocketship Car

Bugatti Veyron - Standard (Coupe)
If the good folk at Bugatti are to be believed, making a truly fast car can be quite a slow process. The Veyron, built like a veritable tank over a period of five weeks, touches 100 km/hr in just 2.5 seconds - a feature that leaves its competition wallowing in the dust. But, true to its reputation of being the master of the racetrack, the car does not boast of its prowess. Nudge the gas pedal lightly, and it taxies across the road like an Audi TT; step on it, and the Veyron zooms forward at breakneck speed - achieving its top speed of 402 km/per hour before you can get to the first syllable of Omigosh! This, combined with active aerodynamics and a four-wheeled drive to handle all that pulsating power, makes it one of the fastest commercial cars in the world.
THE FURIOUS
The road to fulfilment isn't smooth, and it shouldn't be so for your car either. Presenting five vehicles that will traverse hell and high mountains to take you to your destination.
Rough 'n' Tough

Jeep Grand Cherokee

When it comes to treading the off-terrain road, nothing can beat the Grand Cherokee. A veritable mountain goat on wheels, the Cherokee retains its trademark seven-slat grille and rectangular headlamps but glows with technology in every other regard. Equipped with a powerful three-litre V6 diesel engine and Jeep's Selec-Terrain traction control system, no desert, river or race track poses a challenge as long you are driving this veritable battletank of an SUV. Don't worry about losing your way in the mountains either; there is a plethora of buttons on the steering wheel that allow you to exercise everything from radar-based cruise control and suspension setup to navigation - among other functions. Try your hand at the `70-lakh Grand Cherokee, and you'll be having too much fun driving to want the country roads to take you home.
Rugged on Demand

Porsche Macan
Say hello to a motorised beauty that's built on the Audi Q5 platform but runs sturdier than the latter ever can. The Porsche Macan - instead - seems to look up more to big brother Cayenne, with a similar face, swept-back headlamps on the front and wraparound tail lamps on its rump. Explore further, and you find mixed tyre sizes (wider at the rear), bigger brakes with six piston callipers and air suspension. What's more, the simple push of a button raises the body of the car by 40mm, enabling it to negotiate the most rugged paths with ease. The Turbo version comes with a 3.6-litre twin-turbo petrol engine that powers it to 100 kmph in 4.8 seconds. Believe us, this one's got quite the drive.
Curves that Matter
BMW X5 (XDrive30d variant)
No list of high-profile SUVs would be complete without a mention of the BMW X5 family, now in its third generation. Its newest member, which comes with a major design overhaul that includes the restyling of typical BMW elements in a modernistic manner, is curvier and equipped with larger leather seats. If safety is your first priority as a driver, you may opt for additional features such as the 360-degree camera, night vision, heads-up display, park assist, lane departure warning system and cruise control. Powered by a 3-litre engine that offers 258 bhp of power and 560 Nm of torque, the new X5 - with its high-tensile steel body - is nearly 90 kg lighter than its corresponding model from the previous X5 generation. Drive light, and fast!
Wild Comfort
Mercedes Benz S-Class
When it comes to blending sophistication and sportiness, nobody does it better than the S-Class. While the exteriors are nothing short of stunning, it's the insides of the vehicle that make for a truly charming experience. The instrument panel is an all-digital affair that can be customised to the needs of the driver, and the options for the cockpit - be it Lazyboy seats, the drinks cooler or the massager - are virtually limitless. Add to this the impeccable quality of the finish, and you have a 448-bhp turbocharged monster that looks (and moves) as dainty as a ballerina on tippy toes. Despite the powerhouse under its hood, the S-Class retains its awesome ride quality through the Magic Body Control - a revolutionary technology that involves cameras looking at the road ahead and adjusting the suspension before the car gets to a bump. To be released in India soon, this baby will be a steal at `1.6 crore!
Evoking Admiration
Range Rover Evoque
Stylish and an absolute pleasure to drive, the Evoque is the trendier Range Rover you have always been waiting for. The SUV is armed with a 240-bhp 2.0-litre engine that sends it surging forward like a stallion possessed with the slightest tap on the gas pedal - off road or on. The leaner and relatively lightweight frame of the Evoque, on the other hand, makes it nimble enough to negotiate heavy traffic on packed roads. Need more? The vehicle's new off-road navigation feature guides you through the woods while Terrain Response electronics and MagneRide dampeners ensure that the rugged mountain roads don't make you fly off the seat. No matter where you are, you will always feel at home in the Evoque.
THE GREEN
Style's important, so is the environment. Two automobiles that show you care.
Hybrid Theory
Toyota Prius
Environment-friendly needn't necessarily mean boring, and the hybrid Toyota Prius demonstrates just that. The car's coefficient of drag is 0.25, one of the best around, and under its bonnet, the vehicle perfectly synchronises its 1.8-litre petrol engine with the electric motor and regenerative brakes. Speed? The Prius achieves 0-100 in less than 10.9 seconds in performance mode, and the petrol engine churns an enviable 136 HP of power. The electric motor, on the other hand, manages 80 bhp in perfect silence. What's more, it looks great! Get the zing back into green.
It's Electric
BMW i3
For starters, this hatchback is no battery-powered toy - the electric motor of the i3 produces a neat 170 bhp and a torque of 250 Nm. The energy supply is provided by a lithium-ion high-voltage battery with a 100,000-mile warranty. The interiors are an all-digital affair, and the i3 even has an in-built computer that tells you whether there's enough juice to reach your destination. What's more, it's quite a sturdy little contraption, not the plastic bubble you associate the electric car with.