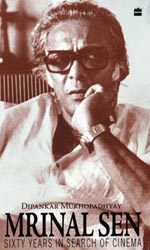 In the usual debates on modern Indian and Bengali cinema, Satyajit Ray and Ritwik Ghatak are rightly praised for their unique vision and craft, but the man who most often gets left out is the legendary Mrinal Sen.
With such groundbreaking films like Baishey Sharavan, Bhuvan Shome and Mrigaya, Sen re-wrote the rule-book of Indian cinema many times. Introducing European filmmaking sensibilities and speaking in a clear and persuasive political voice, he set a clear precedent which has influenced generations of Indian filmmakers.
The book by long-time friend Dipankar Mukhopadhyay is therefore a welcome addition to the canon of books on Indian cinema. In a country where such literature is dominated by Bollywood hagiographies, this is a rare beast.
Apart from a clear and chronological overview of Sen's career from his firebrand revolutionary days through his salad days in the '70s and '80s, the author provides a wealth of information, including correspondences and a complete filmography. Even if the writing is patchy and without style, Sen's life and art makes for a compelling read.