BMW
7-Series

Available in 740Li, 750Li, 760Li petrol engines and 730Ld diesel engine
Specs
Length/Wheelbase/Width (mm): 5,179/3,128/2,133
Kerb weight: 1,935-2,180 kg
Engine capacity: 4000cc (740Li), 4799cc (750Li), 5972cc (760Li), 2993cc (730Ld)
Top speed: Restricted to 250 kmph (740Li/750Li/760Li), 235 kmph (730Ld)
0-100 kmph: 6.9s (740Li), 6.0s (750Li), 5.6s (760Li), 8.1s (730Ld)
Fuel consumption (urban cycle km/litre): 6.1 (740Li), 5.9 (750Li), 4.8 (760Li), 8.8 (730Ld)
Price (Ex-Showroom all-India)
740Li: Rs 80 lakh
750Li: Rs 87.3 lakh
760Li: Rs 1.25 crore
730Ld: Rs 74 lakh
Target Customer
: The CEO of a really big company and Heads of State.
Hot
: It's big, very big. And it is like the Starship Enterprise inside. Heck, it is the Starship Enterprise on wheels, with even more computing power. Once you figure out how to operate the car, it is possibly the most comfortable car to drive or be driven in. Actually, you should only be driven in this car.
Not
: It isn't an S-Class and you need a degree in gadgetry to operate the car. Plus, you will need your private oil well to keep it going.
|
Which one would we buy?
When you are spending the money to buy a spaceship, you would want the very best, so it will have to be the 760Li.
The competition


1.
Mercedes S-Class
: Both cars are equally matched in features, comfort and price, but there is something about the three-pointed star that gives it the edge. PRICE: Rs 72-90 lakh
2. Audi A8: This is a very nice car, but gets lost in the shine from the Merc?fs aura. Lots of features and easy to drive. PRICE: Rs 73 lakh to over Rs 1 crore

BMW
5-Series

Available in 523i, 525i, 530i petrol engines and 525d diesel engine
Specs
Length/Wheelbase/Width (mm): 4,841/2,888/2,030
Kerb weight: 1,525-1,595 kg
Engine capacity: 2497cc (523i/525i), 2996cc (530i), 2993cc (525d)
Top speed: 232 kmph (523i/525d), 242 kmph (525i), 250 kmph (530i)
0-100 kmph: 9.3s (523i), 7.9s (525i), 6.7s (530i), 7.7s (525d)
Fuel consumption (urban cycle km/litre): 7.5 (523i), 7.4 (525i), 7.3 (530i), 9.3 (525d)
Price (Ex-Showroom all-India)
523i: Rs 37 lakh
525i: Rs 40.9 lakh
530i: Rs 45 lakh
525d: Rs 42.4 lakh
Target customer
: The 40-50-year-old who has "made it" in life.
Hot: The 5-Series has been given a radical makeover by Chris Bangle, BMW's erstwhile chief designer, and this car really does stand out. It has a generous amount of rear leg space if the buyer likes being driven around and the 530i, in particular, is great fun to drive and is loaded with gadgets, including the iDrive system.

Not: It isn't cheap and the new iDrive system is a terribly sophisticated computer that makes this car a bit too gadget-y for some people's tastes.


Which one would we buy? The 530i is a stellar drive and the 525d is a really fast diesel, but we would probably stick to the 523i given that there aren't too many roads where you would need the absolute power of the bigger engines.

The competition
1. Mercedes E-Class: The Merc is more sedate than the Bimmer in every respect.exteriors, interiors and the drive.and is also less expensive when you compare similar versions, even though the latter does have a bit more oomph. PRICE: Rs 35-42 lakh
2. Audi A6: Against the other two German cars, the A6 looks surprisingly normal, which is a nice thing, mind you. The A6 was recently given a surprisingly big price cut as Audi began local production. Price: Rs 39-42 lakh
3. Volvo S80: It isn't German, and it is even more understated than the Audi, with no high-tech techno-gizmodry. The S80 V8 model blows away the competition when it comes to sheer power though. Price: Rs 38-44 lakh

BMW
X5
Specs
Length/Wheelbase/Width (mm): 4,854/2,933/2,197
Kerb weight: 2,150 kg
Engine capacity: 2993cc
Top speed: 210 kmph
0-100 kmph: 8.1s
Fuel consumption (urban cycle km/litre): 9.8
Price (Ex-Showroom all-India)
X5 3.0d: Rs 62.9 lakh
BMW faces significant German competition in this segment from the Mercedes M-Class, the Audi Q7 and the Porsche Cayenne, but the Bimmer has become the vehicle of choice for politicians.
Little wonder then that BMW is bringing the all-new model to India so quickly. Compared to the previous model, it has been made a bit more comfortable, with a lowered suspension. It can handle bad terrain with surprising comfort.
Hot
: It's a big, strong BMW, so you know that it will not go wrong. The X-Drive system makes basic off-roading easy and the lowered suspension ensures great on-road handling.
Not
: If you really had to go off-roading, wouldn't you rather be in a Landcruiser, with a low-aspect ratio gear-box?
The competition
Mercedes M350: The Merc has a slighty rough ride though it is better off the road. Price: Rs 70 lakh (approx., depending on options)
Audi Q7 : The other car from Germany is a good off-road vehicle but on the road you would expect better value for money Price: Approx. Rs 65 lakh
Without peer…
The other two models that BMW offers in India, the 6-series and the X3, technically don't have any 'competition' per se.
BMW
6-series
Specs
Length/Wheelbase/Width (mm): 4,820/2,780/2,036
Kerb weight: 1,725 kg
Engine capacity: 4799cc
Top speed: Restricted to 250 kmph
0-100 kmph 5.1s
Fuel consumption (urban cycle km/litre): 5.6
Price (Ex-Showroom all-India)
650i: Rs 79.7 lakh
650i Convertible: Rs 87.9 lakh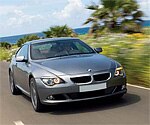 The 6-Series is a front-engined, rear-wheel drive 2+2 vehicle. Given its price and its sporty performance, you can argue that this car competes against the Porsche 911 and the Mercedes CLK.
It is a lot more expensive and considerably more powerful than the Audi TT. But, BMW admits that it is the Z4 (currently not sold in India) which is its on-road sports car. Therefore, the 6-Series is technically a comfortable, yet sporty car you can drive every day, and, thus, in a league of its own.
Hot:
Just look at it, how can you say this is not HOT! And it has a big, powerful V8 engine under the long sleek nose. The convertible looks even prettier than the standard coupe.
Not:
It isn't exactly a 911-beater, and the rear two seats are a bit snug. Plus, the drop-top is not a great idea in Indian conditions.


BMW
X3


Specs
Length/Wheelbase/Width (mm): 4,570/2,795/1,853
Kerb weight: 1,805 kg
Engine capacity: 2497cc
Top speed: 210 kmph
0-100 kmph: 8.5s
Fuel consumption (urban cycle km/litre): 7.8
Price (Ex-Showroom all-India)
X3 2.5si: Rs 41.9 lakh
BMW figured that there was a class of customers who wanted a smaller and cheaper Sports Utility Vehicle, which would not exactly go off the road. So, it took the 3-series platform and made a "Sports Activity Vehicle".
The X3 is equipped with BMW's X-Drive system, which is an electronically controlled all-wheel drive, but it's not exactly something you would want to take offroad. This is a nice, fun car with next to no competition in its size. It would make sense, if it didn't cost more than a 5-Series and almost the same as a much larger and more capable Volvo XC90.
Hot
: Small, fun SUV with decent off-road capabilities.
Not
: Mind-bogglingly expensive for its size, and it drinks petrol.