Fine Tuned
Matching notes with Steinway and Sons' iconic pianos is BMW's new limited edition 7 Series 'Composition'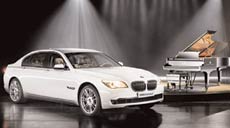 Of the million metaphors attached to black and white, the one that conjures up images of piano keys is perhaps the most pleasant one. Drawing inspiration from the musical chemistry of those dramatic hues is BMW's new 7 series, Composition. Crafted in collaboration with Steinway and Sons-manufacturers, if you didn't know, of gorgeous hand-made pianos- the limited edition piece is an automotive ode to the melody and romanticism of the piano. The car's interior boasts a cabin upholstered in Merino leather with piano varnish wool trim, a headliner covered in the suede-like Alcantara, lambswool floormats and sumptuous headrests embroidered with the famous Steinway logo. In keeping with the theme, the body of the car is painted in high gloss black and white. The Beamer also features a 16-speaker audio system customised to match the interiors and the lightweight alloy wheels. So put out $83,700 (Rs 38.36 lakh), and you can master the notes to this one easily.
All that glitters
Seems like Dubai's obsession with all things grand will never end. It has now charmed former F1 impresario Flavio Briatore, who is planning to collaborate with Lebanon's lifestyle firm Pragma Group for a $150-million luxury complex in Dubai's Palladium entertainment venue. Named Billionaire's Square after a similar venture in Sardinia, the site will feature a 45-suite boutique hotel equipped with a bar and grill, a fitness lounge along with several restaurants and bars. Construction, however, will commence after a $60-million renovation of the Palladium that is expected to end only by December 2011. Anyone see a gulf of opportunity?
Feat of a shoe king
This isn't a particularly happy time for Italian heritage structures. Two more walls gave way inside Pompeii's 2,000-year-old archaeological site on December 1, the second collapse at the popular tourist attraction near Naples in as many days. But it's not the only great work of Roman architecture that's at risk. In May 2010, the Colosseum-the arena that has launched a thousand gladiators and attracts 3.2 million visitors a year-began to crumble, with slabs of plaster dating back two millenia falling from the roof. Fortunately, there's help at hand. Responding to the Italian culture ministry's request for private sponsors to help restore the ancient Roman arena that's being rocked by vibrations from a nearby subway line, has emerged Diego Della Valle, the Lochinvar-like, multi-millionaire owner of Tod's. Only instead of a broadsword, the shoe king is brandishing an offer of 25 million (Rs 149.7 crore), which is how much it will cost to restore the Colosseum. Let's wait and see how his suit fares.
Private eye
How's this for uniqueness? Prada Private glasses will now allow you to customise every bit of your frame. Once you've chosen the colour, you can pick two letters, numbers, hearts, stars or other symbols to plug into the removable arms. Since the inserts are available individually or as a set, you can change them whenever you like. For $365 (Rs 16,729), craft your own pair.
The BT More Playlist
New releases
The Best of Apple Records
The Beatles' record label used to produce some great artists and songs in the 60s as this great comp proves
Jay Phelps, Jay Walkin
' The young Canadian-British saxophone player's mastery of his instrument is spellbinding in this accomplished debut.
Kanye West, My Beautiful Dark Twisted Fantasy
The Twitter happy superstar continues his prolific vein with this classic new album, that could in time be considered his masterpiece.
Perfect Way:
The Miles Davis Anthology The jazz maestro's last great decade of music comes alive in this anthology, including unreleased nuggets
Take That, Progress
The one-time heartthrobs have come a long way, and with the return of Robbie Williams, their songs have acquired muscle
6 things to do this month
1.
Jumping Amsterdam:
With everything that an enthralling equestrian event needs, the Dutch jumping and dressage affair attracts riders and enthusiasts from all over the world. It features events like the FEI Grand Prix where competitors freestyle to music and the BMC Centaur Cup which is a Para-equestrian dressage competition. Be at the Amsterdam RAI theatre from January 20 to 23.
Email: media@jumpingamsterdam.nl
2. International Green Week
: This international exhibition for food features presentations of fresh produce, fish, meats and dairy products, along with a vast selection of international spirits to suit different culinary palates. In its 76th year, the event brings together several brands for foodies to choose from. To be held at Messeglände Berlin from January 21 to 30.
Email: central@messe-berlin.de
3. Sculpture show:
Sculptor Neeraj Gupta uses blocks of marble and roots of uprooted sheesham trees to craft works of art that exude aesthetic appeal. To witness this ancient form of art, visit the Visual Arts Gallery at the India Habitat Centre, New Delhi from January 14 to 24.
Website:
www.indiahabitat.org
4
. Jaipur Literature Festival:
This annual literary event attracts writers and book lovers from across the world, and offers intellectual stimulation as well as some of the best parties in town. To be held at the Diggi Palace, Jaipur from January 21 to 25.
Website:
www.jaipurliteraturefestival.org
5.
Third India Art Summit:
The event will involve more than 80 galleries from 20 countries including Germany, France and the UAE. Encouraging multiple forms of art, it will feature a sculpture park, video lounge, curated art projects and live performances. To be held at Pragati Maidan, Delhi from January 21 to 23.
Website:
www.indiaartsummit.com

6.
Bangalore Fashion Week:
Attracting Indian and international fashion designers, the event features fashion shows, product displays and many after-hour parties. Catch a piece of the action at Bangalore's Crowne Plaza hotel from January 27 to 31.
Website:
www.bangalorefashionweek.in
Design Central
Hermès' first concept boutique in Paris adds another dimension to the love affair between aesthetics and fashion. Built on a 2,500-sq-mt swimming pool that once belonged to the Luteita hotel set on the Rive Gauche (or Left Bank), the store is a brainchild of architect Denis Montel, who has restored the pool rather interestingly. Rising from the surface now are three nine-metre-high woven ashwood huts that house accessories for women and the home-which debuted with the store's opening. Another hut is placed on the staircase which leads to the the pool. The store also features a Chaine d'encre bookshop housing a curated selection of rare tomes, a florist offering bespoke installations of flowers in an Hermès vase and the Le Plongeoir tearoom that serves 16 blends from around the world. Surrounded though we are by premium luxury concepts, this one is definitely worth a visit.
In the Pink
The world under the hammer is a crazy one; Sotheby's recent auction at Geneva's Beau Rivage hotel only re-affirmed this. A world record was set when London jeweller Laurence Graff paid a staggering $46,158,674 (Rs 211 crore) for a fancy intense pink diamond of 24.78 carats. That's almost $2 million per carat. The pink emerald-cut diamond is classified as type IIa, which constitutes less than two per cent of the world's rocks. Once the property of Harry Winston, it was bought some 60 years ago by a private collector and currently sits perched on top of a ring.
Worth a shot
Photography often reveals the true essence of a place. To do justice to this view, Pulitzer Prize winning photojournalist Jay Dickman has collaborated with the National Geographic society to organise a photography tour of central and South America. The 16-day private jet tour will take participants through picture-perfect areas like the Mayan ruins of Guatemala, the Argentinean Lake District, the Brazilian Iguazú Falls and the Peruvian Amazon. Covering all kinds of travel, from flights to hikes and cruises, the journey aims to give a unique perspective on the region. With luxury hotel stays thrown in between, the experience promises to cleverly merge wilderness with opulence. Using Florida as the base for departure and arrival, the tour will take place from March 26 to April 11, 2011.
Price: $46,950 (Rs 21.54 lakh)
Website:
www.nationalgeographicexpeditions. com
Sounds Like You Know About Skiing
It's time to hit the powdery slopes. Here's some trivia that might help satisfy your bragging needs.
1. The ancient Norse and Swedish communities were the first users of the ski. The Norse even had a goddess, Skaði, who hunted on skis and was called 'ski lady'.
2. For centuries, skis have been used as a means of transportation. Skiing began as a sport only after the Norwegian Sondre Norheim developed the signature telemark ski in 1870.
3. In the battle of Oslo in 1200 AD, skis were used in warfare for the first time. King Sverre of Sweden initiated their use against Norway.
4. Harrison Schmitt, one of the 1972 Apollo 17 crew, told the American Association for the Advancement of Science that the ideal training for moon walking was crosscountry skiing.
5. Skiing may be even older in Asia. In the Chinese province of Xinjiang, the Mongol/Kazakh tribe makes skis by splitting spruce trees by hand.
6. Since skiing has become more ubiquitous as a sport and a pastime, risks have been minimised. According to Alpine skiing records, only three injuries occur in every thousand days of skiing on an average, an impressive feat.