American gangster
We all know that Ridley Scott can deliver a blockbuster and get fantastic performances out of his leads. In American Gangster, he delivers on both counts. While Gladiator with its sandal and toga fancy-dress parade was a surprisingly engrossing movie, American Gangster is a worthy successor to Serpico, the Al Pacino classic. Despite the title, this is not just the story of the kingpin of the Harlem drug trade, Frank Lucas. It's also a story of an earnest cop, Richie Roberts, and of his quest to bring down Lucas's empire. Denzel Washington puts in a riveting performance as Lucas, and there is great chemistry between this smooth operator and his nemesis, Russell Crowe.
Universal Studios
Price:
Rs 1,159
Eastern promises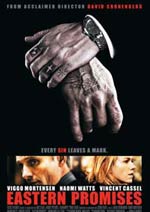 Never has a gangster movie resonated so much with real-life events. David Cronenberg's masterful Eastern Promises, about a dangerous Russian mafia family in London, was released when Alexander Litvinenko, a former spy, was murdered by polonium (a radioactive substance) poisoning.
He joins forces with Viggo Mortensen to deliver a killer punch of a movie. A diary and an orphaned baby lead emigrant midwife Anna (Naomi Watts) into the heart of the ruthless Vory V. Zakone family of the Russian mafia. Cronenberg manages to balance real violence and the deep psychological scars left by a life in crime brilliantly. Unlike many other mafia movies, there isn't a lot of gore in the movie, but it delivers its shocks better than most gangster flicks, especially with a killer twist in the plot.
Universal Studios
Price:
Rs 1,159
Cocaine cowboys
This documentary is probably one of the best on the cocaine craze in the US in the '70s. Just as popular culture was swinging to the strobe lights of discos, a vast network of people was supplying the ultimate party powder to millions across that country. Filmmaker Billy Corben interviews many people who were directly involved, from journalists on the Miami crime beat in that era to mid-level cocaine wholesalers. Corben even gets a professional killer—a man who killed at the behest of the infamous "Godmother of Cocaine" Griselda Blanco—on record. This is an exhaustive history of all that went down, and is brilliantly told.
Magnolia
Price:
Rs 759